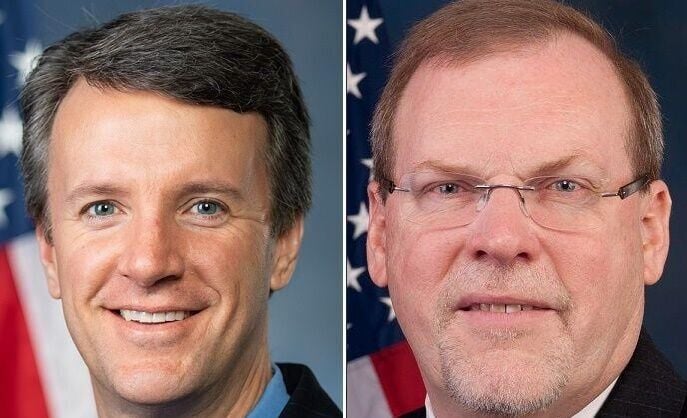 Normally this humble column doesn't defend beleaguered politicians. Today we're breaking that rule, because two from Western Virginia need some help. They're Reps. Ben Cline, R-Botetourt, and Morgan Griffith, R-Salem.
Have you noticed the recent torrent of letters to the editor attacking one or both? Let's take a moment and ponder the headlines above a handful.
If you think that sounds bad, certain language in the letters is downright caustic. Consider a Dec. 18 missive from Steve Nettemeyer that tagged the duo as "spineless wonders." After Jan. 6, the terms grew even more venomous.
Yikes! Do Cline and Griffith honestly deserve such brutal ripostes?
True, both congressmen put their names on a foolhardy lawsuit by Texas, which sought to overturn the presidential election by challenging voting and counting procedures in four other states. (The conservative-dominated U.S. Supreme Court found it so preposterous that justices refused to hold a hearing.)
And yes, both Cline and Griffith supported "Stop the Steal" efforts on Jan. 6, by voting to reject certification of Arizona's electoral votes.
That occurred moments before hundreds of Trump-incited hooligans stormed and ransacked the Capitol. The riot forced members of Congress to flee, and temporarily halted election-certification votes.
After the rabble retreated — leaving behind countless glass shards from shattered windows, a lingering aroma of bear spray and four dead — some congressional Republicans squirmed and voiced second thoughts about attempts to reject states' electoral votes. They'd had enough.
But not Ben and Morgan. No flip-flops from them. Once the Capitol carnage subsided, they resolutely voted against accepting Pennsylvania's electoral votes, too. In essence, they justified their acts by citing principle. As if there was any for plundering the seat of America's democracy.
There's a brighter side, however, which paints a much more sanguine impression of our congressmen. Because compared to some of their Republican brethren, Cline and Griffith are paragons of virtue and reason.
For example, neither is the subject of a federal investigation into sex-trafficking a 17-year-old girl. Normally, that wouldn't be boast-worthy. But not all their GOP colleagues can make the same claim.
Such a probe's underway involving Rep. Matt Gaetz, R-Fla., who along with Griffith and Cline is a member of the "Freedom Caucus."
Of course, it's unclear whether rumors about Gaetz are true. Maybe it's a total crock. The more important point is, nobody's even trying to pin anything like that on Griffith or Cline.
And that's a positive attribute for each.
Although Capitol Hill was rife with gossip about Gaetz's extracurricular activities, Cline probably was unaware of them, even though he and Gaetz serve together on the House Judiciary Committee.
Another item in Ben's and Morgan's favor is, they've never voiced support for certain eyebrow-arching theories of QAnon.
Has either ever hinted about an international cabal of pedophiles who sexually abused infants before killing them and drinking their blood? Or promoted a belief that Jews such as George Soros started California wildfires with space lasers? No way!
Also, neither has ever stalked/harassed school-shooting survivors on the streets of Washington.
You couldn't say the same about another Republican colleague — Rep. Marjorie Taylor Greene of Georgia. Until she disavowed QAnon under withering criticism, Greene happily peddled such hogwash. Now she's a national punch line.
But not Ben and Morgan. Don't they deserve some credit for not subscribing to crazy?
Lastly, we'll venture back to Cline's and Griffith's college days, and their treatment of the fairer sex then. I've searched high and low, and found absolutely no complaints of ungentlemanly behavior by either.
In that respect, they compare favorably with Rep. Madison Cawthorn, R-N.C.
In multiple detailed news accounts, many of Cawthorn's college-era dates described him as uncomfortably aggressive when they were alone together. Also, Cawthorn blamed his rejection from the U.S. Naval Academy on a car crash that left him paralyzed. But the Naval Academy snubbed Cawthorn's nomination before that accident, not after.
All the above should give pause to those fire-breathing letter writers attacking Griffith and Cline.
Because although Morgan and Ben may have legitimately earned some harsh broadsides — like "seditious," "disloyal," "complicit" and "spineless" — it could be far worse.
At least they're not dope-addled sugar daddies, ding-dongy conspiracy freaks, creepy gropers or military-academy poseurs.
In that, residents of the 6th and 9th Congressional Districts can find some pride. Maybe.