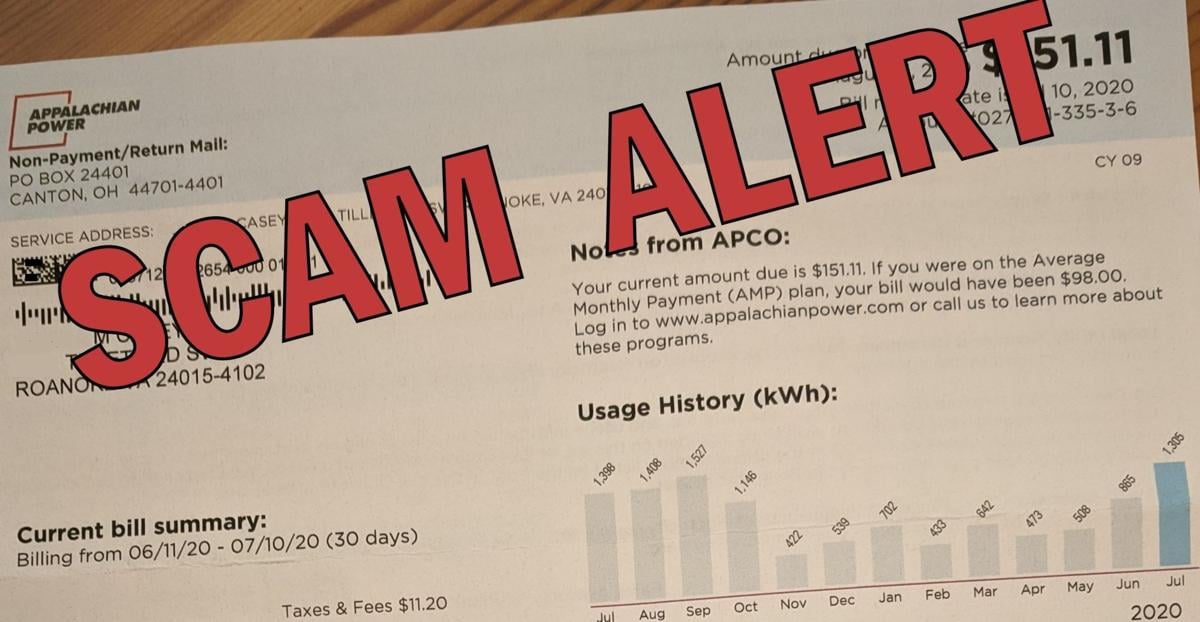 My friend Jeff Krasnow got an unusual robocall the other day, purportedly from Appalachian Power Co.
The message said his electric payment was overdue, and the company would be cutting off electricity to Krasnow's Roanoke County home in the next 30 minutes.
That'll get your attention on a 90-degree day, right? The message went on to say that if Krasnow wanted to avoid a shutoff, he should press 1 on his phone's dial pad. Naturally, he did.
A live male voice came on the line and the guy said, "How can I help you?" Krasnow recalled.
"I'm assuming that since you called me, you understand what this is about," Krasnow replied.
The man on the other end hung up. That day and the next, Krasnow received identical robocalls he didn't answer.
There was one major red flag that the call wasn't legit, Krasnow noted. The robo message misidentified the utility as "apple-AY-shun" Power. As most of us know, the correct pronunciation is "apple-ATCH-un."
It's getting hard to keep track of them all, eh?
The important thing is, don't fall for it, said Teresa Hall, a spokeswoman for Appalachian Power.
This particular scam, Hall told me, has been going around at least since March 2018. Appalachian Power first noticed it in West Virginia. Around that time, the company began receiving dozens of calls from customers inquiring about shutoff threats.
Recent news reports indicate similar scams are also occurring in Michigan and Texas, with customers of different electric utilities, and perhaps other places, too.
In some cases, the scammers have "spoofed" the power company's phone number, so "Appalachian Power" or "AEP" appears on phones' caller IDs. In others, they've even gone so far as to set up real-sounding electronic switchboards, for when electric customers call them back, at numbers that resemble the power company's.
Typically, the fraudsters direct their victims to pay their overdue bills immediately by purchasing a prepaid debit card at a local retailer, and then reading the card number over the phone to the scammer. That puts money loaded on those cards into the scammers' pockets.
"These people are vicious," Hall told me. "They tell customers we're just around the corner and we'll be there in 30 minutes. It's a constant struggle to keep up with what their latest game is. They're evil."
Appalachian Power has tracked the number of reports it's heard of such calls, Hall said. Between January and June, those numbered roughly 300.
"There was an uptick in this activity in June," she told me.
The scammers usually flood a locality with calls, she added. One week there might be a flurry in Christiansburg, and the next week the action moves into another area, such as Roanoke or Lynchburg or Bluefield or perhaps on into West Virginia.
Typically they're operating from outside the United States, Hall said.
"My colleague who tracks this activity told me the percentage of customers who actually end up paying the scammer is relatively small," Hall said. (That's true with all the other telephone scams, too.)
A while back, Hall spoke to one local business owner who had been scammed. But the woman initially didn't realize it. She called Hall to complain about the unfriendly nature of the "customer service rep" who demanded she pay an overdue electric bill.
The victim had followed the caller's directions. Until she spoke to Hall, the woman didn't realize the call was fraudulent, and that she was out $500.
The mispronunciation of the power company's name isn't the only clue the call's fraudulent, Hall noted. She also filled me in on some others.
First, nobody's power is getting shut off these days, because of the COVID-19 pandemic. There's been a moratorium on utility shutoffs in Virginia since March 16, when the State Corporation Commission declared one. The most recent extension lasts through Aug. 31.
Second, most of Appalachian Power's Virginia customers have "smart" electric meters that allow the company to shut off power remotely. So if you hear a threat that "we're right around the corner, in your neighborhood and we'll shut off your power in 30 minutes," it's an empty one, Hall noted.
Third, customer service reps for Appalachian Power will never threaten a customer with a shutoff in 30 minutes, nor will they ever suggest anyone go to a drugstore and buy a prepaid debit card to pay their bill, Hall said.
"We occasionally call a customer, it's not going to be with a threatening tone," she said.
What should you do if a scammer calls you? Hall said customers should call the power company's toll-free customer service line to check the status of their accounts. In Virginia, that's 800-956-4237.
You can also find that number on your electric bills.
Get local news delivered to your inbox!
Subscribe to our Daily Headlines newsletter.