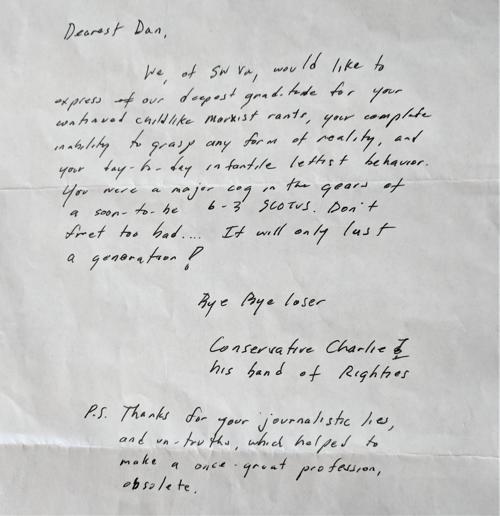 Over the years, you readers have sent me a multitude of remarkable mail. Occasionally those missives are heavy with praise and leave me blushing. Others come from the opposite tack, and those are the most entertaining.
A prime example is the guy who once wrote that reading this column is akin to "a habanero enema administered with a 40-foot-long barbed wire-wrapped hose." The imagery is vivid, eh?
Never before, however, has a local correspondent ascribed to yours truly the power to shape generations of American jurisprudence. Which brings us to the July reader mailbag. We'll lead it off with a letter signed "Conservative Charlie and his band of Righties."
Hand-penned in black ink on an unlined piece of white paper, Charlie's letter bore a Radford University postmark.
"Dearest Dan," it begins. "We, of [Southwest] Virginia, would like to express our deepest gratitude for your continued childlike Marxist rants, your complete inability to grasp any form of reality, and your day-to-day infantile leftist behavior.
"You were a major cog in the gears of a soon-to-be 6-3 [Supreme Court of the United States]. Don't fret too bad. ... It will only last a generation!
After the signature is a postscript: "Thanks for your journalistic lies, and un-truths, which helped to make a once-great profession, obsolete."
Dearest Charlie, thank you for the thigh-slapping estimation of my influence — and for continuing to read my stuff!
I heard lots of reader input after the July 15 column about Herman L. Horn and the Vinton school named after him. As Roanoke County school superintendent from 1955-65, Horn enforced racial segregation in schools for years after the Supreme Court's landmark ruling in Brown v. Board of Education. Ultimately, he found himself on the losing end of a civil rights lawsuit.
Perhaps the most interesting email came from Tom Edwards, a retired economics professor at Hollins University. It offered insight into certain challenges Virginia employers faced in the era of Massive Resistance.
In the late 1950s and early 1960s, a number of Virginia localities considered closing segregated public schools rather than comply with court-ordered integration. (Prince Edward County closed its schools for five years.)
Edwards noted that the years-long debate had far-reaching side effects.
"How did massive resistance in Virginia affect Hollins' hiring?" he asked.
"Newly-minted Ph.D.s who interviewed for jobs, as well as existing faculty, began to press the [college's] administration on what would happen if local school systems closed to avoid integration. Would their own children become pawns in the battle? [Hollins] President [Jack] Everett thought it important enough to talk the Board of Trustees into setting aside financial resources and a commitment to have Hollins faculty instruct faculty children as needed."
Edwards continued: "Your article reminds us how touch-and-go it was in those years. Though events did not force Hollins' hand, I have felt good about my institution's commitment to stand up in a way that Herman L. Horn did not."
The July 19 column detailed a squabble I'm having with the Internal Revenue Service because of an ongoing audit over a tax credit I claimed for 2017. The agency is holding $1,000 of my refund and has billed me for an additional $1,522. It's also ignoring its own instructions and manual regarding documentation I offered in support of the American Opportunity Credit.
David Manley, executive director of the Wythe County Joint Industrial Development Authority, sympathized and wished me luck in the battle.
"I just settled a 2013 dispute over $300 of [a] withheld refund. It took nearly a year and a half and a trip to tax court (via mail) before I came out on the good end," Manley wrote.
He added: "For future reference, there's a great service called the Taxpayer Advocate Service — it's (sort of) independent from the rest of the agency and advocates for taxpayers when normal channels don't yield results. They were so kind to work with and even though it took ages to resolve the problem, the folks from the advocate's office in Richmond would check in every 60 days or so, by mail and by phone. It was refreshing."
The former chairman of Donald Trump's presidential campaign asked to move the case here, to Trump Country, because he didn't think he could get a fair trial in Northern Virginia, which voted strongly for Hillary Clinton in the 2016 election.
A judge ultimately denied Manafort's motion, so the trial's going to stay up there. But before that ruling, Franklin was salivating at the prospects almost as much as I was. And he applied a Second Amendment spin to it.
"If they do move the trial to Roanoke, and you want to do a little work for God, you could help me organize a 'Roanokers for Open Carry' march downtown on the first day of the trial," Franklin wrote.
What a fascinating idea — and what a pity that it never came to pass.
Thanks again, readers, for all your phone calls, emails and letters.