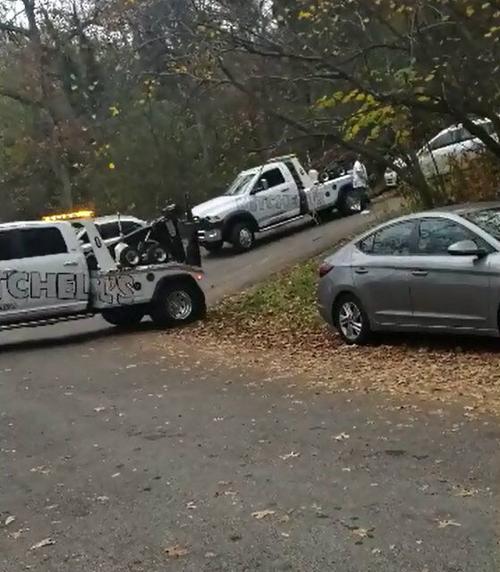 Imagine the prospect of a nice hike on a beautiful autumn day. Four women from the Roanoke Valley had that notion Saturday morning as they headed for on outing to McAfee Knob in the Catawba area of Roanoke County.
Jennifer Harner, Elizabeth Vail, Jana Rakes and Kristie Buchanan all were looking forward to some inexpensive fun and exercise.
Hours later, three of them were collectively poorer to the tune of $749, after Vail's and Buchanan's parked vehicles were towed a from nearby side street, Old Catawaba Road. Rakes' SUV was parked there, too. But she was lucky. She got off with a $15 ticket.
In all, 18 cars parked near the McAfee Knob trailhead Saturday were towed from Old Catawba Road at the orders of Roanoke County police, said Amy Whittaker, a county spokeswoman. Police ticketed 16 more cars, she said. The latter included Rakes' SUV.
The lowest redemption fee any towing operator charged that afternoon was $350, said Joe Mitchell, owner of Mitchell's Towing & Recovery in Roanoke. At least two of his rigs were among those at the scene. Vail and Buchanan said they each paid Mitchell's $367, including tax.
"The $350 is our minimum call for any emergency towing ordered by police. That is lower than any other company," Mitchell told me. "We're not the bad guy here. Anytime police call us to tow a vehicle we get there within 30 minutes."
Mitchell said he heard that one of the other tow operators was charging $490.
Oddly, cars parked on Virginia 311, which sports "No Parking" signs, were not towed. But cars parked on Old Catawba Road, which has zero signs restricting parking, were. What gives?
That's what Harner wanted to know in an email she sent me Saturday night. She and her friends were trying to do the right thing, she added.
"We were unable to park in the lot because it was full when we got there Saturday around 9:45 a.m. We did not park on 311 because there are 'NO PARKING' signs posted along that highway," Harner said.
"We drove down the small side road (Old Catawba Road) where many cars were parked on both sides for about 1/4 to-1/2 mile. There are NO signs posted on this road. We drove down at least .3 to .4 of a mile before finding a clear shoulder and parked."
How did they know that distance? They were wearing fitness trackers on their wrists, which measures the distance walked.
Weekends in the fall and spring are typically high-volume days for that stretch of the trail, said Diana Christopulos, archivist and past president of the Roanoke Appalachian Trail Club. Often at peak times, the gravel lot on 311 near the McAfee Knob trailhead fills up early and parking spills over to the 311 shoulder or Old Catawba Road.
The Virginia Department of Transportation has deliberately refrained from installing "NO PARKING" signs on Old Catawba Road, said Jason Bond, a VDOT spokesman.
"Given the popularity of this destination, we would rather see parking on [Old Catawba Road] than on 311," he told me.
Then why were the cars towed?
"That is a law enforcement question," Bond replied.
So I put it to Whittaker. Why tow cars from a street where parking's allowed?
"The police department's response was initiated by citizen complaints that the road was blocked by cars. The officers observed cars clearly parked on the roadway and restricting traffic flow. That particular road is narrow and with cars parked along the sides and in the road, two cars could not pass. Officers observed only one vehicle being able to pass through at a time," Whittaker said.
She added: "Even if there isn't a 'NO PARKING' sign, it is unlawful to block traffic. Officers have to enforce the state statutes regarding the roadway."
She referred me to Virginia Code section 46.2-888, which begins: "No person shall stop a vehicle in such manner as to impede or render dangerous the use of the highway by others, except in the case of an emergency, an accident, or a mechanical breakdown."
"This presents safety concerns," Whittaker added. "Not only could there have been multiple traffic crashes but it would have been very difficult, if not impossible, for a fire truck or ambulance to pass through in an emergency."
An ambulance did respond to an emergency in the McAfee Knob area that afternoon. But its driver chose 311 to get there. That was wise, considering that the top of Old Catawba Road resembles a corkscrew. It would be nuts to  drive an emergency vehicle on that section.
The police department, Whittaker added, has requested VDOT install "NO PARKING" and "TOWING ENFORCED" signs on Old Catawba Road.
Rakes happened upon the towing spree when she left the trail early and walked back to her car, so she could make a previously scheduled appointment. After speaking with officers, Rakes called her friends to let them know about the towing. But they were still a two-hour hike away and didn't make it back in time.
Vail said she got her SUV back from a nearby business parking lot on Bradshaw Road that Mitchell's was using as a staging area for cars it was towing off Old Catawba Road. But Buchanan's Honda Fit had already been towed from the staging lot all the way to Mitchell's lot in Southeast Roanoke.
Meanwhile, Harner called her husband, who was running their kids around Roanoke. He picked her up on the mountain and took her to the Orange Market at Hanging Rock, where Harner had left her car earlier. Soon, Vail dropped Buchanan off there.
Harner drove Buchanan to Mitchell's lot in Roanoke, "while my poor husband had to run back to town and pick up our daughter from band practice," Harner said.
Christopulos, with the trail club, told me parking issues on spring and fall weekends have been a problem for years. Soon, they're going to get worse, she predicted. That's because the RATC is working with VDOT and the National Park Service to install a pedestrian bridge, which will cross above 311 from the parking lot to the McAfee Knob trailhead.
The future construction will "close at least half the lot for a year," Christopulous said.
Buchanan, who said she's previously parked on Old Catawaba Road without problems, described the scene there Saturday afternoon as "mass chaos." The tow trucks were blocking the street more than the parked cars were, she added.
"There were four tow trucks," she said. "One of the other companies [other than Mitchell's Towing & Recovery] sideswiped a parked car."
Among those whose cars were towed, Harner said, was a couple from Virginia Beach who were hiking with an infant in a backpack-style child carrier.
Vail said she observed many cars with out-of-state tags parked on Old Catawba Road Saturday.
"I just feel like the experience wasn't really welcoming to visitors," Vail added.
Harner noted that Roanoke County's seal sports a drawing of a hiker on the famous rock ledge at McAfee Knob. It's one of the most photographed sights on the Virginia stretch of the Appalachian Trail.
"I find it very interesting that Roanoke County would use McAfee Knob on its logo while using the same tourist attraction to lure, deceive and victimize unwitting visitors," Harner said.