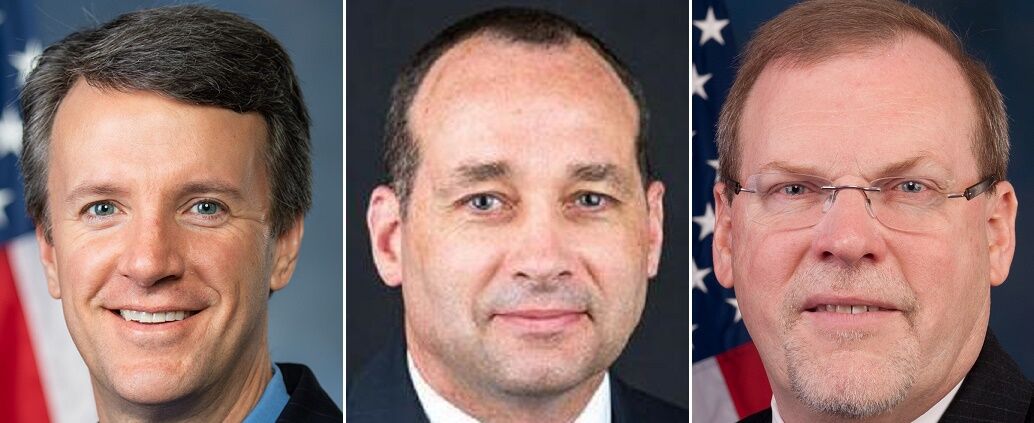 The FBI and Metropolitan Police in Washington, D.C., have established a joint tip line for citizens to report identities of those responsible for storming the Capitol Wednesday. Five Americans ended up dead during or shortly after that insurrection.
As you may have heard or seen, someone erected a gallows outside the Capitol building. Others smashed their way inside, carrying handfuls of plastic handcuffs, as if they intended to arrest somebody.
At least a handful were caught with firearms. They ransacked the Capitol and some of them screamed to bring them Vice President Mike Pence. Yikes.
As patriots, all of us bear a civic duty to defend our democratic republic from mob rule, right? So here's a short list of folks you may want to report to the Democracy Stoppers Hotline (my name for it). The number is 1-(800) CALL-FBI.
First up is Rep. Ben Cline, R-Fincastle, a 48-year-old lawyer. The former prosecutor and ex-state delegate succeeded former congressman Bob Goodlatte. For a while, he served as Goodlatte's chief of staff.
Cline's now supposed to be serving the people of the Virginia's Sixth Congressional District. But arguably, he's been failing to support democracy ever since the Nov. 3 presidential election.
Of course, "failure" isn't a federal crime, and nobody is alleging Cline swung a truncheon, hung a TRUMP banner on the Capitol or smashed any windows.
But in December, Cline added his name to a friend-of-the-court brief in a U.S. Supreme Court lawsuit by Texas that tried to scotch Pennsylvania's duly certified electors. The case was so laughable even the conservative justices refused to hear it. Then Wednesday, Cline voted to reject certified presidential electors chosen by Pennsylvania and Arizona, too.
Arguably, his actions since November have given aid and comfort to others who've tried to subvert democracy. Perhaps that's not a crime either, but the phraseology bears a resemblance to Article III, Section 3 of the U.S. Constitution. It's also known as the Treason Clause.
"Treason against the United States, shall consist only in levying war against them, or in adhering to their enemies, giving them aid and comfort."
Did Cline's (and others') refusal to acknowledge Biden as president-elect give aid and comfort to the mob that overran the Capitol on Wednesday? That's a question you're going to have to answer for yourself.
If you decide yes, then the Democracy Stoppers Hotline in your ticket!
The second suspect is not as well known, except maybe in Campbell County. So if the agents ask for a detailed description, mention his closely cropped dark hair and prominent widow's peak. In that respect, Rep. Bob Good, R-Campbell, resembles younger version of former president Richard Nixon.
Though his face will blend into just about any crowd, Good's mouth is what's made him a standout. During his campaign last year, he railed against same-sex marriage and transgender people in public bathrooms.
And shortly before the Electoral College voted for Joe Biden in December, the 55-year-old spoke at a pre-riot rally, where he complimented the shoulder-to-shoulder crowd on their bare faces and declared the pandemic "phony." Roughly 21 million Americans have been infected and 360,000 have died.
Unfortunately, we know bias against gays or spreading false information to the public are not crimes. Heck, if the latter was, President Donald Trump would have been jailed at least four years ago.
Like Cline, Good also voted to reject Arizona's and Pennsylvania's electoral votes. In your phone call to the hotline, you can argue Good collectively tried to disenfranchise about 5 million Americans of their votes in November's election.
Our third suspect is Rep. Morgan Griffith, R-Salem.
Griffith, 62, is better known than the other two, probably because he has a much longer tenure in Congress. Also, Griffith used to rent a booth each year at the wonderful Salem Fair, where he did a riveting "Mr. Smith Goes to Washington" act.
On Wednesday, he was one of the more prominent members of the derail-the-count caucus. Some wags are calling them the "Banana Republicans."
At the very beginning of Congress' joint session, Griffith interrupted Vice President Mike Pence, just minutes before the rioters busted into the building. Did you catch the congressional TV cameras zoom in on Griffith when he made that big fuss?
Basically, Pence told him to stick a Twinkie in his pie hole, but in a far more polite way. Griffith later voted to reject duly certified electors from Arizona and Pennsylvania, just like Cline and Good did. But he was way more active in the derailment effort.
Later that night, after SWAT teams and soldiers cleared all the rioters and tear gas from the building, Congress resumed the counting, which dragged all the way into Thursday morning. By then a number of Republicans in Congress understandably had some second thoughts.
Expressing abject horror about what had happened earlier, they dropped their objections to counting the votes. Probably they felt squeamish at the prospect of appearing to support the mob. But Griffith was undeterred.
He pressed on, lodging objections all the way into early Thursday morning. At one point his delaying tactics almost sparked a fistfight between another Republican representative and a Democrat.
If you feel outraged about that, persuade the Democracy Stoppers Hotline that Griffith conspired to obstruct the U.S. Constitution by interfering with the counting of certified electoral votes. Arguably, that's an offense against democracy.
And if it's not a crime yet, it might be soon, now that Democrats are in control of Congress.
So don't forget that number: 1 (800) CALL-FBI. I'd feel proud if you told them you got the idea from me!