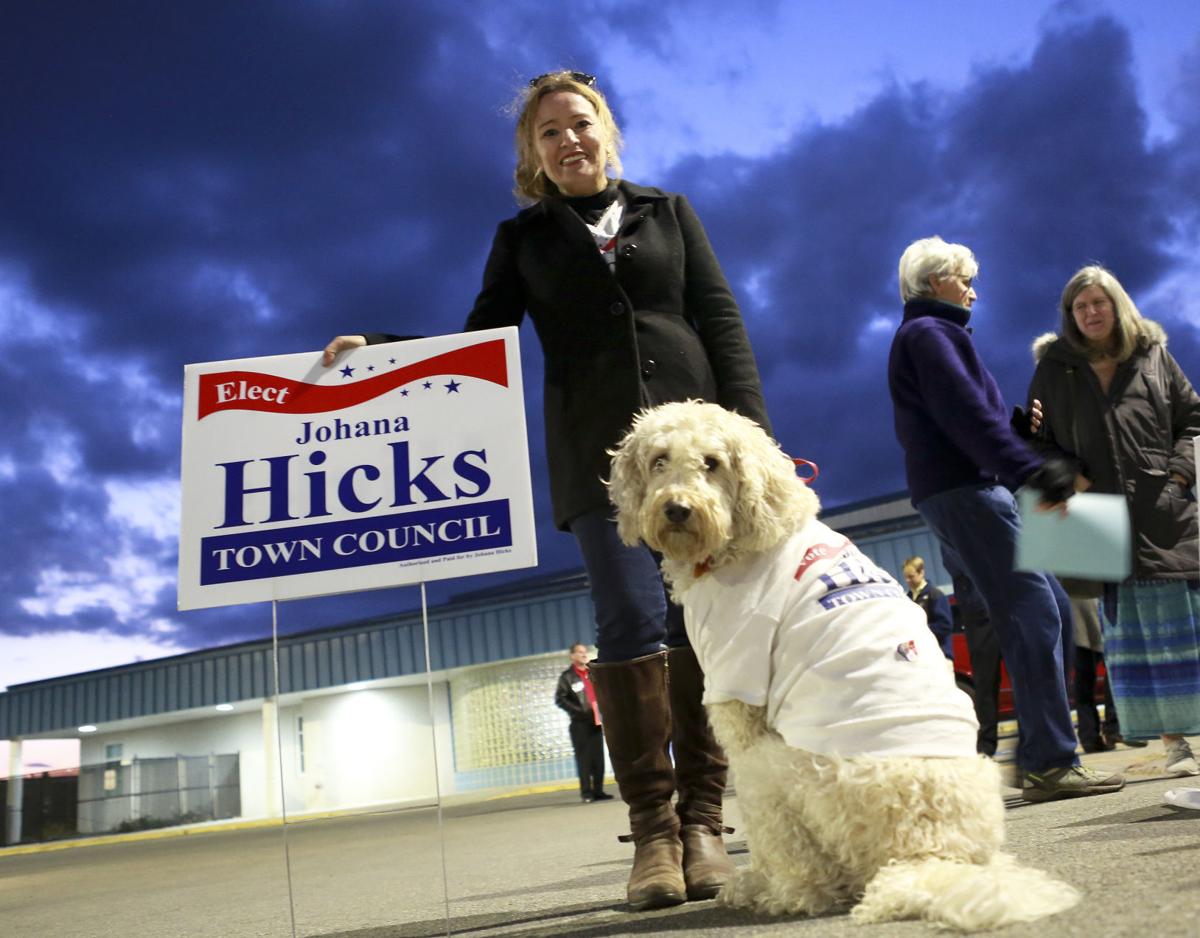 CHRISTIANSBURG — Challenger Johana Hicks won a town council seat Tuesday night in a victory for a candidate who ran against the status quo.
Hicks, a realtor, was backed by town restaurant owner Marie March, who started a drive to oust town council incumbents because of frustration with current leadership.
Hicks received more votes than any other candidate.
She said it felt "freaking awesome" to win a seat on the council and said the people of Christiansburg were clearly looking for a change. Hicks said she is looking to end closed session meetings unless "it endangers life. If it is anything else (unless prevented by law) I will vote to operate within the public view," she wrote in an email before the election.
March, who owns Due South BBQ and Fatback Soul Shack, has been critical of the town's meal tax of 7.5%. Hicks said she is in favor of lowering the tax.
"If there is a way to do it I'm all for it 100%," she said Tuesday night.
Hicks and March have not minced words when it comes to their feelings toward Mayor Michael Barber. March recently said he is someone with a "Napoleon complex who puppeteers town council in making many poor decisions." Hicks has personally called out Barber on social media as well.
When asked how she plans to have a working relationship with Barber, she said "That's up to him. I'm willing to work with the town council members. I want to listen but I want to listen to the community members before I listen to anybody else."
Barber said he has been criticized a lot during his time as mayor and he tries not to take it personally.
"I've got to work with whoever is on the council, so that's what I'll do. ... She's going to have a learning curve to learn more about the inner workings of council than what she's been told," he said.
Hicks said she plans on attending a workshop held by the Virginia Municipal League for newly elected officials.
Two incumbents were also reelected to council: Henry Showalter, who received nearly as many votes as Hicks, and Sam Bishop, who narrowly beat out incumbent Harry Collins.
Showalter, an employee in Virginia Tech's bursar's office, won his fourth consecutive bid and Bishop, a retired police officer, won a second term. Neither councilman could be reached for comment following the election.
Collins, an employee of Shelor Motor Mile, recently faced conflict of interest questions over a rezoning vote on the former Meadows golf and swim club that was purchased by his boss David Hagan. Hagan purchased the property through one of his companies, Shah Development, with the hopes of rezoning the property for a housing development.
Collins voted in favor of the move as a member of the planning commission — an advisory arm of the council. Collins has said he probably should have abstained from the commission vote, but he did not intend to do anything wrong. There has been no determination of impropriety.
Christiansburg resident Chris Waltz, a regular attendee of town council meetings, sent the complaint to Montgomery County Commonwealth's Attorney Mary Pettitt. She passed it on to the Attorney General's Office. That move is required in cases involving elected officials, she said.
Collins said Tuesday night he believes the Attorney General's Office report will clear him of any wrongdoing. He said he thinks the recent attention to the matter probably cost him some votes.
"I was hoping to have another shot but that's not what the people of Christiansburg wanted," he said Tuesday night.
Collins said he will now focus even more on his work with the Lung Transplant Foundation. He received a transplant himself in 2010 and has since worked closely with the organization.
He served on the planning commission prior to being elected to council in 2015, but said the recent negativity he's faced on social media has essentially ended his time in politics.
"You can stick a fork in me. I'm done after the stuff on Facebook," he said.