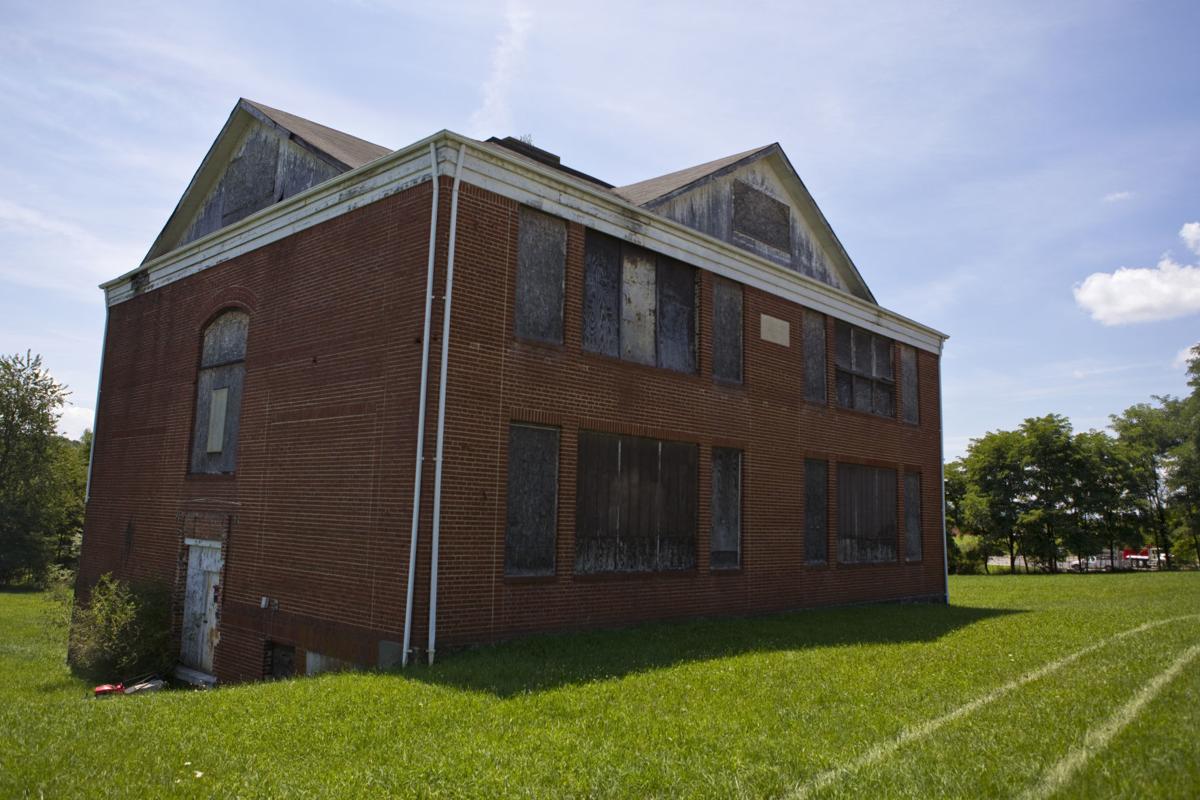 CHRISTIANSBURG — A women's organization has donated $17,000 toward the effort to repair the historic Edgar A. Long building off Scattergood Drive.
The donation from the New River Valley chapter of 100+ Women Who Care was celebrated Tuesday afternoon during a large check presentation ceremony in front of the structure.
The donation, which includes a $5,000 match from another organization called the Secular Society, is one of the single largest contributions made in recent years to the decades-old effort to preserve the history of the Christiansburg Industrial Institute.
"We're continuing to pursue grants. We've made significant progress in the last fiscal year," said Chris Sanchez, executive director of Christiansburg Institute Inc., the organization in charge of promoting and preserving the school's history. "We're really growing as an organization, so this is huge. Obviously these folks are moved and inspired by the history of CI."
The Christiansburg Institute was founded by a Union Army veteran sent to the town by the Freedmen's Bureau during Reconstruction to educate former slaves. Started in a rented room with just 12 students, the school expanded and eventually served as the segregated public high school for blacks until integration in the 1960s.
The Edgar A. Long building, named in honor of a longtime African-American principal at the school, is the former campus' last structural remnant.
Christiansburg Institute Inc. has focused its recent efforts on the repair of the building's roof, which is estimated to cost anywhere from $150,000 to $290,000 depending on the exact work performed.
The $17,000 donation brings the current roof repair fund to a total of $20,000, Sanchez said.
Among other potential donors, Sanchez is pursuing contributions from the town of Christiansburg, which in the past donated $80,000 to Christiansburg Institute Inc. The town, however, hasn't donated money to the organization during the past few years.
Sanchez said Tuesday that he plans to soon revisit with the town about contributing to the project. He said he also plans to approach the town of Blacksburg.
"While the school was in Christiansburg, we had students coming from all across Southwest Virginia," he said. "It's letting them know, 'you share in this history.' It's not just Christiansburg."
The 100+ Women Who Care's New River Valley branch is comprised of approximately 120 members. The group, which exists to raise funds for other nonprofits, meets a total a four times a year in sessions limited to just an hour. Each member during those meetings donates $100.
Co-founder Alexa Casey, who was present at Tuesday's event, said the organization uses the meetings to hear proposals from various nonprofits, which she described as all doing "phenomenal" work.