Drones may not be ready to deliver your next Amazon order in less than 30 minutes, but local governments around Southwest Virginia are already calling on the technology for simpler, more practical tasks.
They're not inventing high-tech systems, but rather saving time and taxpayer money with small quadcopters usually available at BestBuy for about $1,000.
Of 13 localities surveyed from Pulaski to Roanoke counties, five said they own at least one drone.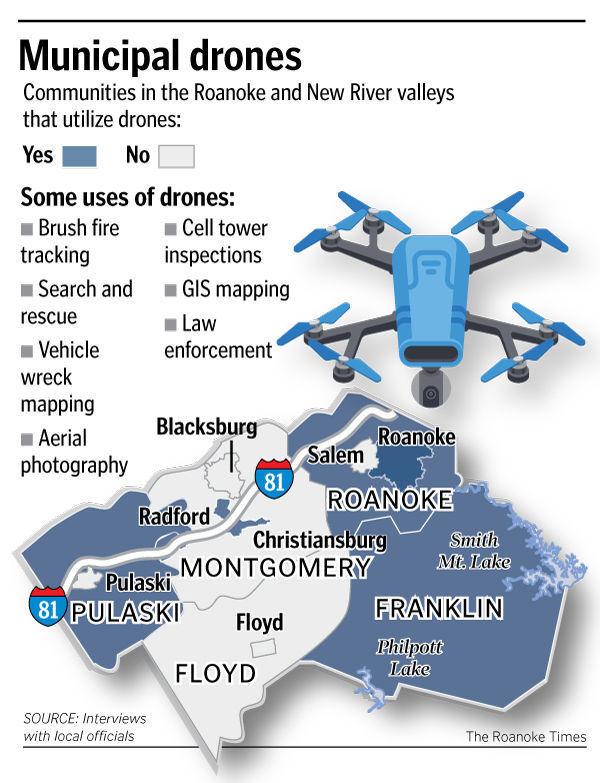 Roanoke County has a team of seven certified pilots and three drones standing by for everything from tracking brush fires to capturing aerial photography for county brochures.
Franklin County's GIS department has a drone to track progress at major construction projects and photograph tourism events.
Roanoke City has purchased a drone for its fire department, though it's still working out the program details before it sees much use.
Pulaski County has used drones to map vehicle wreck scenes, among other jobs.
Radford Sheriff Mark Armentrout earned his drone pilot certification so he can fly search and rescue missions over the New River or take aerial photographs of property for sale.
"If somebody requests for me to use it that is beneficial to the city of Radford, whether it's economic or public safety, I'm all for using it," Armentrout said.
In Christiansburg, IT Director Adam Carpenetti bought a drone several years ago when he got tired of troubleshooting issues with the town's antennas mounted on cell towers.
The job would often be as simple as checking to see if a power indicator light was blinking. But it would take thousands of dollars and up to a week to hire a tower climber.
So Carpenetti got a drone with a camera and started handling the job himself.
When a Giles County hiker got lost in 2017, rescue teams found themselves searching four miles of dense forest on the side of a mountain. Celanese, a local company that has a drone for security monitoring, volunteered to help out.
The company's drone had a thermal camera and spotted the hiker within 30 minutes. It then hovered overhead with strobe lights flashing in order to guide search crews in the hiker's direction.
"He was able to go home to his family. It was a happy outcome," Celanese Fire Chief Boomer Brown said. "It was a good feeling to see someone come out."
But the use of drones doesn't come without its pitfalls, as the Federal Aviation Administration is now paying closer attention to an industry that was virtually unregulated a few years ago.
Carpenetti said municipalities were a regulatory gray area when he purchased Christiansburg's drone a few years ago.
By the time the FAA published more specific rules in 2016, it was clear to him that the town could not fly without a certified pilot.
Carpenetti doesn't have a license, so the drone has been locked in his office ever since.
"We hate it because we still find it valuable," Carpenetti. "I think we have a lot of good applications where we could use them. We just are maybe trying to decide whether that's something else we want to take on."
Tombo Jones, associate director of Virginia Tech's Mid Atlantic Aviation Partnership, said the FAA's most recent guidance gave municipalities with drone ambitions a relatively clear path forward.
There is a time commitment, Jones says, but it's nothing unreasonable.
Municipalities are held to the same standards as commercial drone users, meaning they can't fly above 400 feet, at night, over people and must follow a slew of other rules.
But most importantly, localities must first obtain a so-called remote pilot certificate, as prescribed by the FAA's Part 107 guidance.
The test requires studying, as drone pilots must know how to read weather maps and have a basic understanding of different types of national airspace. But the certification doesn't require any flight or classroom hours.
"There's no prep requirement in terms of time, but there is a knowledge requirement," Jones said. "Most people that put in the effort to do a little bit of studying ahead of time with these prep guides are able to pass the test."
The test costs $150 and must be repeated every two years.
"The beauty is the FAA has clearly laid out what's required to operate a UAS [unmanned aircraft system] in the national airspace," Jones added.
Roanoke County did decide to take on those steps. The program took about two years to get off the ground, from research to planning, training and implementation.
Today, the county has the seven certified pilots and three drones parked at various fire stations around the county for quick deployment.
Roanoke County Fire and Rescue Department Lt. Christopher Lacy said each pilot logs at least one hour of flight time each month. The team has tracked forest fires, mudslides and floodwaters. They've captured aerial photography and have helped out various departments around the county.
When a citizen reports the smell of smoke, Lacy said it used to sometimes take hours of driving around to spot the source. Now, the drone team can usually spot the issue from the sky in minutes.
Lacy estimates the program has cost a total of $11,000, between the equipment and pilot training. If he hired a single helicopter for one of these jobs, he estimates that could cost up to $1,000 per hour.