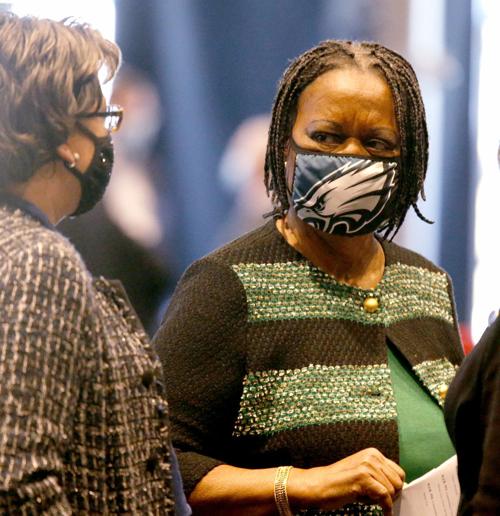 RICHMOND — Deirdre Johnson first learned she had HIV when she was six months pregnant. She was shocked to learn that in Virginia, it was a crime for her to have consensual sex with someone without disclosing she had the virus.
"Virginia's HIV criminalization law is rooted in stigma and discrimination," Johnson said. "It targets people living with HIV and paints them — and people like me — as vectors of disease to be feared and criminalized."
Johnson, who lives in Petersburg, takes medications so that she now is at no risk of transmitting the virus. Her son was born HIV-negative. She co-founded Ending Criminalization of HIV and Overincarceration in Virginia, and advocates for changing the state's HIV criminalization laws.
The Virginia Senate passed legislation Friday that would decriminalize people having consensual sex without disclosing they have HIV, which advocates say will reduce stigma and improve public health. The bill, from Sens. Mamie Locke, D-Hampton, and Jennifer McClellan, D-Richmond, passed the Senate on a party-line vote of 21-17, and heads to the House of Delegates for its consideration.
Virginia is one of 37 states that criminalizes exposing or transmitting HIV to another person. States adopted these laws during the panic in the 1990s about how to prevent the spread of the virus.
In particular, states acted in response to a 1997 case in New York that drew nationwide attention. Nushawn Williams knowingly infected at least 13 women and teenagers with HIV through unprotected sex. This prompted fear of people intentionally spreading HIV, the virus that causes AIDS, although there's no evidence that a significant number of people were ever intentionally trying to infect other people with HIV.
The statute is rarely used. Between 2019 and 2020, three people were convicted of felony infected sexual battery and misdemeanor sexual battery, according to the Virginia Sentencing Commission. The misdemeanor offense carries possible jail time of 12 months, and the felony up to five years.
Senators were concerned that repealing this law would prevent prosecuting someone for intentionally, maliciously infecting someone with the virus. The bill would reduce the penalty from a felony to a Class 1 misdemeanor for someone to engage in "sexual behavior that poses a substantial risk of transmission" and transmits a sexually transmitted infection to someone.
Sen. Siobhan Dunnavant, R-Henrico, an obstetrician-gynecologist, said she's had to be the one to deliver news to women that a person they were in a relationship with transmitted a disease to them.
"I cannot diminish in any way the consequences for someone who has intentionally infected a woman," she said.
According to the Virginia Department of Health, 25,000 people live with HIV in the commonwealth.
Andre Leaphart pleaded guilty to a misdemeanor offense under this statute in 2017. He said part of the problem with the law is that it's broadly written and can be used to prosecute people like him who had never intended to harm anyone. It doesn't require transmission, and intent could be interpreted as the defendant not disclosing their HIV status.
After his experience, he advocates for improved HIV testing and outreach. He said the law can be a barrier to testing. World health groups have identified HIV criminalization laws as hurdles to effective treatment and prevention.
"This bill ensures Virginia code reflects current scientific understanding of HIV and promotes public health by alleviating the stigma and mistrust of health institutions," Leaphart said.
A number of states in recent years have modernized their HIV criminalization laws. Changes include requiring intent to transmit, actual transmission or providing defenses for taking measures to prevent transmission.
Sen. Creigh Deeds, D-Bath, said he appreciates the mindset in the 1990s that led to this law. Then, getting HIV was a death sentence. That's no longer the case, so Deeds said it was worth reexamining the law now to reflect the current understanding of the virus.