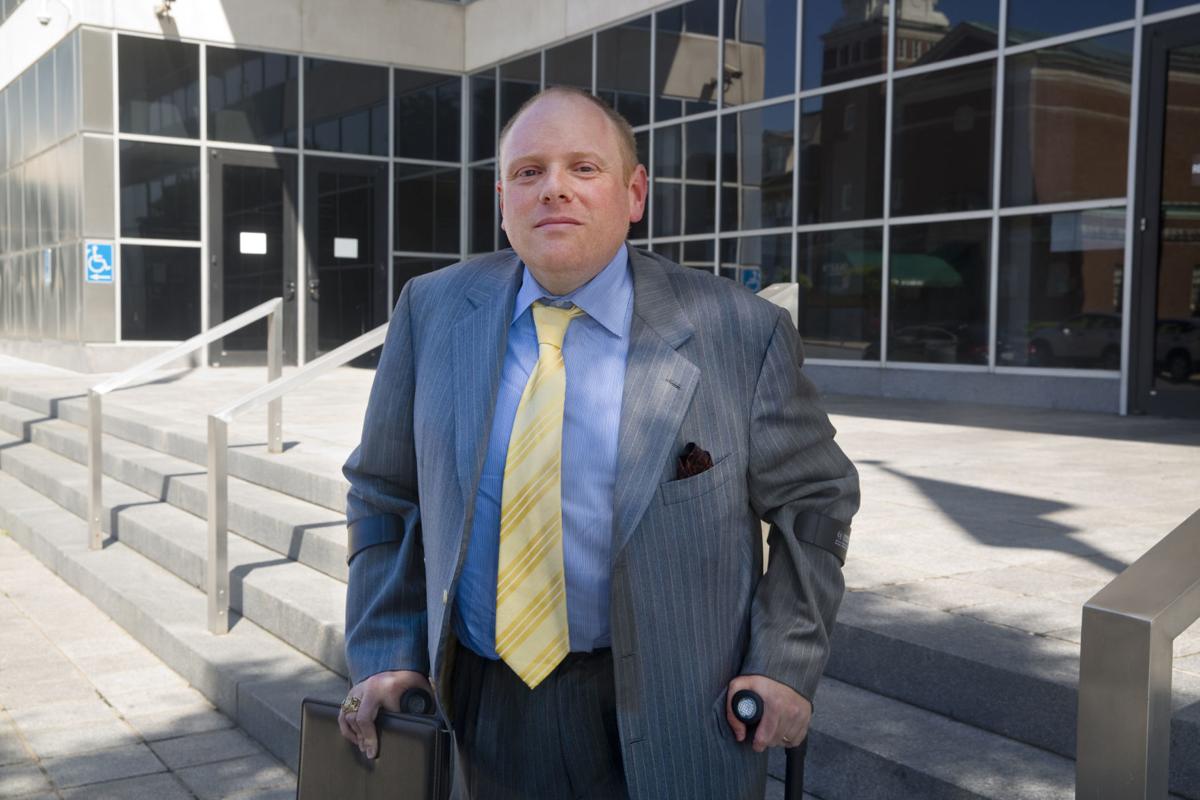 CHRISTIANSBURG — Attorney Jonathan Preston Fisher, whose problems with judges and the Virginia State Bar drew notice in legal circles and beyond, lost a case this month to a former client.
The client, Kimberly Ann Brock of Christiansburg, said Fisher failed to tell her earlier this year that his license was suspended, then kept the $4,000 fee she had paid him. In February, Brock filed a civil case against Fisher in Montgomery County General District Court.
On April 8, at a hearing that Fisher tried to delay, then did not appear for, a judge awarded Brock the $4,000, plus 6% interest from the date of the judgment.
"It was a pretty stressful experience," Brock said Friday about her dealings with her former attorney. "I never met him in person, he liked to only talk by text … I never really knew what was going on."
Fisher, 45, of Blacksburg, did not reply Friday to a message requesting comment for this article.
In recent years, Fisher has had more than a dozen contempt of court charges related to not showing up for hearings. All of them were eventually dismissed. In 2019, he was fined $600 by a circuit court judge in Floyd County after cursing at a prosecutor and threatening to sue the commonwealth's attorney's office.
In January, the Virginia State Bar suspended Fisher's license for the months of February and March after citing him for problems with 10 clients he represented. Bar investigators said Fisher missed hearings and that some clients were convicted after he did not arrive to defend them.
Between September 2018 and February 2019 in courts in Montgomery County, Roanoke, Salem, Roanoke County, Botetourt County and Giles County, Fisher missed hearings, did not tell clients they had been convicted in absentia, and did not file appeals that he had said he would, the bar concluded. The clients in these cases faced charges that included intoxicated driving, traffic violations and criminal offenses.
Also, the bar said Fisher had not met requirements to hold clients' money in a trust account until he completed work for them.
On March 5, the bar reprimanded Fisher for not filing appeals on time for two clients, and for bookkeeping and banking problems related to the required trust account.
At his January hearing with a bar disciplinary panel, Fisher explained his problems as he had before, blaming health difficulties and a too-busy schedule in too many courts.
Fisher has osteogenesis imperfecta, also known as brittle bones disease. He walks with forearm crutches and has said he has had more than 50 broken bones. The repeated injuries left him with post-traumatic stress disorder, Fisher said in January.
At the bar hearing, Fisher said that a new regimen of therapy and medication, and steps to reduce his caseload, had greatly improved his outlook and his functioning.
Brock said that last year when she hired Fisher to represent her on a drunken-driving charge, he told her that he was the top attorney for defending DUI cases. He had her watch a promo video that praised his abilities, Brock said.
A waitress, Brock paid Fisher $4,000 to represent her.
But it was difficult to find out what, if anything, Fisher was doing on her behalf, Brock said. When they communicated, the attorney always seemed angry, Brock said.
"I was worried he was going to do something against me that would hurt my case," Brock said.
A December hearing in Montgomery County was postponed until Feb. 1 at Fisher's request. Days after that court date passed, Brock got a notice that she was to appear on Feb. 16 — because both she and Fisher had missed the Feb. 1 hearing and the judge wanted to know what was going on.
Brock said that she was confused because Fisher had told her the Feb. 1 hearing would not happen. "He was adamant he was postponing it," Brock said.
It was at that point that she found out that Fisher's license was suspended — not from him but from a Google search as she tried to figure out what was going on, Brock said.
Brock asked for her money back, and retained a new attorney, Chris Tuck of Blacksburg. Tuck said he is representing Brock without charge in her attempt to regain her money, and at a reduced rate on the drunken-driving charge, which is now set to be heard June 7.
On April 7, a day before the hearing on Brock's warrant-in-debt lawsuit, Fisher asked to delay it. He filed a letter from a psychiatrist who said Fisher should not work through April 14 "due to an exacerbation of his mental health conditions."
Judge Greg Mooney, a substitute judge appointed to the case after Montgomery County's regular judges recused themselves, declined to postpone the hearing.
Fisher did not appear and Mooney entered a default judgment for Brock.
Tuck noted that he had two unusual witnesses on hand for the hearing: Commonwealth's Attorney Mary Pettitt, who was to testify about how little work Fisher had done on Brock's case, and attorney Fred Kellerman of Christiansburg, a former member of a state bar regional disciplinary committee, who was to testify about acceptable ways to structure attorney's contracts — basically to say that Fisher was not entitled to Brock's money, Tuck said.
Neither witness ended up having to testify after the judge said he would accept Tuck's summary of what they would say, Tuck said.
However, even with this month's judgment, Brock has yet to see her money. Tuck said that Friday was the deadline for payment and that he would begin collections proceedings against Fisher.
Tuck and other New River Valley attorneys said that after Fisher's temporary license suspension, more former clients also sought refunds.