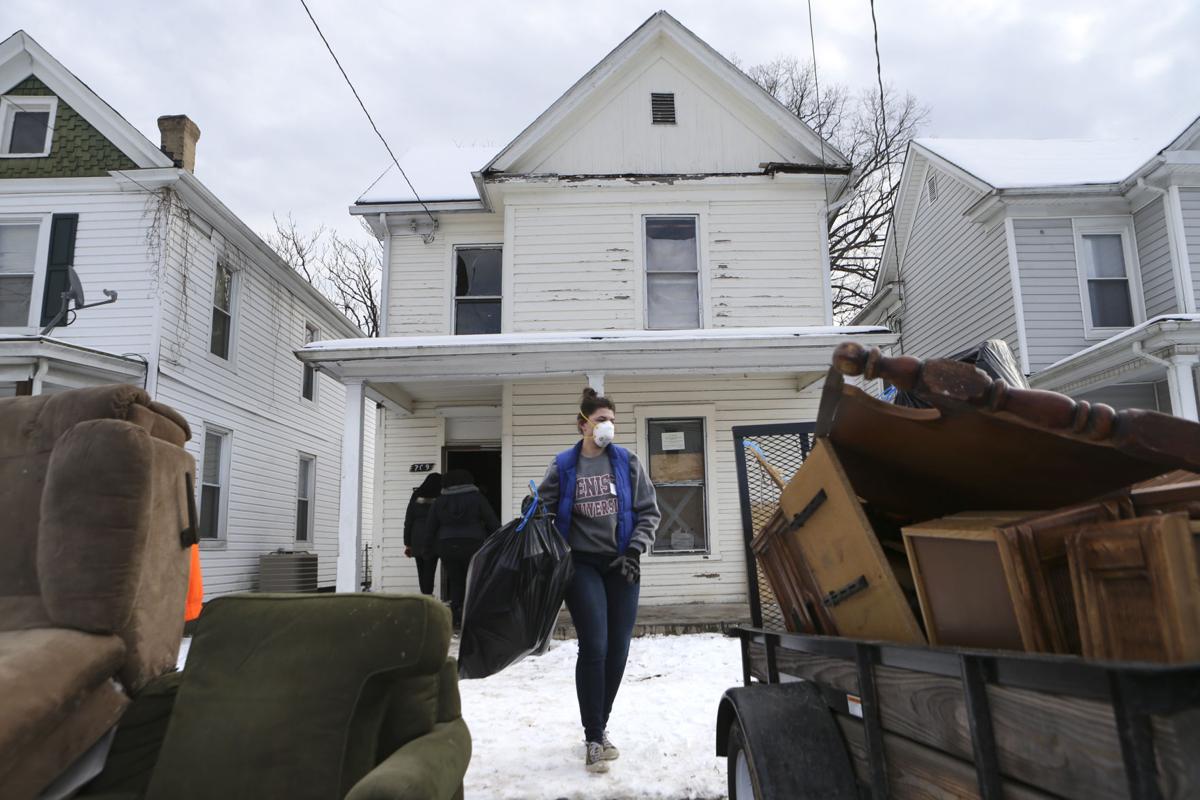 Officially, the house at 709 Stewart Ave. Southeast has been condemned and unoccupied for years.
The old futon, the jar of spaghetti sauce, the empty pack of Camels and the dregs of a big bottle of Bud Ice beer tell a different story.
The 1,300-square-foot house has become a blight on its part of southeast Roanoke as it's deteriorated and been the periodic residence of homeless people.
But now it's in the hands of a local nonprofit with an army of free labor and a plan to renovate it and make it home to a family again.
The nonprofit, REACH, bought the house at a city tax sale last year for $9,000.
The group pays for its work through fees paid by volunteer groups that come to Roanoke to work in the summer and during college breaks, as well as other money collected through grants and donations.
Wednesday, the first wave of laborers arrived. They're a group of college students from Denison University in Ohio who gave up watching Netflix and lying around during the last week of their winter break to volunteer at a number of organizations under the auspices of REACH.
The house is just one of them. A half dozen women pulled on work gloves and, once they figured out how they worked, dust masks, and started hauling out broken furniture from the house — old recliners, broken tables, a particle board stereo cabinet.
"I love this stuff," senior Isabel Mularoni said of the work. "You get to see the results of what you're working on right away."
The labor Mularoni and her schoolmates contributed to the project adds to 80,000 hours of labor REACH has provided since its founding in 2011 to Roanoke organizations like food banks, the Rescue Mission, the Hope Center, the Salvation Army, Clean Valley Council, Mill Mountain Zoo, neighborhood organizations and others.
"What we principally try to do is change attitudes," said REACH founder Tim Dayton, who directs the nonprofit as part of his work pastoring Roanoke's First Christian Church. The longtime youth minister created the group to connect young people and anybody else looking to contribute somehow.
"Everybody wants to do something for somebody else and they feel good about it," Dayton said. If they feel good, they want to do more, and he won't hesitate to ask them for more.
REACH's chief role has been as a kind of broker that connects groups like the students from Denison with organizations needing help. He finds he's able to stay above the fray of competition and politics in the nonprofit world because he's not competing with anyone.
"There's nothing not to like" about REACH, he said.
Fundamentally, it not only provides help where it's needed, but also involves more people in the work that needs to be done to improve the community.
"The only sustainable change has to involve everybody," Dayton said.
Up until now, however, REACH hasn't had a project of its own that needed labor. The house on Stewart Avenue changes that.
"If we work together, we don't have to wait for someone to come in and fix it up," Dayton said.
The Denison students are the first group to work on the house, Dayton said, but they'll be followed by many others. He figures they can have the house done by September for a total cost of $30,000 or less, given lots of free labor and donated materials.
The plan is to sell it to a low-income family that has the money to make the payment, but perhaps not the down payment or good enough credit.
Dayton believes they can offer REACH's equity in the house as the down payment for a buyer.
But the work was only beginning Wednesday. Within a couple of hours, the Denison students had emptied the house of furniture and were collecting trash in bags.
Though the work was unpleasant, it wasn't easy to connect hauling a ratty recliner with community improvement, Denison senior Precious Rooks said it will all come clear soon enough.
"Later we'll reflect and I will be thinking about what we've actually done," she said. She grew up in Chicago where she participated in an urban squash club, where college students taught inner city kids to play the racket sport. Since she got to college, she's been inspired to be like those students who helped her.
All of the students said they came on the trip to make more valuable use of their break time, learn about community development, and about themselves, too.
Sophomore Gabrielle Caldwell said her entire family works in community development, and she wants to as well, but she's not sure what part of it.
"I'm trying to find my own path," she said.
The next morning, a half dozen different students from the group came in to start the demolition, tearing out drop ceilings and ripping down paneling.
"It's fun because you get to be destroying stuff, but it's nice to know it's going in the right direction," said senior Liza Haggenjos during a break from sweeping up in one room.
Neighbors were thrilled to see work beginning on the house they've worried about as it sat vacant. Fires in vacant properties set by the homeless trying to stay warm are fairly common in the winter months. And Dayton found a bag of charcoal stashed in the house apparently for that purpose.
"To think that you're going to sell it to a family," said Mary Martin, who lives across the street and came over Wednesday to watch. "This area needs … an influx of families to live in these homes, fix them up."
Martin, 69, has lived on that block of Stewart nearly her entire life. She grew up in the house next door to the project house, and now lives directly across the street. Her brother lives next to her and owns another house on the block. His daughter lives down the street.
She reminisced with the students about the heyday of Roanoke's Belmont neighborhood, when the houses were filled with families and the fathers all walked to work at the railroad shops or American Viscose, lunch pails in hand. The kids walked to school and church, and she would visit with neighbors who knitted and did the crossword puzzle on their front porches.
"Everything you do, even if you just make it neat and clean, elevates the value of the other homes in the neighborhood," Martin told them. "Thank you all. God bless you all."