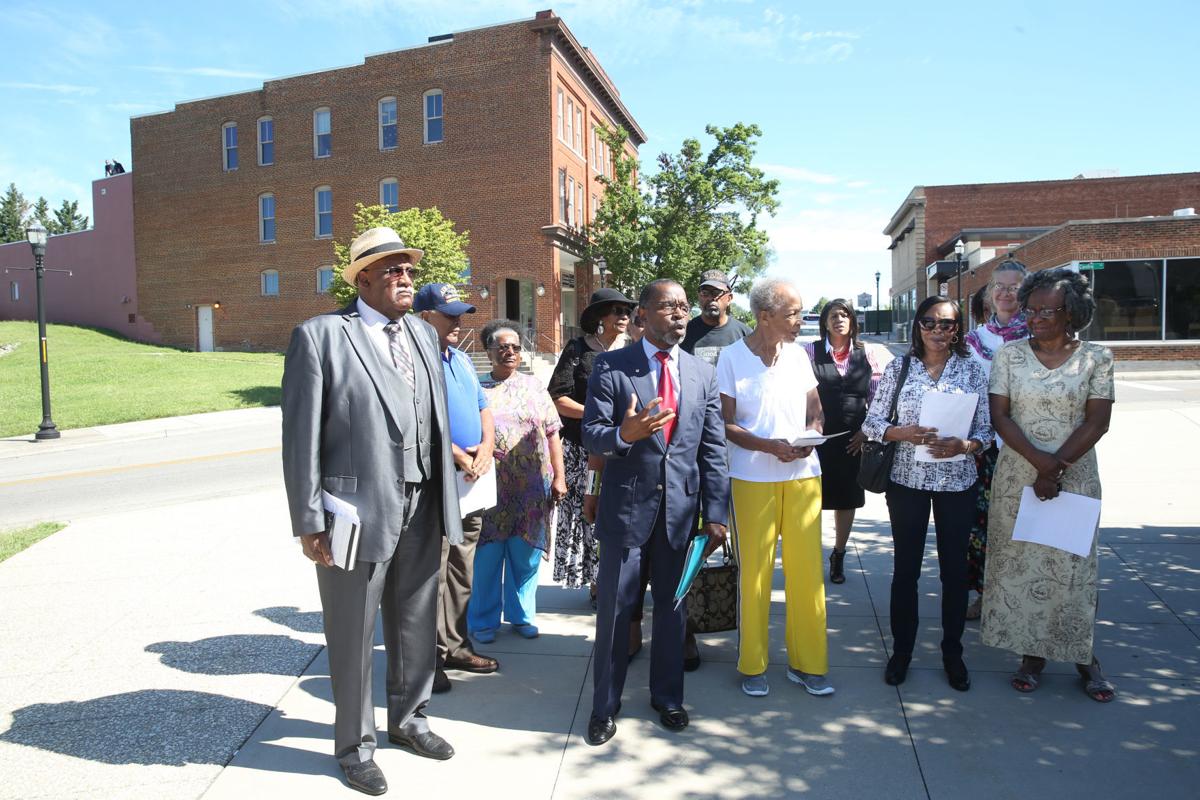 Never mind that Total Action for Progress says the historic Dumas Center is no longer for sale — a community group says it still has a contract to buy it and expects TAP to abide by it.
Leaders of Dumas Hotel Legacy Inc. said they've consulted with attorneys and they maintain a contract to buy the building on Roanoke's historic Henry Street remains valid and active and they are proceeding with fundraising and arranging of financing needed to close the deal.
Saturday, TAP announced via news release that the building is off the market and that it will continue to own and operate it following "several unsuccessful attempts to complete the sale."
That word came less than two months after Dumas Hotel Legacy announced it had a contract with TAP to buy the former hotel that was a centerpiece of Henry Street when it was Roanoke's hub of black arts, culture and commerce.
Martin Jeffrey, a leader with the group, said the TAP announcement was news to his organization and accused TAP of blindsiding the community.
TAP President Annette Lewis said Tuesday that while TAP had entered into a contract for sale of the Dumas, that contract has been terminated. She declined to say who the contract was with, citing a promise of confidentiality in the contract that TAP's attorney advised her still applies even though the contract is no more.
"We've honored the conditions of the contract we were under," she said.
According to the group's news release, Dumas Hotel Legacy already has raised $50,000 over the last seven weeks through more than 400 donors and is negotiating with three lenders to secure more than $700,000 in financing. It's unclear what the purchase price is.
The group also said it has lined up leasing commitments valued at $188,400 per year and has a business plan that shows an average profit of nearly $100,000 in each of the first three years of operation.
The release also lists numerous other events planned for the Dumas by a range of community organizations, arts entities, businesses, nonprofits and colleges.
This week's developments are but the latest in an at times combative relationship between Dumas Hotel Legacy and TAP.
Dumas Hotel Legacy maintains that because the former hotel is one of the last vestiges of the once thriving black business and cultural center before it was badly damaged by urban renewal, it should remain in community hands for community use.
Dumas Hotel Legacy offered to buy the building for $800,000. It was listed for more than $1 million.
Last year, when TAP announced a contract with a different, unidentified buyer, the legacy organization, a predominantly African-American group, accused TAP of negotiating in bad faith and discriminating against them.
Lewis vehemently rejected the allegations and said Dumas Hotel Legacy had passed on an opportunity to respond to a counteroffer.
The contract with the unidentified buyer later fell through and the property was again listed for sale.
About two months ago, the Dumas group announced it had agreed to terms with TAP and signed a contract to buy the Dumas.
TAP made no announcement about the contract, but Lewis reiterated Tuesday that the organization made several attempts to close the sale of the Dumas but failed.
TAP has owned the Dumas since 1990.
After urban renewal, during which the Roanoke Redevelopment and Housing Authority used eminent domain to take control of numerous properties in Gainsboro and the adjacent northeast section, the Dumas struggled.
It was once a regular stopover for jazz greats like Duke Ellington and Dizzy Gillespie.
During the Jim Crow era, it was also listed in The Negro Motorist Green Book of hotels, garages, bars and restaurants that were safe for black travelers, a recent story in City Lab, a web-based publication of The Atlantic Monthly, reported.
The housing authority bought it for less than $25,000 in 1987 and gave it to TAP three years later. TAP renovated the building in 2005 for $4.8 million, $3.1 million of which was paid with federal tax credits.