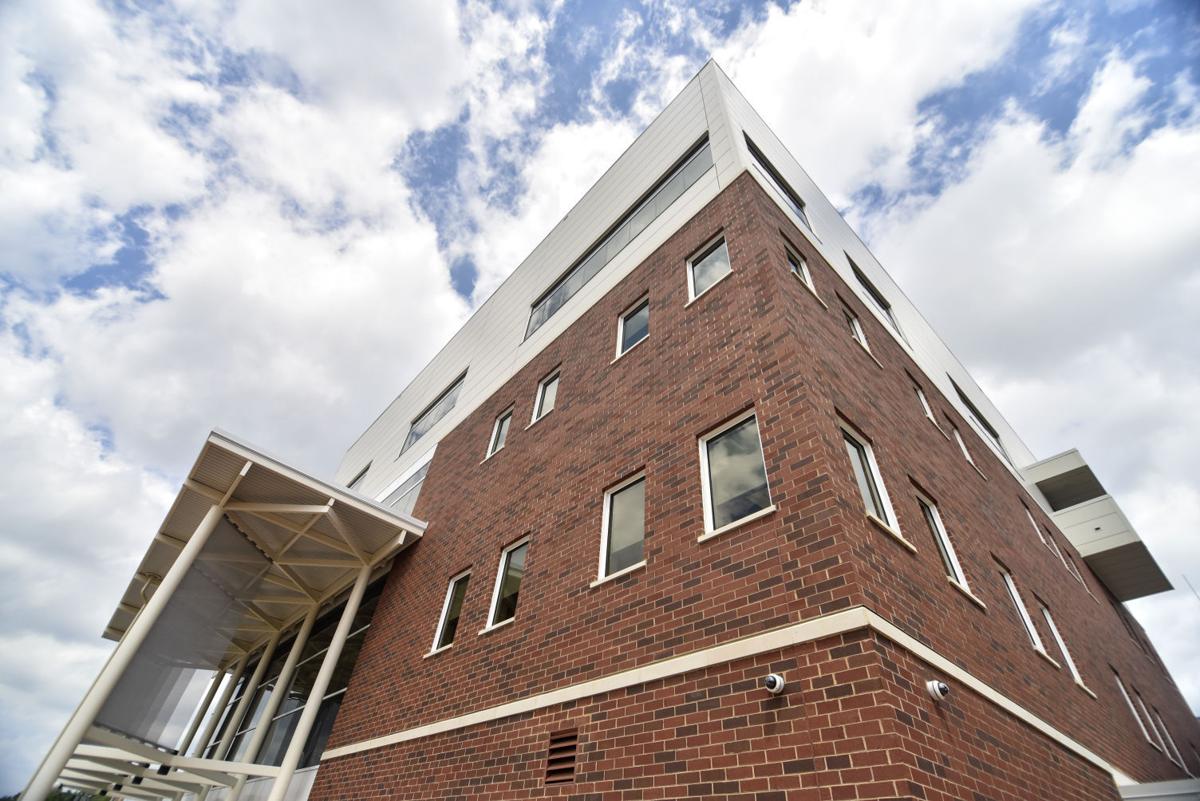 Seven months of pandemic have had definite effects on the region's criminal justice system — including a backlog of court cases that may soon begin to clear and in some areas, a jump in the number of domestic assault and intoxication cases.
Giles County Commonwealth's Attorney Bobby Lilly said that "a common thread" in an increase in domestic violence cases has been people stuck at home together.
"We are seeing a greater number of cases for crimes of violence like strangulation, like repeat violations of protective orders, family violence cases that involve weapons," Lilly said. "Whether people have cabin fever, whether people just have general anxiety … I guess that's really an answer that has to come from individual victims and defendants."
But inquiries to prosecutors, law enforcement officials and others in recent weeks showed little uniformity across the New River and Roanoke valleys. Anecdotal accounts and the scattering of numbers available from different localities suggested that as in so many matters dealing with the coronavirus, different places have had very different experiences.
While Montgomery and Giles counties reported a sharp rise in the number of domestic violence cases from a year ago, other jurisdictions such as Roanoke County and Salem reported declines or no change, or less evident patterns.
Floyd County, like Montgomery and Giles, linked a declining number of burglaries to people staying home more — making their properties less vulnerable to thieves.
In Pulaski County, Sheriff Mike Worrell said the number of calls received for nearly all types of crime dropped after the pandemic descended in March. But there's been a spike in requests for wellness checks.
"Without the ability to see certain individuals face to face, teachers, mental health workers and family are requesting we check on loved ones to reassure them that they are OK," Worrell wrote in an email.
But actual emergency custody orders and temporary detention orders did not increase, just the number of well-being checks, Worrell added.
Not all localities responded to questions and others cautioned that figures still are incomplete.
"I have not noticed anything yet," Radford Commonwealth's Attorney Chris Rehak wrote in an email.
In the courts, the voice-muffling, eyeglass-fogging masks required by many judges are probably the most remarked-upon consequence of the pandemic. But a more substantial issue has been Virginia's halting of jury trials as officials try to figure how to protect jurors and others from COVID-19, attorneys said.
It's a problem that has only become more daunting as the Virginia Department of Health reports COVID-19 numbers are rising across the state.
Along with virus-related delays to many non-jury cases, the effect has been to create a steadily building backlog of cases waiting to be decided.
"The major challenge for us has been the continuing reluctance of people to come to court, either the defendants or the witnesses," Floyd County Commonwealth's Attorney Eric Branscom said.
Some of the gridlock should ease soon in the Roanoke Valley. This month, the 23rd Circuit, which covers Roanoke, Roanoke County and Salem, got state approval for to resume jury trials.
Roanoke currently has at least two dozen cases awaiting juries, Roanoke County about 30 and Salem, 14. The chief judge in the 23rd Circuit said jury trials should start again within the next four weeks, with expanded precautions.
Other local judges submitted their own safety plans, but so far none have gotten the go-ahead. The next nearest courts to re-start juries are Alleghany County Circuit Court, which was among the first batch approved, and Wythe County Circuit Court, which got the nod last week.
The Virginia high court has listed some 22 courthouses across the commonwealth currently approved for jury trials. Individual plans are posted online.
In Montgomery County, there are 21 criminal jury trials on hold, Commonwealth's Attorney Mary Pettitt wrote in an email. Judges have directed that jury trials be scheduled for two days in anticipation of everything taking longer due to whatever COVID-19 procedures are approved, Pettitt noted.
"If half of the juries end up being tried, then that is a full month of work days doing just jury trials," she wrote.
As for the growing totals of non-jury cases awaiting resolution, Pettitt wrote that in the seven months before the pandemic, her office opened about 500 cases and closed about 750. In the seven months since, Montgomery County prosecutors opened about 850 cases and closed about 225.
The coronavirus of course poses a direct challenge to working with families in crisis. In the spring, Montgomery County's social services office had to shut down as its building became the center of a COVID-19 outbreak. In April, nine of the office's 67 workers tested positive for the disease, social services Director Kelly Edmonson said.
All have recovered and the office reopened, and there have been no more COVID-19 cases among the social services staff, Edmonson said.
"It's been a new realm, trying to keep everyone safe," she said.
Now the Montgomery County department is facing increased numbers and more serious cases of domestic violence, Edmonson said.
Edmonton attributed some of the increase in domestic violence to people not receiving their usual outpatient care for mental health and other problems – either not receiving care at all or getting it online instead of face-to-face.
But if there is a complaint that involves the safety of children or others, social services staff continue to go into peoples' homes, Edmonson added.
She described a recent case as typical of recent months: Children were taken out of a home after complaints of violence, but there was not enough evidence to bring criminal charges and the mother was unwilling to leave her abusive partner because he was paying the household bills.
"She's not working now and hasn't been since the pandemic. I think she just feels lost," Edmonson said.
Pettitt said that between March 6 and Oct. 6, her office opened 90 cases involving assault and battery on a family member. For the same time period in 2019, 44 such cases were opened.
Giles County is dealing with a similar trend, said Tamy Mann, director the county's Victim/Witness Assistance Program.
From April to September, Giles County had 64 cases involving domestic violence, up from 36 during the same months of 2019, Mann said.
The number of civil protective orders seemed to also leap right after pandemic began, Mann added.
But that hasn't been the case everywhere.
"When COVID hit and everybody was hunkered down, I expected we would have more domestic cases," Salem Commonwealth's Attorney Tom Bowers said this month. "With people restricted to their homes, you'd think you'd see more of that. And we didn't have it."
Between February and September, Salem saw domestic charges placed against 68 defendants, down from 75 during the same time frame a year before.
Similarly, Roanoke County had 105 domestic assault cases from March to mid-October, compared to 118 last year, Commonwealth's Attorney Brian Holohan said.
In Roanoke, senior assistant prosecutor Alice Ekirch coordinates much of the commonwealth's attorney's office's handling of domestic violence cases. She said that she has not seen a notable increase this year.
"Our juvenile cases are low, our caseloads have been light," Ekirch said.
According to Roanoke police data, felony domestic violence from March to October rose compared to a year ago, to 41 cases from 21, with 38 in the same period in 2018. But misdemeanor domestic assaults dropped to 734, versus 845 and 870 the past two years.
It's possible that some assaults in homes go unreported because victims have fewer safe options to leave and so remain silent. It's impossible to track non-reports but Ekirch said none of the complainants she dealt with mentioned the virus as having made them reluctant to come forward.
"I've read about that, nationally, but I don't have anything scientific, a database to tell you that's what's happening here locally," Ekirch said. "It sounds logical."
In Floyd County, Sheriff Brian Craig had figures for the number of victims of domestic violence on a monthly basis for this year and in 2019. In March, the total was up, with 46 victims this year compared to 28 in March 2019. Then from April to September, almost each month saw a decline or exactly the same number as the year before. The exception was July, which saw a jump to 64 victims from 51 in 2019.
Craig said the fluctuations did not seem significant. "There's always ebbs and flows anyway," he said.
Intoxication-related charges were another area where Montgomery and Giles counties saw a rise after the pandemic began.
Montgomery County opened 43 DUI cases from March 6 to Oct. 6, compared to 20 during the prior seven pre-COVID-19 months. "This is interesting given that bars were closed but ABC stores were open," Pettitt wrote.
In Giles County, Lilly wrote in an email, there had been a "significant increase" in cases involving impaired driving and other alcohol- and substance abuse-related matters.
Yet Pulaski County saw calls related to an intoxicated person or driving drop to 109 between April 1 and Oct. 13, down from 182 during the same span of 2019, Worrell reported.
And in Roanoke County, DUIs were down to 22 cases from March 1 to Oct. 14, from 28 the year before. Roanoke's 75 cases represent a 25% drop from last year, and about half of 2018's number.
Burglaries seemed to have dropped during the coronavirus months in most localities that responded to questions for this article.
"Which makes sense as so many people were not leaving their houses — working from home, cancelling vacations etc.," Giles County prosecutor Lilly wrote in an email.
Branscom, the commonwealth's attorney in Floyd County, agreed: "Most of our burglaries have, in the past, been events that took place during the day while people were at work or the property otherwise unattended," he wrote.
Roanoke County saw a decline in burglaries to 11 cases since the pandemic began, from 15 in the same time period last year.
Commercial burglaries in Roanoke are in keeping with years past, but residential break-ins are down by nearly 40%.
In Pulaski County, calls related to larcenies or shoplifting were down to 451 since April 1, compared to 619 during the same months of 2019.
Over the past several months of the pandemic, despite an even greater-than-normal incentive to avoid risk, non-domestic violence is on the rise in Roanoke County and the city.
In the county, malicious woundings more than doubled this year — up to 23 from 11 — but Holohan said he was not yet aware of a specific cause.
The city has seen an even greater increase in victims injured by gunfire, with at least 37 reported non-fatal cases of gunshot wounds.
While the uptick in violence is jarring, Roanoke Commonwealth's Attorney Donald Caldwell said city homicide rates remain consistent with last year.
During 2019, Roanoke saw 12 homicides that claimed a total of 13 victims.
Wayne Loveless, 41, who was killed early Oct. 17 outside a 7-Eleven on Williamson Road, marked the city's 12th reported homicide case this year, and its ninth fatal shooting.
Another Roanoke man was killed by gunfire early Saturday night, in the 1900 block of Gayle Street Northwest, but police had not yet identified him Sunday afternoon.
Caldwell said the shootings in the city haven't had consistent themes; he cited drug activity, domestic issues and disrespect as factors that seemed to be the primary causes in some recent cases.
"It's all over the board, which of course makes enforcement much tougher because you can't really say 'this is the problem,' because there are just so many variations out there," he said.
Caldwell pointed to a Sept. 12 fatal shooting near a bar in the 700 block of Bridge Street.
"That occurred at a club, at a business, with upwards of 200 people involved," he said. "There's no social distancing. There's no masks. It's just business as usual."
Pulaski County saw a decline in non-domestic violence in recent months, Worrell, the sheriff, said. No such data was immediately available from other New River Valley localities.
Concerned about COVID-19?
Sign up now to get the most recent coronavirus headlines and other important local and national news sent to your email inbox daily.