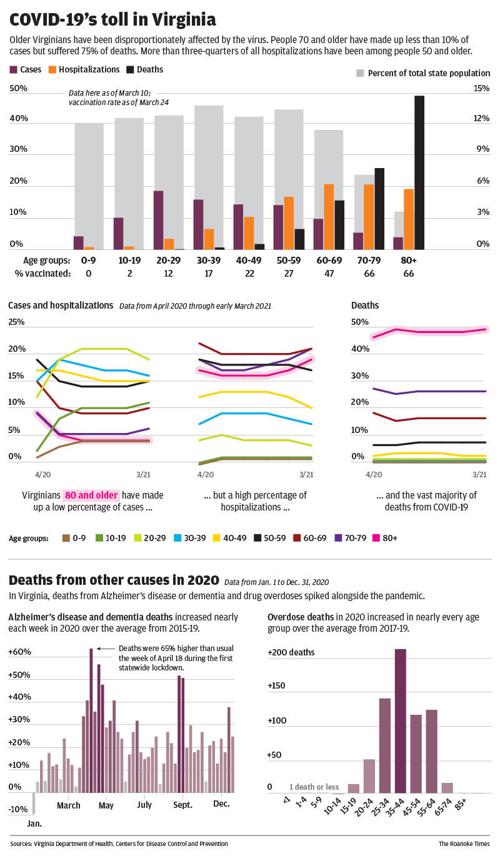 The COVID-19 pandemic has wiped out more lives than just those infected with the virus.
Thousands more Virginians than would be expected lost their lives during the past year. Hardest hit were the oldest among us who died directly from the coronavirus, but also from loneliness, isolation and perhaps less robust care. But they were not the only age group to have more deaths than would be expected.
Virginians in their prime working years died at the highest rates ever from drug overdoses, and gun and auto deaths rose as well.
"What is so sad about it is, it was preventable. So many of those deaths didn't need to happen," said Virginia Commonwealth University researcher Dr. Steven Woolf.
Woolf is director emeritus at VCU's Center on Society Health and a professor of family medicine and population at the medical school. His work has focused on the reasons that Americans' life expectancy rate has continued to decline since 2014, while people in other well-off nations live longer.
"When the pandemic started, I naively thought that gap between the U.S. and the other countries world would not change because of the pandemic. My reasoning was, it's a global pandemic, so everybody's going to take a hit and see their life expectancy decrease," he said. "What I didn't anticipate was how bad a job our country would do in dealing with it. So sure enough, what we've seen is a massive decrease in U.S. life expectancy that is orders of magnitude higher than these other countries have experienced."
By design, the U.S. delegates public health authority to the states. There wasn't a cohesive national plan to handle the pandemic, but rather 50 different responses that became tied to politics.
Woolf said he's found different patterns of death because of it. In New York and New Jersey, which were hit hard and fast early in the pandemic, deaths rose sharply in April but within eight weeks were back to baseline. In Texas and Florida, where there was less adherence to things like mask wearing and distancing and closing of businesses, the deaths have been protracted.
"At any particular week, the numbers of deaths were not as high as New York or New Jersey's experience. But in the aggregate, the number of excess deaths was enormous," he said.
Virginia, he said, did OK. And still 10,154 people had died as of Friday.
The Centers for Disease Control and Prevention typically holds onto death data for several years before releasing it to the public to allow time for the states to report all of it and to make corrections. Virginia, similarly, releases annual medical examiner reports years after the deaths, with the exception of accounting for overdose deaths during the opioid epidemic.
Everything changed with COVID-19. The CDC is reporting deaths from all causes in real time so that it can track what are considered excess deaths. These are figures that exceed the numbers of deaths by particular causes that would be typically seen each year.
Because the data are preliminary and not complete, the CDC reports a range for excess deaths. As of March 24, between 530,000 and 647,000 Americans had died beyond what would be expected. Once COVID deaths are removed, there remain 62,000 to 160,500 excessive American deaths.
COVID explains about 70% of the total excess deaths, Woolf said.
No group was more vulnerable to the coronavirus than the elderly. In Virginia, nearly 90% of deaths from the virus occurred in people 60 and older, and almost half of the deaths were in Virginians 80 and older, who account for only 3.5% of the state's population.
In February, the CDC looked at the risk of being hospitalized for or dying from COVID by age groups.
"What they did was use the 5- to 17-year-olds as the reference group because they have the lowest risk of hospitalization and death," said Dr. Lilian Peake, the state epidemiologist. With each age group the risk increases: Those in their 20s were 15 times more likely to die, 30-somethings were 45 times more likely than kids to die, and so on.
"If you look at the group that is 85 and plus, compared with the 5- to 17-year-olds, the rate of death is 7,900 times higher," she said. "It's pretty shocking."
Virginia has had three surges of the virus. Peake said during the first one in April, more elderly people were contracting the virus. The percentage of infections in the oldest Virginians began to decline once protective strategies were enacted, she said.
While race and ethnicity contributed to disparities in severe illness and death in younger Virginians, older whites were as likely to suffer the same rates of death as older Blacks and Latinos.
Age alone is one of the greatest independent risk factors for death from COVID-19.
"I think it's been really hard in nursing homes to have policies that reduce visitation, but you can see how critical it is for older people to take care of them and to keep them from becoming infected," Peake said.
VCU's Woolf said people shouldn't be so quick to write off the deaths of the elderly as deaths that would have happened anyway.
"There's a scientific and a humane answer to this question. The scientific one is, there's no evidence that you can use to say that a death in somebody in their 80s would have occurred anyway had they not had COVID. That's just sheer speculation," he said. "Without any empirical data, you can't really make that case. But I would argue, even if that's true, even if the 80-year-old was destined to die that year, but was not expected to die until six or nine months later when they could attend their granddaughter's wedding or see their grandbaby, and they died prematurely because of COVID, that's still a tragedy."
Age isn't the only risk factor for dying from COVID, a point Peake makes in explaining why all age groups had to stay home and keep their distance.
"Younger people have had very severe disease. You don't know who is going to have that severe infection. So that's part of it," she said. "Ten percent of the hospitalizations were for people who were 40 to 49; 17% were 50 to 59. These are our working people. And so from any perspective, you need to protect your workforce as well."
Also, she said, the concern from the start was the impact on the medical system.
"If your health system becomes overwhelmed, then you can't treat other people who are without COVID-19, either. And so there's so many additional risks that come into play. We didn't just experience older people having the disease and dying, we have lots of middle-aged people also become quite, quite sick. And the impact of hospitalization on that group is really significant," she said.
An increase in Alzheimer's deaths
The CDC found that a good portion of the excess deaths outside of COVID were people who died prematurely from Alzheimer's and other types of dementia.
The Alzheimer's Association said in Virginia alone, 1,546 more people died of the disease in 2020 than would be expected, or a 22.4% increase. This exceeds the national rate of 16.5% more dementia deaths than in typical years.
"We know that a huge burden of the impact of COVID fell on those who are living in long-term care facilities, and nearly half of those who are in long-term care facilities have dementia or Alzheimer's," said Katie McDonough, director of programs and services for the Alzheimer's Association Southeastern Virginia Chapter.
She said that some of the early deaths could have been from COVID, but that testing was so limited that people were dying in homes without knowing they had been infected.
"That just goes to show how important that testing continues to be in those communities," she said.
Other deaths might have been hastened because of isolation.
"We certainly talk about that whole idea of social isolation and the impact that that has on somebody who's living with dementia. That has had an impact on all of us, right? We all in some way, shape or form have been dealing with a variety of results of not being able to see people we love, and not being able to interact with people the way that we're used to," McDonough said.
"But you think about somebody who's living with dementia, particularly in the middle and late stages, who doesn't understand why they can't interact," she said. "When your family is not able to visit, and then you also have less staff who are available to provide care, that only adds to that isolation."
Woolf thinks homes that were dealing with outbreaks in residents and staff might not have been able to provide the level of care these people needed, allowing them, for example, to get pressure sores.
"You can't neglect the issue of social isolation. Many of these folks can't see their children. We believe from years of research that social connection and support is important to health," he said. "So in effect, people were dying of loneliness. These are all theories. We still need to do the research to prove it. But one thing that there's not any question about is that there has been a spike in deaths attributed to Alzheimer's disease and dementia."
McDonough said that not all of the deaths were in long-term care residents. Most people with dementia are cared for by family.
"We know that those who are providing care for someone who's living with Alzheimer's are more likely to be isolated socially for a variety of reasons. We also know that those who are providing care to someone living with dementia are more likely to not attend to their own health care needs," she said. "It's incredibly common for me to hear caregivers say, 'I need a knee replacement, but I'm going to wait. I can't possibly do that now.'"
She said the delay in health care experienced by everybody during the pandemic added another layer of difficulty for caregivers and their family members with dementia.
"I think we will see through studies the outcomes of COVID's impact on health. We don't have a lot to go on now, but we do know what the baseline looks like for a lot of our caregivers," she said.
Delays in health screenings, procedures and treatments will likely add to the toll of pandemic-related premature deaths in the coming years.
As to the deaths that can already be counted, those from overdoses are grim.
More than twice as many Virginians died from drug overdoses in 2020 than they did from car crashes. Auto deaths, too, were up.
The medical examiner's office in a third-quarter report of drug deaths said auto deaths were on pace to claim 988 Virginians, more than at any time since 2007.
Gun deaths, too, were running higher than in 2019.
But the steep rise in overdose deaths is stunning. Preliminary annual figures show 2,217 lives lost to opioids and other substances. Of those deaths, 1,607, or about as many as in all of 2019, occurred in Virginians ages 25 to 54. Another 349 overdose deaths were in people 55 to 64.
"This is just a fresh example of a trend that's been going on for a number of years where we're seeing increasing death rates in the United States," Woolf said.
Before COVID, mortality rates had fallen for children and teens and for the elderly, but had for at least five years increased for the working-age population.
The leading causes of premature deaths have been drug overdoses, alcohol and suicide, which led to the label "deaths of despair."
"We actually have now shown more than 30 causes of death where mortality rates have increased in this age group," he said. "There's something systemic going on for the working-age population that is causing their health to deteriorate in many different areas. Mental health, behavioral health is one of them, and a prominent one, but not the only one."
Intertwined are the communities where those hit the hardest live, in the health of their economies and the health of their people.
Policymakers have talked during the pandemic about health equity and what it means for communities with limited access to not just health care and a way to pay for it, but to transportation, childcare, good food, jobs, education — all of the things that contribute to well-being.
Dr. Cynthia Morrow, who heads the Roanoke City and Alleghany Health Districts, said she expects that community partnerships built to respond to the pandemic will focus next on tackling systemic health problems. She said local government leaders, health care providers, neighborhood groups and churches are already talking about what will come next.
Researchers will parse through pandemic data for years to come.
Woolf is hoping that one lesson sticks.
"One of the lessons we've learned from the pandemic is that there was a false choice presented in the spring: Either we're going to follow the doctors or we're going to do something to save our economy," he said. "I think what we've learned is that they're so intertwined. You have to address public health if you want a strong economy. It's an important lesson because it's one we've been trying to emphasize for years. This health disadvantage in our working-age population is really bad for our economy."