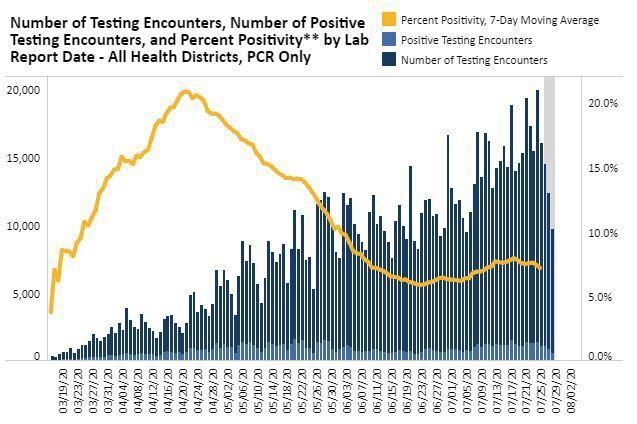 Virginia's mental health agency is dealing with COVID-19 outbreaks at three psychiatric hospitals and a training center that have infected dozens of patients and employees and have caused five deaths.
Most of the state's psychiatric hospitals have more patients than capacity and are operating at critical levels, said Alison Land, commissioner of the Virginia Department of Behavioral Health and Developmental Services. She and Dr. Daniel Carey, the state's secretary of health, last week wrote a three-page letter to lawmakers asking for help.
Piedmont Geriatric Hospital in Nottoway County has stopped admitting new patients.
"Unfortunately, we have had five deaths at this hospital related to COVID outcomes," Angela Harvell, deputy commissioner for facility services, said in a Wednesday phone interview.
Six of Piedmont's patients are now in a medical hospital. Another 18 patients are infected and remain at the Burkeville psychiatric hospital. Nine staff members also have tested positive for the virus.
"They just recently tested all the other patients at this facility, and they were negative. So the outbreak was contained to one unit, so we were fortunate in that regard," she said.
The other state psychiatric facilities with outbreaks are Eastern State Hospital in Williamsburg, Southern Virginia Mental Hospital in Danville, and the Southeastern Virginia Training Center in Chesapeake. Western State Hospital in Staunton has one patient and two staff members who tested positive, but it is not considered as having an outbreak.
Until now, the state hospitals had seen only isolated cases among staff or patients.
"We were closed to visitors early on in the process. In doing so, we believe we were able to delay as much as possible outbreaks in our facilities for several months," Harvell said.
Land said the hospitals were able to lower their census numbers early in the pandemic, but admissions began to rise rapidly as Virginia began to lift pandemic-imposed restrictions.
"If you remember before the community started reopening, most everybody stayed at home," Land said. "I really think it is more prevalent in the community and people are out more."
She said the hospitals screen staff and take temperatures, but if workers are infected and without symptoms they bring the disease into the facilities.
Eastern State has 16 staff members and six patients with infections. Harvell said the National Guard is doing a point prevalence survey to determine if others are affected. The results are pending.
Southern Virginia Mental Hospital is caring for seven positive patients and has transferred another patient to a medical hospital. The department is working with the Virginia Department of Health to get all tested.
At the Southeastern Virginia Training Center, five residents and four staff members tested positive.
"We are fortunate in the layout of that facility in that there are 15 separate homes with five beds each. So it's a little bit easier to isolate, and assign staff specifically to that area," Harvell said.
The state's psychiatric hospitals serve as the bed of last resort when people are going through a crisis and need inpatient mental health treatment, and a private hospital won't take them.
At the start of the pandemic, private psychiatric hospitals reduced their capacity both to put more distance between patients. Their goal was lessening the spread and freeing up space, staff and supplies for anticipated COVID patients.
Land said some of the private hospitals also ceased admissions after having patients and staff test positive.
Land said her agency early on also decreased the census at its hospitals. Just as people delayed care for physical ailments and stayed away from hospitals, so, too, did those with mental illnesses.
The geriatric hospitals remained full, she said, but the adult beds census dropped to 80% to 85%. But that changed with reopenings.
As of last week, the statewide census was 100%, with six of the eight adult hospitals exceeding 100%.
"Because state hospital beds are only funded at 90 percent capacity, state hospitals are unable to sustain such high census level because of major challenges such as staff burnout, turnover and operational issues," Land wrote in the letter to lawmakers. While the department isn't turning patients away, some are experiencing delays and waiting in hospital emergency rooms while staff work to free beds.
Before the pandemic, the state's hospitals often operated beyond capacity. The department has been rolling out the STEP Virginia plan to build services in the community that are aimed at preventing crises and hospitalization and at supporting patients after discharge so they won't require readmission.
"We were going in the right direction, and then COVID hit. We had such wonderful things in the budget that of course became unallotted because they had to because of COVID and the revenue gap," Land said. "So how can we move back to where we can get this funding? We have wonderful plans."
Concerned about COVID-19?
Sign up now to get the most recent coronavirus headlines and other important local and national news sent to your email inbox daily.