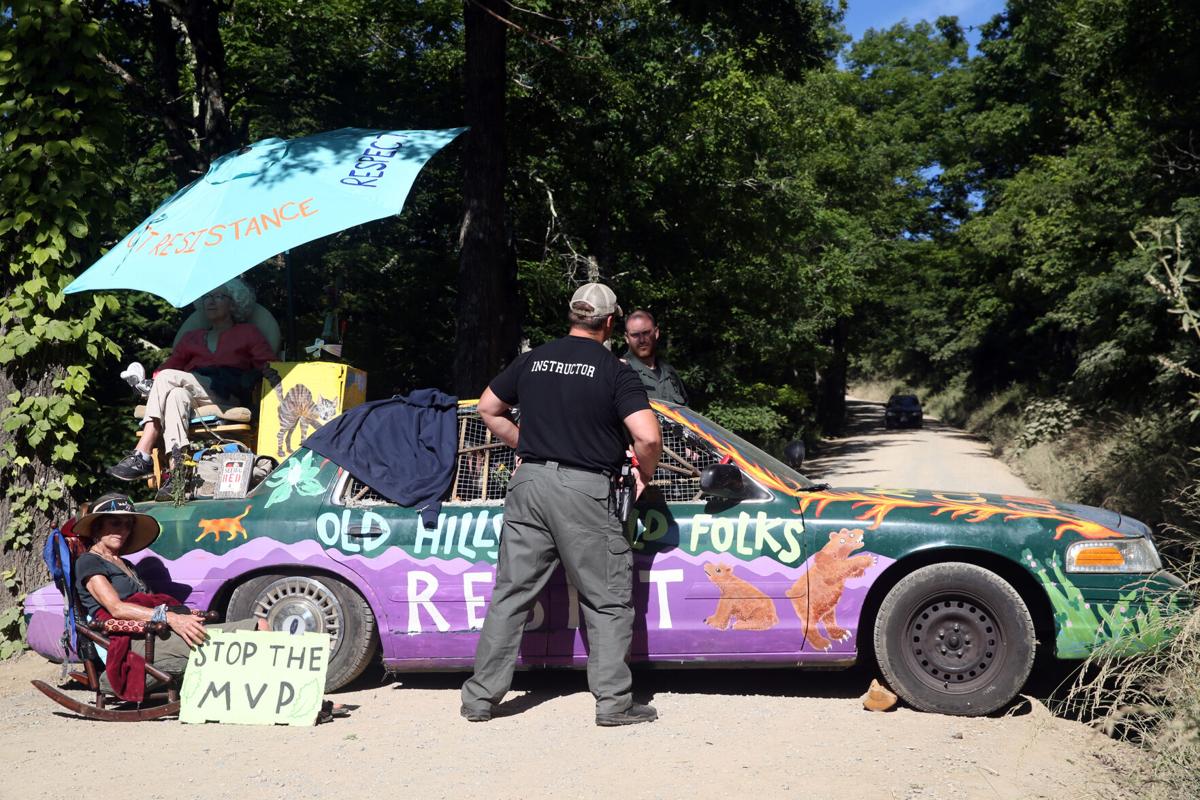 By their own admissions, three Mountain Valley Pipeline antagonists blocked a construction access road atop Poor Mountain by chaining themselves to a junked car fortified with concrete and steel.
But they pleaded not guilty Monday, saying their civil disobedience came only after government agencies ignored their concerns about the natural gas pipeline's ruinous impact on the environment and, ultimately, the earth.
"We have tried over and over, time and time again, to go through the legal routes ... to make our voices heard," Bridget Kelley-Dearing testified in a Roanoke County courtroom. "I feel like this is the last option I have left."
In convicting Kelley-Dearing and two others of obstructing the free passage of Honeysuckle Road, substitute General District Judge John Molumphy III said the case was not about the wisdom of building a pipeline, but how they chose to oppose it.
Impeding pipeline construction was clearly their goal, he said, "and you accomplished that marvelously."
After hearing nearly three hours of testimony, the judge imposed $1,000 fines on Kelley-Dearing of Lexington, Deborah Kushner of Staunton and Alan Moore of Blacksburg.
As dawn broke June 30 on Poor Mountain, pipeline workers found a 1999 Ford Crown Victoria parked sideways across a narrow gravel road that runs along a row of television and communication towers.
Someone had flattened the tires, poured concrete into the car's trunk and passenger area, and encased it with rebar. "Old Hills & Old Folks Resist," was painted on the side of the car.
Kushner, 66, was perched in a rocking chair positioned on the trunk; Kelley-Dearing, 64, was sitting in a lawn chair on the ground next to her; and Moore, 57, was inside the car. All three had their arms inserted into pipes that secured them to anchors of concrete, steel and rebar.
Using grinders, rotary hammers and other hand tools, Roanoke County police worked until nightfall to extract them.
Moore, a former environmental scientist, said he thought long and hard about the best way to convey his fears that building the fossil fuel infrastructure would harm the local environment, and that its operation would help endanger the world climate.
"I really feel like this is a time issue," said Moore, who recently was diagnosed with terminal kidney disease. "Time is precious, and I want to do the right thing."
Since construction began in 2018, more than 20 similar blockades have been erected along the pipeline's southeastern path from northern West Virginia, though the New River and Roanoke valleys, to connect with another pipeline near the North Carolina line.
Mountain Valley officials have said that while they respect the right of opponents to speak out, demonstrations such as the one on Poor Mountain pose a threat to participants, pipeline workers and the public.
Kelley-Dearing, Kushner and Moore had also faced a charge of obstructing justice.
Although they committed no acts of violence, the trio nonetheless had "the intent to use the force of pounds and pounds and pounds of concrete and rebar," Assistant Commonwealth's Attorney Molly Burke argued.
Defense attorneys Steven Milani, Seth Weston and Bruce Fickley countered that the charge did not apply to passive resistance. Molumphy agreed and dismissed those charges.
A third misdemeanor offense of unlawful assembly was dropped by prosecutors at the beginning of the hearing.
All three defendants testified about how objections made by them and others to the Federal Energy Regulatory Commission, the Virginia Department of Environmental Quality and other agencies fell on deaf ears.
Fines of more than $2 million against Mountain Valley for hundreds of violations of erosion and sediment control regulations did little to influence a project with a budget in the billions, they told the judge.
The fines, according to Kushner, are "just the cost of MVP doing business."