ROCKY MOUNT — Bond was denied a second time on Tuesday for Terry Eugene Michel, the Ferrum man charged with killing his two black Labrador retrievers that he initially reported stolen from Waid Park.
Michel was first denied bond on March 1.
He was again denied by Judge James Reynolds on Tuesday. Reynolds said the way Michel lashed out by killing the two dogs showed that he could be a danger to himself and to the community.
"The overwhelming concern is the safety of the public and I do not believe there is any condition or combination of conditions that could adequately protect Mr. Michel and the general public if he is released," Reynolds said.
Tuesday's hearing also included testimony by Michel's wife, Rhonda, who continues to express concerns about his conduct.
She said he had been more irritable in recent weeks with mood swings.
"I'm asking that he not be released today," Rhonda Michel said.
"Why is that?" asked Cooper Brown, the county commonwealth's attorney.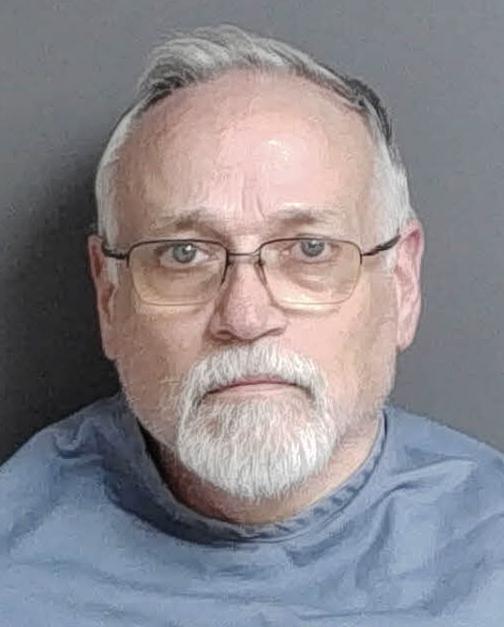 "Because I'm afraid," she replied.
Terry Michel's attorney, Aaron Houchens disagreed that Michel would be a danger to the community. He also asserted that Michel had never harmed his wife in the past.
"Everything in this case points to an isolated incident with Mr. Michel back on Feb. 7 and the poor judgement of making a false report to the police," Houchens said.
Houchens on Tuesday touted Michel's lengthy military career serving in Iraq and Afghanistan as well as his lack of any criminal history prior to last month as reason to allow him to be released on bond. Family nearby in Ferrum were also willing to take him in, Houchens said.
Michel took the stand on Tuesday stating he had missed scheduled appointments at the Veterans Affairs Hospital. He said he had been receiving regular treatment for degenerative bone disease in both his hands and neck as well as for depression and PTSD. He claimed the hospital in the jail had not provided the same level of care.
During Tuesday's hearing, county sheriff's office Inv. Steven McFarling took the stand to lay out the process of how law enforcement began to doubt Michel's version of events about the killings of the dogs, Caleb and Colby. McFarling said he had several conversations with Michel and his wife in the days after their two dogs were reported stolen.
Surveillance video obtained by the sheriff's office showed Michel was only in the park for a total of eight minutes on Feb. 7 when he claimed the dogs were abducted. When officers retraced the steps of where Michel claimed he had walked and later chased the dogs, McFarling said it took them more than 23 minutes.
Michel admitted to officers he had killed the two dogs on Feb. 16 after he was confronted with the inconsistencies, according to information released by the sheriff's office. McFarling said Terry Michel revealed he took the two dogs to a secluded area of the county and shot them in the back of the head.
The dogs were found dead Feb. 14 near the 500 block of Carolina Springs Road. The location is approximately four miles north of Waid Park.
McFarling also said that Terry Michel claimed that shooting the two dogs was done as an effort to save his marriage. No other details about how that could have saved his marriage have been released or testified to in court.