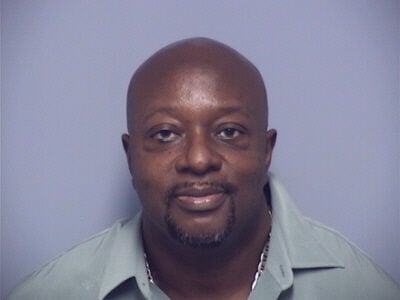 Police say they are investigating evidence that Roanoke Councilman Robert Jeffrey Jr. made false statements about lost revenue and personnel to obtain a $7,500 grant to assist his magazine through the pandemic last year.
In recently filed court papers, police provided details about the recent filing of two felony counts of obtaining money by false pretenses against Jeffrey as being related to $7,500 grants given to each of two Jeffrey-owned businesses. The city of Roanoke Small Business Recovery Grant program paid the grants last year before Jeffrey took office.
One application, filed for the benefit of Jeffrey Media, publisher of ColorsVA, an issues and lifestyle monthly circulating in the Roanoke area, contained "probable material false claims" about the revenue loss and employee issues, Lt. E.M. Thiel of Roanoke police wrote in a request for a search warrant.
Jeffrey is the owner and CEO of Jeffrey Media.
According to the application, whose accuracy Jeffrey verified with his signature, Jeffrey Media "was hit hard by COVID. Our clients (advertisers) have cancelled and stop [sic] their advertising agreements with us. The impact has cost the business around 28k in cancelled contracts."
In addition, the application said the business was requesting pandemic-relief funds to put toward a monthly payroll of $8,500 and monthly rent of $1,300. Following approval of the application, the city's Economic Development Authority sent the then-5-year-old business a $7,500 check dated Dec. 2, 2020.
But Thiel, citing records police obtained earlier in their investigation, wrote that Jeffrey's statements that his business lost $28,000 in ad revenue and owed monthly payroll of $8,500 were likely "exaggerated or inflated." Based on Thiel's account, a judge compelled a bank to release records that police said they need to continue investigating the veracity of the application information.
In addition, Jeffrey entered "5" on the application for the number of full-time employees at Jeffrey Media, placing the business in a size category — those with 4 to 20 employees — that corresponded with a $7,500 grant under program rules.
"However, business records for Jeffrey Media showed that all employees were contract workers and did not meet the requirements issued by EDA as full-time employees," Thiel wrote.
A judge has scheduled a trial March 14. In all, Jeffrey was charged last week with two counts of obtaining money by false pretenses, after being charged this summer with two counts of embezzlement that accuse him of taking money or property or both from the Northwest Neighborhood Environmental Organization. He has been free on a personal recognizance bond and has continued to serve on city council.
Jeffrey, 52, has said he is innocent of all charges. He did not respond Tuesday afternoon to a message seeking comment.
As previously reported, the EDA issued another $7,500 grant to another Jeffrey-owned business, RLJ Property Management, also on Dec. 2, 2020. Thiel's search warrant affidavit does not delve into this grant or application.
Jeffrey had no authority over city operations or the EDA at the time the applications were submitted, though he had been elected to city council less than two weeks beforehand. The date his businesses were issued checks, Dec. 2, was about a month before he was sworn into office Jan. 1, 2021.