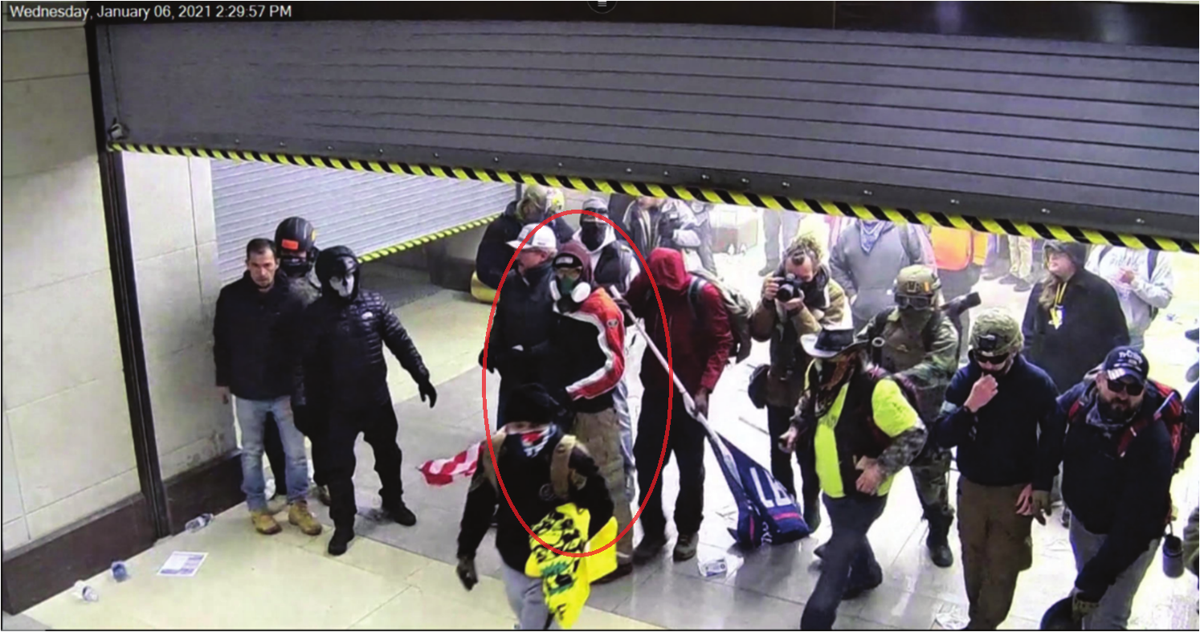 A federal grand jury in Washington, D.C., has returned a six-count indictment against an Elliston man, charging him with participating in the U.S. Capitol riot of Jan. 6.
Jeremy Daniel Groseclose, 38, was arrested in February and charged with four criminal offenses after he was seen in photographs wearing a gas mask in an unruly horde of supporters of then-President Donald Trump that stormed a session of Congress.
The indictment issued Wednesday adds two more charges to a list that now includes obstructing a law enforcement officer during a civil disorder, obstructing an official proceeding, entering a restricted building, picketing in the Capitol and two counts of disorderly conduct.
Groseclose is one of more than 300 people — including two former Rocky Mount police officers — to be charged in the insurrection, which came as lawmakers were certifying an election won by now-President Joe Biden.
Surveillance videos and photographs showed that Groseclose spent about two hours inside the Capitol, according to a criminal complaint filed in February.
At one point, authorities say he joined a group of protesters as they prevented Capitol police officers from closing a roll-up door in the Crypt, a circular room located directly below the Rotunda, as the mob advanced.
"I saw GROSECLOSE help another subject place a trash can under the closing door," FBI special agent Matthew Lee wrote in the complaint. Other video footage showed Groseclose using his cellphone to take a photograph of what is believed to be blood on the floor, he wrote.
Groseclose remained free on bond Thursday. Reached by telephone, he declined to comment except to say that he looks forward to telling his side of what happened.
"There are two sides to every story," he said.
An investigation, which was aided by two tipsters who contacted authorities after seeing Groseclose's Facebook posts, continues into the actions of people from across the United States who joined the insurrection.
The probe "will likely be one of the largest in American history, both in terms of the number of defendants prosecuted and the nature and volume of evidence," according to papers filed by prosecutors this week in the District of Columbia's federal court.
At least 100 more people are expected to be charged, the document stated.
To date, more than 15,000 hours of video surveillance and footage from body cameras worn by police has been collected, and more than 200,000 tips have come in and are still being tracked down.
A summary of the case was included in a motion to delay the prosecution of Thomas Robertson and Jacob Fracker, who were members of the Rocky Mount Police Department at the time they are alleged to have participated in the riot. They have since been fired.
Robertson and Fracker were due to appear at a status conference Tuesday; that hearing is now scheduled for July 1.