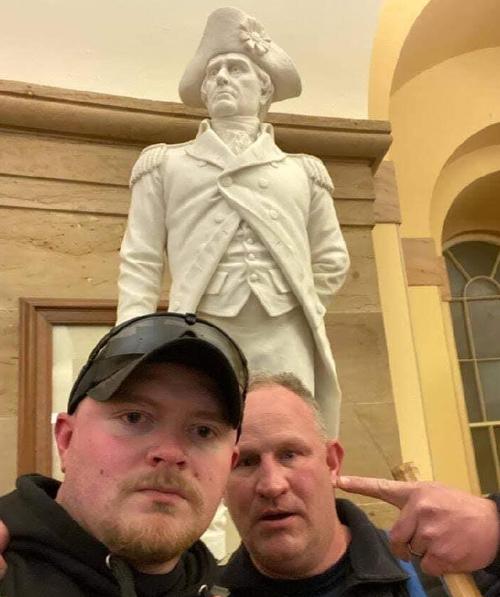 Federal prosecutors have offered a plea deal to two former Rocky Mount police officers who are charged with participating in the Jan. 6 riot at the U.S. Capitol.
According to the documents, Thomas "T.J." Robertson, 48, and Jacob Fracker, 29, have until Aug. 11 to accept the prosecution's offer.
Robertson and Fracker have each been indicted on a felony count of obstruction of an official Congressional proceeding, and misdemeanor offenses of entering a restricted building, disruptive conduct in a restricted building and disorderly conduct in the Capitol.
This mention of a potential quick resolution to their cases came as part of a request entered Friday to reschedule a Tuesday status hearing for the two men. Federal prosecutors wrote that moving the hearing to Aug. 16, 17 or 18 would give defense attorneys time to consult with their clients about the offer.
Robertson and Fracker attended then-President Donald Trump's rally on Jan. 6 and went inside the Capitol between 2 and 3 p.m. In a cellphone selfie taken by Fracker in the Capitol Crypt, the two men posed in front of a statue of American Revolutionary War hero John Stark, with Fracker making an obscene gesture at the camera.
At the time, Robertson, a sergeant, was K-9 Unit Officer Fracker's supervisor. They also had military service in common. Both are trained snipers. Robertson served in Operation Iraqi Freedom as a member of the Army Reserve, then went to Afghanistan in the employ of defense contractor DynCorp, then Xe. He was wounded in Afghanistan and required multiple surgeries to recover. Fracker enlisted in the U.S. Marine Corps in 2010 and was deployed to Afghanistan. He was serving in the Virginia Army National Guard at the time he joined in with the Trump supporters marching on the Capitol.
The selfie originally was sent to a fellow Rocky Mount Police Department employee who had inquired about the pair's well-being, Robertson has said. Within days the photo was leaked and circulated on social media, eventually viewed worldwide on international news broadcasts and shown in the U.S. Senate during Trump's second impeachment trial.
On Jan. 13, federal authorities arrested Fracker and Robertson. The town fired them Jan. 26.
Both men have maintained in interviews that they did nothing wrong, insisting that they did not take part in any of the violence that unfolded in the Capitol that day.
Fracker and Robertson were free on bond, under conditions that barred them from possessing firearms. After his indictment, Robertson ran afoul of that condition by purchasing 34 guns online and having them shipped to a gun dealer in Roanoke.
Even though Robertson did not take physical possession of the 34 guns ordered online, a judge on Wednesday ordered him held without bond until trial. The judge wrote that by having the guns shipped while under indictment, there was probable cause to believe that Robertson committed a felony.
Fracker remains free on bond. Chuck's Pups in Boones Mill, a kennel that breeds and sells German Shepherds, recently hired Fracker as a narcotics dog handler. Kennel owner Charles Bates, a Second Amendment Sanctuary supporter, has said that he believes Fracker's firing by the town was unjust.