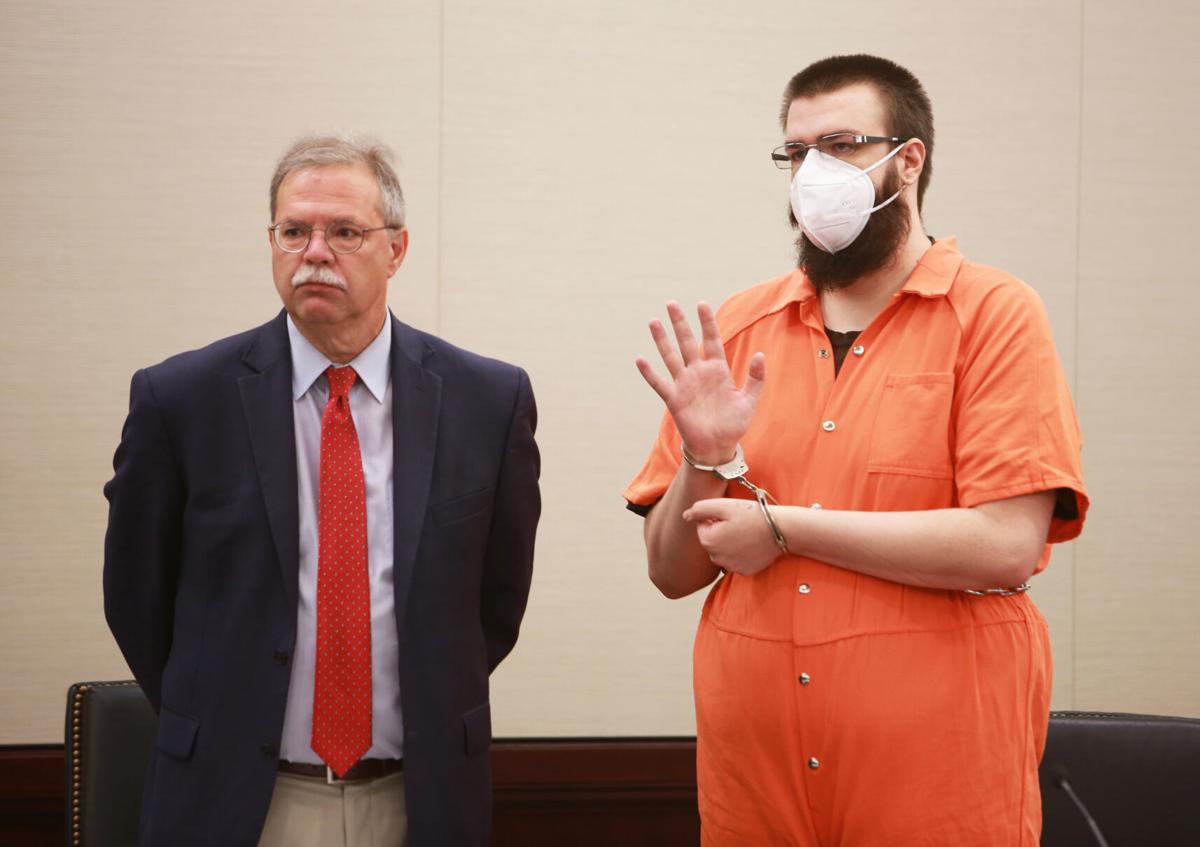 CHRISTIANSBURG — McKenzie Kyle Hellman looked away Tuesday as family members of the 2-year-old he murdered and abused testified about faith and despair, loss and the need to somehow carry on.
"I'd like an explanation. I don't know. I miss him," said C.J. Chrisley, the grandfather of Steven Meek II, who was slain in January 2019.
Chrisley's voice caught as he said that his religion led him to forgiveness but not to understanding.
"I know he's in the arms of Jesus and I'll see him again," Chrisley said, holding up pictures of Steven. "But the hurt's there … so many things I looked forward to teaching him.
"... But we won't get that now."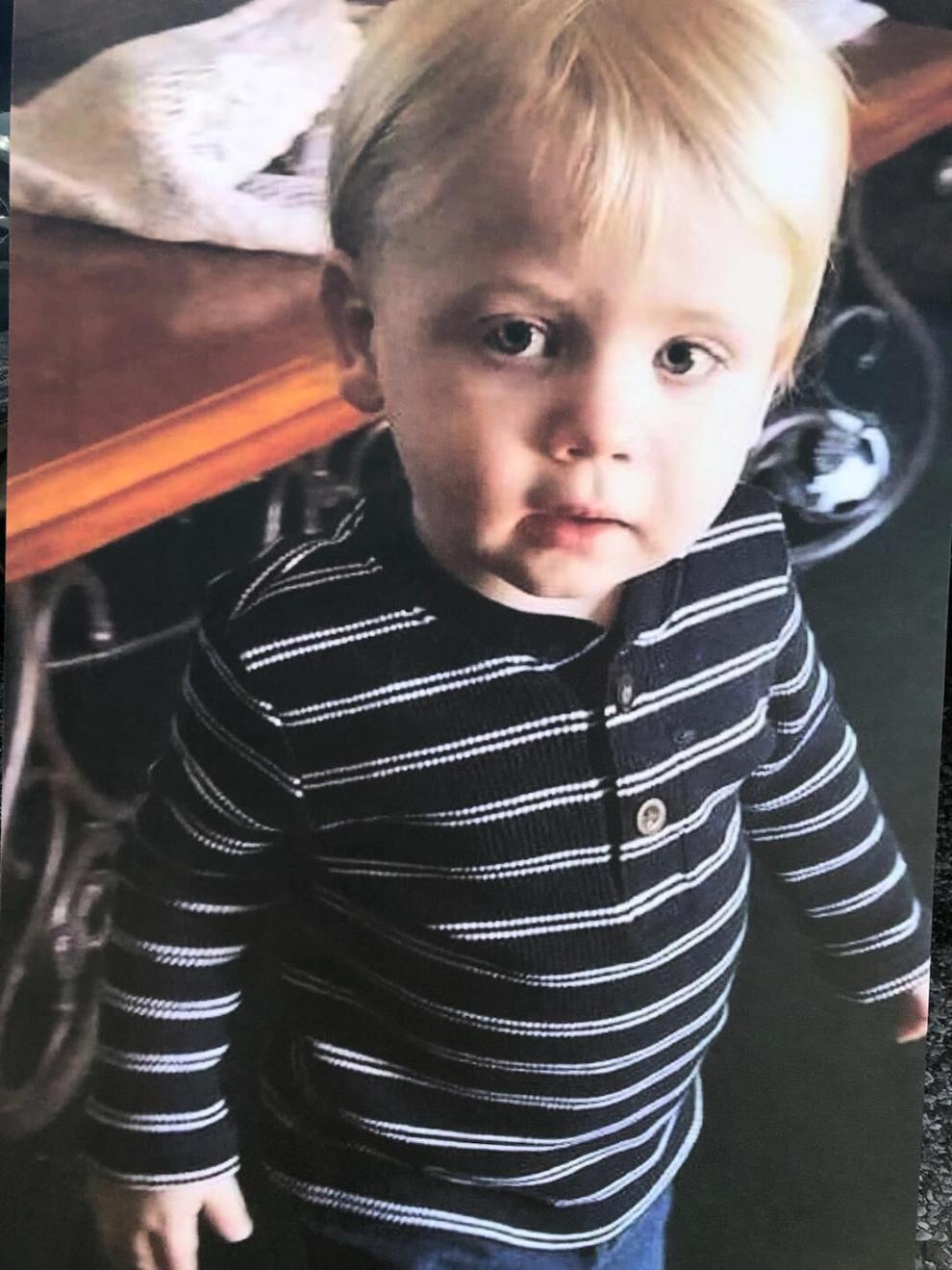 Chrisley and three other family members spoke in Montgomery County Circuit Court, where Hellman was sentenced on two sets of charges — one tied to Steven's bludgeoning death and the other to an incident a few days earlier in which Hellman and his girlfriend, Steven's mother, sexually abused the boy and made videos of it.
Hellman, 27, finished the hearing with a prison sentence of two life terms plus 90 years. It was a punishment that followed the recommendations of a jury that convicted him in March of child sexual abuse and child pornography charges, plus the maximum penalties for the charges of second-degree murder and child abuse to which Hellman pleaded guilty last month.
"This was a heart-breaking case," Commonwealth's Attorney Mary Pettitt wrote in an email after the sentencing. "Little Steven Meek paid the ultimate price for Hellman's evil choices. Hellman has little remorse. Thankfully he'll spend the rest of his life in prison."
Still ahead in the case is the sentencing of Steven's mother, Kayla Nicole Thomas, now set for Sept. 23. Thomas, also 27, was convicted in June of child sexual abuse and child pornography charges. Thomas was not charged in connection with her son's death.
On Tuesday as Steven's grandparents and father spoke, Hellman looked to the side, seeming to stare at a stack of files sitting in front of defense attorney Fred Kellerman of Christiansburg. It was as much emotion as he had shown in 2½ years of hearings.
When Judge Robert Turk asked if Hellman had anything to say before his sentence was pronounced, Hellman shook his head, then said "No."
Hellman did not testify at his March trial. But prosecutors played jurors a recording of an interrogation in which Hellman told police that after he and Thomas had a fight, he told her that to save their relationship, she had to create videos of herself performing three specific sex acts on her son. Hellman told officers he wanted to see if the videos aroused him.
On Jan. 8, 2019, Thomas made videos of herself and Steven. Mother and son were in the master bedroom of their residence, a mobile home in the 400 block of Christiansburg's Zinc Lane.
Thomas and Hellman lived there with an adult housemate and Hellman's young son. Steven was there much of the time since Thomas shared his custody with Steven's father.
Hellman told officers that as the abuse occurred, he was at the other end of the home in the bedroom of the housemate, who was at work.
But Hellman and Thomas were communicating through their cellphones. Investigators later found messages in which Hellman told Thomas what to do, and Thomas' videos of herself doing it.
Hellman and Thomas did not dispute the abuse. But at their trials, each said the other was more to blame. At both trials, jurors quickly found the couple guilty of all charges.
Hellman was convicted in March of possessing child pornography and of being an accessory before the fact to object sexual penetration, to sodomy by force, to the production of child pornography, and to the distribution of child pornography.
Thomas was convicted of inanimate object sexual penetration, forcible sodomy, making child pornography, and distributing or electronically transmitting child pornography. Jurors recommended two life sentences plus 10 years.
Three days after the videos were made, Hellman called 911 to report that Steven was unconscious. Police and emergency medical workers found the boy lying on the floor without a pulse. They restarted his heart with CPR, then took him to Carilion Roanoke Memorial Hospital.
Two days later, on Jan. 13, 2019, Steven died in the hospital.
Hellman told officers several versions of what caused Steven's injuries, including that he fell from his bed or fell after Hellman pushed him while trying to break up a fight between Steven and Hellman's son.
A prosecutor said last month that Hellman's son told officers that Hellman hit and kicked Steven.
A medical examiner later documented a long list of injuries to Steven, including 22 blunt force injuries to his head and bleeding around his brain.
Hellman was scheduled to have a second jury trial on charges of second-degree murder and child abuse but instead pleaded guilty last month.
On Tuesday, Steven's father testified in a low voice about the terrible effects of his son's death.
"We all miss him more than words can describe," the elder Steven Meek said.
Steven's grandmother Paula DiGiovanni described grief and depression that "almost destroyed my life."
The boy's other grandmother, Thomas' mother, Melinda Chrisley, spoke to Hellman, saying, "I hope you get the punishment you deserve."
Assistant Commonwealth's Attorney Chris Obenshain and Chief Deputy Commonwealth's Attorney Patrick Jensen called for Hellman to receive a heavy sentence, with Obenshain saying Hellman "stole the life" of a child.
Hellman "has had the chance to live his life ... and because of his actions, Steven Meek will never have that chance," Obenshain said.
The defense argued only that Turk should consider exercising the discretion allowed by law.
Turk said that besides the active sentence of two life terms plus 90 years in prison, he was adding another three-year suspended sentence and three years of supervision by the probation office. This would only come into play "if and only if you are ever released," the judge told Hellman.
Responding to a reporter's questions after the hearing, Pettitt wrote in an email that it seemed unlikely that Hellman would see freedom again.
But she added that her reading of Virginia law was that Hellman could be considered for geriatric parole in 33 years, when he turns 60.