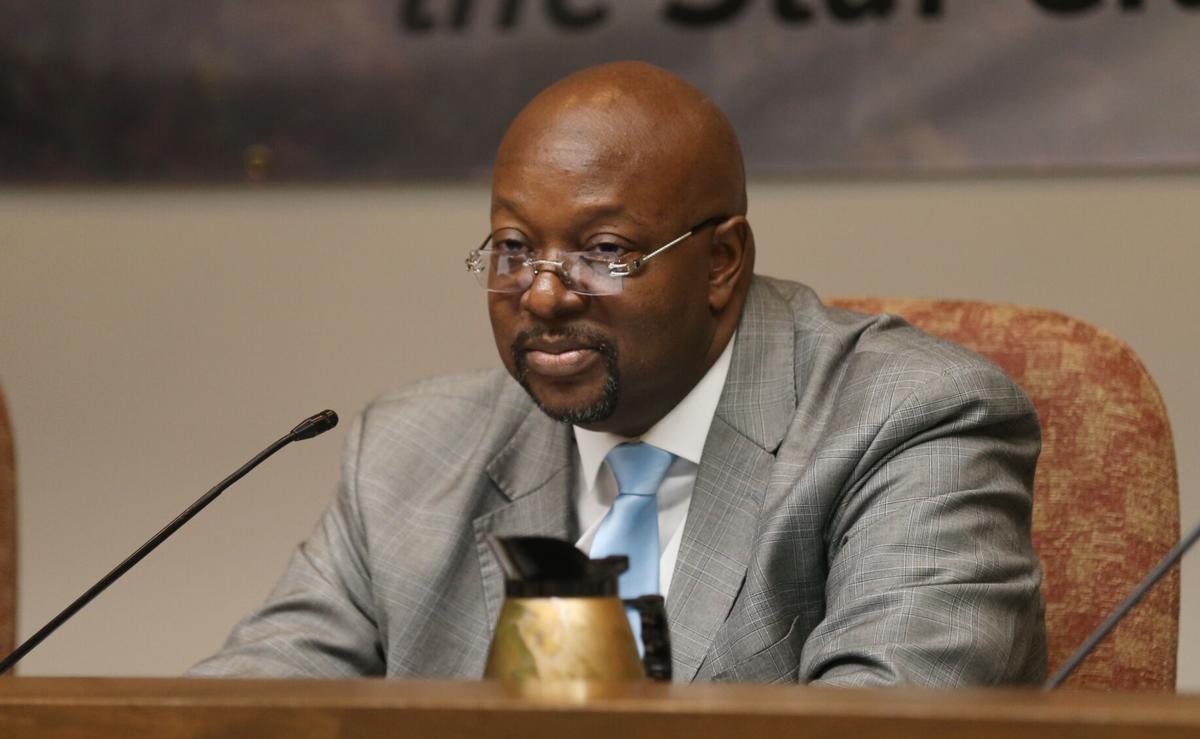 Roanoke Councilman Robert Jeffrey Jr. said Wednesday he will contest newly filed charges that accuse him of embezzling money from a local civic group.
"I'm just going to go through the process and I feel confident the results will be positively in my favor," he said.
Authorities gave him until Friday to surrender for booking on two felony counts that say he embezzled money or property from the Northwest Neighborhood Environmental Organization, a housing-improvement nonprofit in Roanoke. Roanoke Commonwealth's Attorney Donald Caldwell said in a news release that Jeffrey was not a flight risk or danger to the community and could remain free pending a trial. A trial date could be picked next month, Caldwell said.
Jeffrey, in his first comments since being indicted Tuesday, said he will remain focused on council business.
"I'm going to do the responsibilities of what I was elected to do," said Jeffrey, who has been in office for six months.
The council's upcoming tasks include making plans to spend a $64.5 million grant from the American Rescue Plan Act, a pandemic recovery measure. Jeffrey had been asked to sit in on an economic development brainstorming group, while other council members delved into other topics, such as housing, with other focus groups. City Manager Bob Cowell has said he would present the results of the group sessions in a report for the July 19 council meeting.
The criminal allegations appear unrelated to Jeffrey's official duties with the city. If convicted of one or more felony charges, however, he would forfeit his office, officials said.
The charges state that Jeffrey, a magazine publisher who has past property management experience, "did unlawfully, feloniously and fraudulently use, dispose of, conceal or embezzle money or other personal property" while employed by or in a position of trust or agency relationship with the civic group, which is also called NNEO. The embezzlements allegedly occurred between May 1, 2020, and April 30, the charges said. Neither Caldwell nor the charging documents not put a dollar amount on the alleged theft.
Jeffrey, 52, has said previously that he assisted the NNEO, including as a property manager and by arranging forgiveness of a real estate loan and funding for property renovation. Those efforts began before he took office Jan. 1 to serve a four-year term on the city council and resulted in NNEO saving $400,000, Jeffrey said.
His mother, Evangeline Jeffrey, has been a member of the NNEO board but is no longer involved, said NNEO board president Carroll Carter. NNEO had no comment on the charges, Carter said.
Jonathan Kurtin, Robert Jeffrey's attorney, said Jeffrey would turn himself in to authorities Friday afternoon.
"Right now, he is absolutely innocent. I'm confident that when it's all over he will remain not guilty," Kurtin said.
Kurtin also commented on the procedure used to charge Jeffrey. Caldwell's office obtained a direct indictment, which means prosecutors took their case straight to the grand jury rather than first holding a preliminary hearing at which a judge would have heard from witnesses and weighed whether the commonwealth's case was strong enough to send to the grand jury.
Jeffrey "was denied what is literally his best chance to get information about the prosecution against him," Kurtin said.
The defense will conduct its own investigation and hopes for cooperation from the commonwealth's attorney's office, he said.
Caldwell said criminal evidence is put to the same test whether authorities initially present it it to a magistrate judge, a general district court judge or a grand jury to have the defendant charged — that is, whether there is some evidence a crime occurred and the person accused did it. "I don't think Mr. Jeffrey has suffered any significant disadvantage," Caldwell said.
Caldwell added that the prosecution's evidence and files are open to inspection by the defense. "He will know everything there is to know about our case long before the trial date," he said.