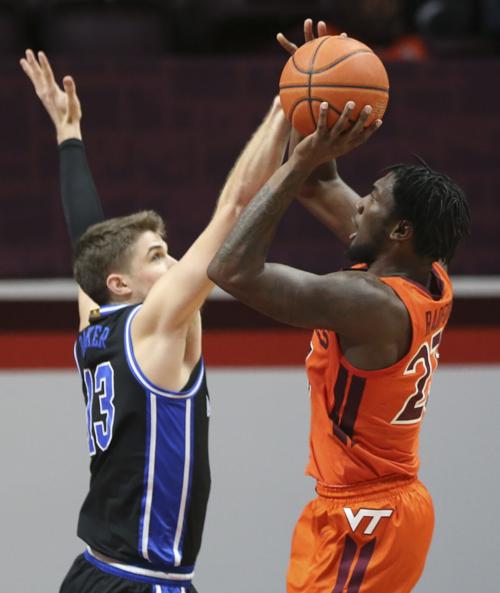 Virginia Tech men's basketball player Tyrece Radford had a blood-alcohol level of 0.13% when he was given a breath test by Blacksburg police Sunday, according to a criminal complaint supplied by Montgomery County General District Court on Tuesday.
Virginia Tech announced Monday it had indefinitely suspended Radford from the men's basketball team. Radford, who was arrested Sunday by Blacksburg police, has been charged with one misdemeanor count of first-offense driving while intoxicated and one misdemeanor count of carrying a concealed weapon.
Radford was pulled over by Blacksburg police at 1:16 a.m. Sunday at Progress Street and Patrick Henry Drive, according to police.
Further details about the arrest emerged Tuesday in the criminal complaint that was written Sunday by the arresting officer.
According to the complaint, the officer observed a black sedan accelerating rapidly to the intersection at a red light. The driver of the sedan slammed on his brakes at the intersection. The sedan had defective license-plate lights, according to the complaint. The officer conducted a traffic stop and identified Radford from his driver's license.
The officer detected "the odor of an alcoholic beverage" coming from Radford, according to the complaint. Radford had "slurred speech" and "bloodshot/glassy eyes," according to the complaint.
Radford was unable to perform field tests properly, according to the complaint, and was placed under arrest for driving under the influence. He was taken to the Blacksburg Police Department and was given a breath test there. His blood alcohol level was 0.13%, according to the complaint, which is above Virginia's legal limit of 0.08%. The officer signed the complaint at 2:47 a.m. Sunday.
The arrest warrant for the weapon charge was issued at 2:50 a.m. Sunday, one minute after the arrest warrant for the DUI charge was issued.
The officer did not complete a second criminal complaint regarding the weapon charge, so court records do not indicate what type of weapon it was or how the officer discovered the weapon.
But Montgomery County Commonwealth's Attorney Mary Pettitt said in an email Tuesday that during a search of Radford related to the DUI arrest, "a pistol was found on his person." She declined further comment.
Radford, 21, was released on $1,000 bail at 7:28 a.m. Sunday. He is set to be arraigned in Montgomery County General District Court on Feb. 9.