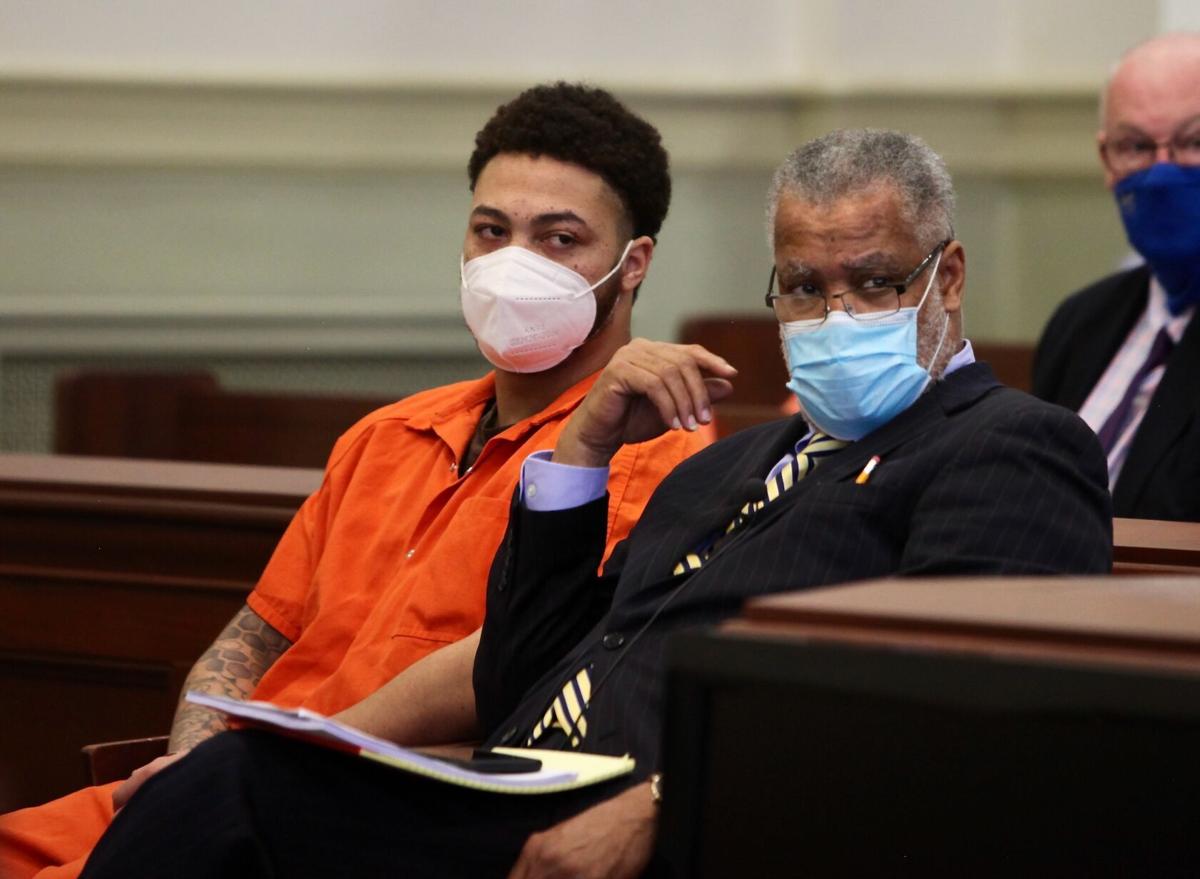 A crowded Franklin County robbery-homicide court case took yet another turn this week as the third of six defendants entered into a plea agreement through which he could potentially offer testimony as a prosecution witness.
The case involves an invasion at a home in Henry, early on July 14, 2020, that resulted in the shootings of two brothers who lived there: Justin Chase Prillaman, 20, who was fatally shot, and Matthew Prillaman, who suffered serious gunshot wounds but survived.
On Wednesday, Te'Sean Markee Brooks, 20, abruptly pleaded guilty to the aggravated malicious wounding of Matthew Prillaman, the robberies of both brothers, and three firearms offenses. Three other charges were dropped. There is no direct agreement as to Brooks' punishment, and he will learn exactly how much time he will have to serve after a pre-sentence report is conducted later this year.
Brooks is just one of a half-dozen young men arrested after the incident and initially charged with 13 felonies, including first-degree murder, robbery and an array of firearm-related offenses.
The other defendants are Qu'Shawn Tylek Manns, 21, of Rocky Mount; Leon Douglas Mitchell Jr., 23, of Rocky Mount; Sean Gabriel Schwallenberg, 22, of Hot Springs; Austin Kerry Lane, 23, of Concord, North Carolina; and Treavon Rachez Taylor, 21, of Hardy.
Earlier this month, Mitchell and Schwallenberg also moved to resolve their cases by entering pleas to a shorter string of lesser offenses, primarily accessory to murder after the fact, and each received a 15-year prison sentence.
Meanwhile Brooks and Manns — cast by prosecutors as the two most culpable defendants — had been poised to face a Franklin County jury next week.
Brooks' plea, however, effectively tightens and sharpens the prosecutorial focus on Manns.
In a written summary of evidence, Assistant Commonwealth's Attorney Sandra Workman has said that her office believes Mann is the defendant who killed Justin Prillaman. Workman and chief prosecutor A.J. Dudley claim that Manns organized the robbery, that he alone knew the Prillaman brothers, and that he was the only member of the group who had been to their home on Salthouse Branch Road before that night.
The plea agreement Brooks struck includes a crucial stipulation: that several additional charges he faces — murder, using a gun to commit that crime, armed burglary and larceny — will be put on hold until after Manns' case is resolved. In the meantime, Brooks has agreed to cooperate with the investigation and testify at all future trials as a prosecution witness.
At his hearing, Brooks affirmed to Judge Tim Allen that he has told investigators that on the night of the robbery, after Manns went into the Prillaman home by himself, a single gunshot was heard, followed by Manns coming back outside and saying he had just killed Justin Prillman. Soon after that, as the robbery commenced, Brooks shot a reportedly armed Matthew Prillaman three times.
While Brooks' five remaining charges will be dropped if he complies with prosecutors — or brought back if he refuses — he still faces significant prison time. Beyond whatever he receives for the wounding and robbery counts, convictions on his gun charges alone carry mandatory minimum sentences totaling 13 years. He turns 21 at the end of this month.
A few hours earlier on the same day Brooks was in court, Manns also appeared before Allen and pleaded not guilty to all the charges against him. An online court docket on Thursday said his pending jury trial will be rescheduled and will not start on Monday, as it was slated.
"Our defense is not complex," Manns' attorney, Perry Harrold, said during that hearing.
"He didn't do it. He wasn't there," Harrold claimed.
Taylor's and Lane's trials are currently set for September and October, respectively.