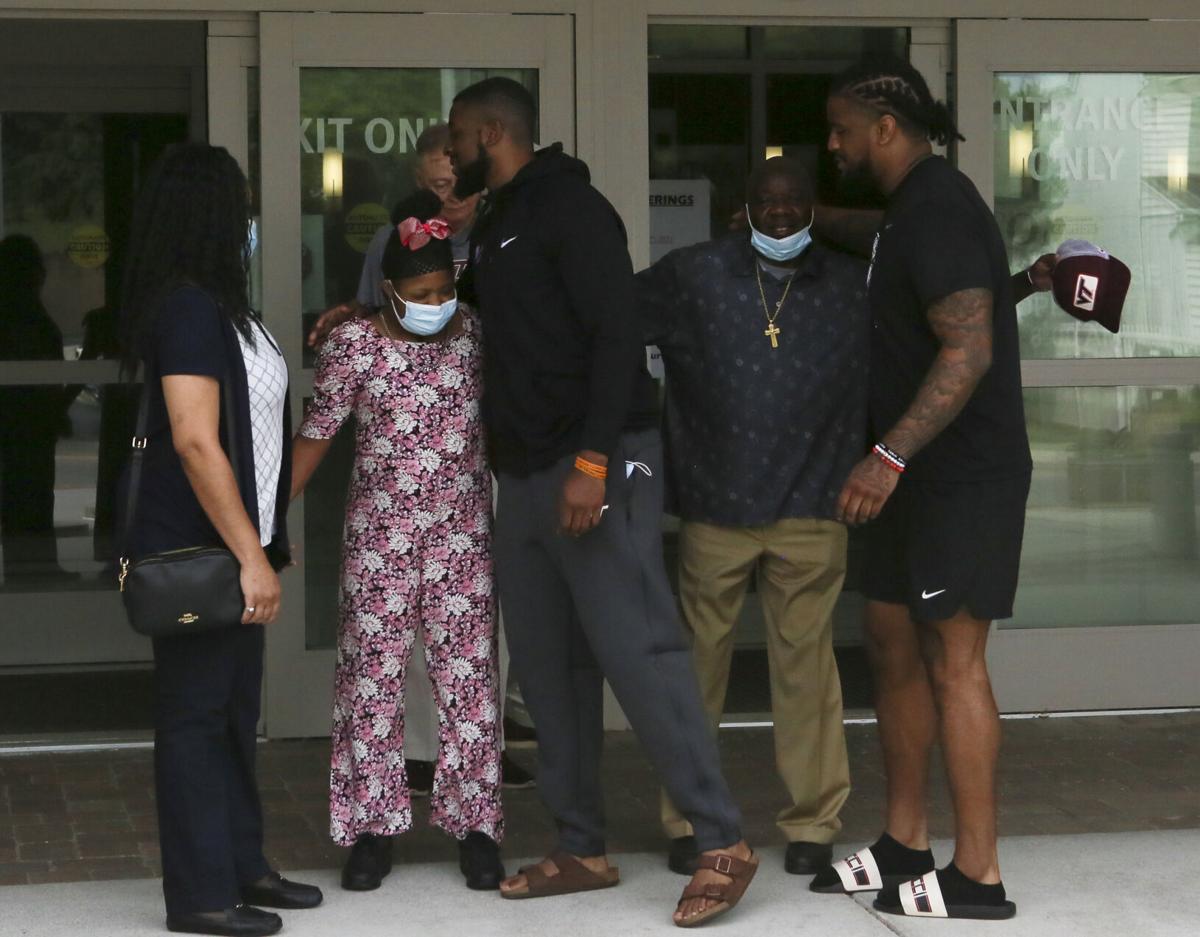 CHRISTIANSBURG — A now suspended Virginia Tech football player told police he punched a sexual partner five times in the face and stomped on him after discovering the person he thought was a woman was actually a man, according to arguments presented Wednesday in a Montgomery County courtroom.
According to the autopsy, all the bones in Blacksburg resident Jerry Paul Smith's face were broken, his teeth were missing and he had multiple cranial fractures. The medical examiner's office had previously revealed that Smith had died from blunt force trauma to the head.
Etute was granted bond in a hearing Wednesday morning in Montgomery County General District Court, but Chief Deputy Commonwealth's Attorney Patrick Jensen filed an expedited appeal that would have kept Etute in jail for up to five more days.
The two sides later Wednesday came to an agreement to release Etute on a $75,000 secured bond under house arrest and electronic monitoring, according to a release put out by Commonwealth's Attorney Mary Pettitt. The order restricts Etute from returning to Montgomery County except to consult with his attorney or to attend court proceedings.
The courtroom was packed as Judge Randal Duncan excluded cameras from the courtroom at the start of the proceeding. Smith's family was in attendance. More than a dozen football players — most of them clad in Virginia Tech gear — were there in support of Etute.
Etute was in court Wednesday morning wearing an orange prison jumpsuit. A bailiff was stationed behind Etute throughout the entire hearing, and Etute was handcuffed with his wrists attached to a chain around his waist.
Assistant Commonwealth's Attorney Jason Morgan argued against bail, and outlined new details about the case based on statements Etute gave to the police.
According to those statements, Etute visited the victim's apartment April 10 for oral sex after he was matched up with someone named "Angie" on Tinder. Etute returned to the apartment May 31 to engage in sexual activity and discovered the person he was matched up with was a man, according to summaries of the evidence made by both Morgan and defense attorney Jimmy Turk.
Etute also told police that Smith did not assault him.
Etute told the police he punched the victim five times in the face and continued punching the victim when the person hit the ground and "stomped" on him. He heard "bubbling and gurgling" as he left the apartment, but didn't call the police.
Police discovered Smith's body in the apartment in the 100 block of Blacksburg's North Main Street on June 1.
Turk's response to Morgan outlining the circumstances of the case was to emphasize that the victim solicited Etute for sexual activity.
"I'm not saying what happened was acceptable, but this was more than someone just showing up to an apartment and punching someone," Turk told the court.
Turk expanded on that point outside the courtroom.
"Nobody deserves to die, but I don't mind saying, don't pretend you are something that you are not," Turk told reporters. "Don't target or lure anyone under that perception. That's just wrong."
Smith's family declined to comment after the bond hearing.
Morgan's arguments came after testimony from Etute and his mother Michelle.
Michelle Etute was the first witness called and Turk led her through a series of questions about her son's background, his relationship with his family and their living situation. Etute has three siblings including a younger sister, 15, with Down syndrome.
Etute, with her voice barely above a whisper, said there is someone at home "pretty much around the clock" at the household with his sister requiring extra care. Etute's parents declined to comment after the hearing.
The questions Turk had for Isi Etute were of a similar nature. He talked about the strong relationship he had with his siblings, and said his parents were, "the strongest people I've ever known even through this situation."
The freshman enrolled at Virginia Tech at midyear and went through spring camp with the football team.
The closest Etute came to referencing the charges he's facing is when Turk asked him, how has this affected you?
"Real hard," Etute said. "I'm trying to stay strong for the people that support me, I feel like I've let a lot of people down ... I'm truly sorry for my actions."
Turk got emotional arguing on Etute's behalf during the hearing, and fought to fight back tears during his closing argument, and again outside the courtroom.
"I've tried more than 100 murder cases in my lifetime, and normally I don't even ask for bail," Turk told the judge with his voice quivering. "If there's ever been a time for someone to be considered for bail, this is it."
Duncan acknowledged the seriousness of the allegations, but in granting bail he said there was no evidence that Etute wouldn't appear for the trial or that he posed a danger to the community.
Duncan's decision isn't without precedent.
Turk cited two cases in Virginia where defendants facing second-degree murder charges were released on bail. He referenced a 2002 case Jawad v. Commonwealth, and a local case involving Mark Ward Faville from 2015.
Based on court records search, over the last nine years there have been at least three other second-degree murder cases in Montgomery County Court, and one of the defendants, Taylor Stevers, was granted bail as well.
Stevers was charged with second-degree murder in the death of her estranged husband back in 2017. She was eventually acquitted in 2018 on charges of voluntary manslaughter.