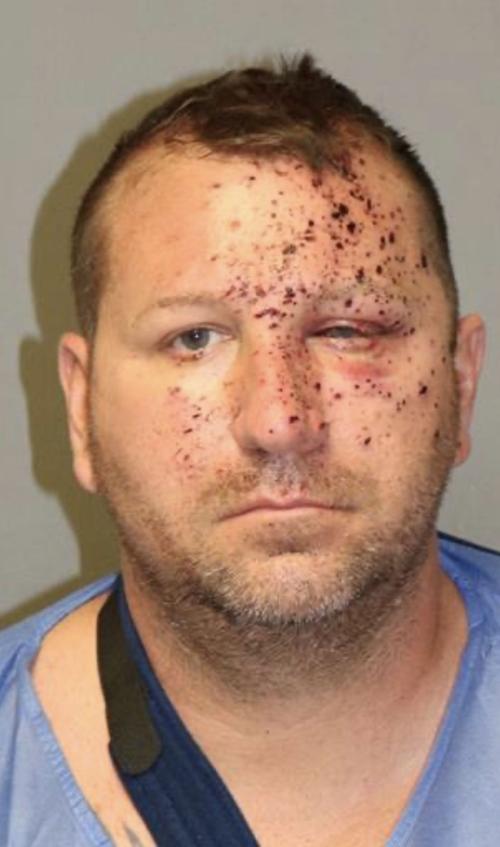 A former cop and solider who ambushed and shot three deputies last summer will spend more than two decades in prison for his crimes.
Ricky Madison Delk, 42, pleaded guilty on Tuesday morning to 17 felonies – including attempted murder of a police officer – stemming from the July 7, 2020, shooting off Whippoorwill Road in Wytheville.
According to Commonwealth's Attorney Mike Jones, county and state officers went to Delk's residence after his wife reported that he'd fired a newly acquired pistol inside the house near her.
As responding officers in and behind an armored vehicle approached the residence, Delk flanked them and opened fire with an AR-15.
Three deputies ‑ Chris Coleman, Jennifer Brewster and Charles Foster – were injured in the attack. Brewster and now-Sheriff Foster sustained superficial injuries, but Coleman, who attended Tuesday's hearing with Brewster, was shot in the back and hospitalized.
Officers returned fire and hit Delk at least twice. According to Jones, Delk, while lying on the ground, asked officers, "Why don't you just shoot me and kill me?"
Instead, they applied a tourniquet and saved his life, the prosecutor said.
Wearing a red jail uniform and facemask on Tuesday, Delk, who had let his hair grow longer, answered, "Yes, your honor," to most of the judge's questions related to his guilty pleas.
He also apologized to his victims.
"I just want to sincerely apologize to all law enforcement involved in this case," he said. "This incident should never have happened, your honor."
Based on a plea agreement with the commonwealth, Delk was sentenced to serve 25 years in prison with credit for time served while awaiting trial.
While on probation, he will waive his Fourth Amendment protections, which means police can search him or his property without a warrant.
Delk has been in the New River Valley Regional Jail since being released from the hospital shortly after the shooting.
In March of this year, a psychologist who evaluated him at the jail found he was competent to stand trial in spite of him claiming mental illness brought on by a U.S. Army combat injury.
Delk, who was on military disability at the time of his arrest, said he suffered from depression and alcohol abuse.
In 2010, Delk was a Florida police officer when he was accused of threatening suicide during a domestic dispute where he fired a round into the ceiling, according to a newspaper account.
Delk wasn't prosecuted, but an arbitrator later decided that he wasn't fit to return to work as a police officer, the newspaper reported. The article said Delk claimed his behavior resulted from a prescribed anti-depressant.
In the March evaluation, Delk said he and his family moved from Florida to Virginia "in order to get away and to live in the mountains."