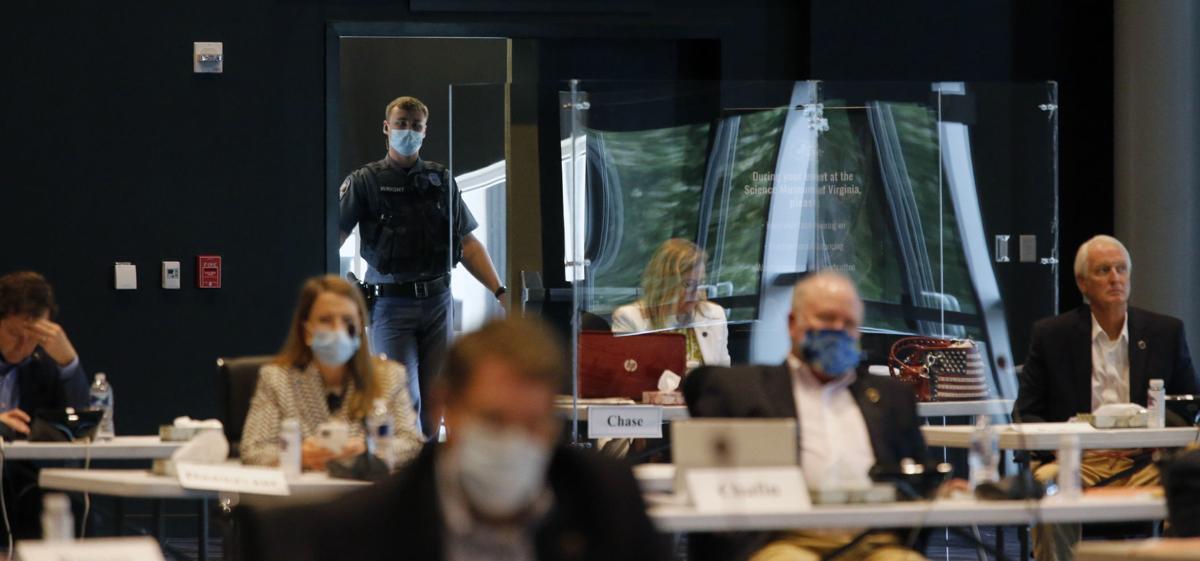 RICHMOND — One month into a special session, the Virginia General Assembly is getting closer to passing police and criminal justice reform as lawmakers begin to narrow their focus on legislation.
The Senate Judiciary Committee on Wednesday advanced a batch of police reform bills that, taken together, make up a massive Senate omnibus bill. Proposals include prohibiting law enforcement officers from having sex with people in their custody, banning no-knock warrants and neck restraints, and improving law enforcement training standards.
The House and Senate differ on some of their proposals, such as what information is made available to law enforcement leaders hiring officers and wanting to avoid someone with a problematic background.
The two chambers are coalescing behind prohibiting law enforcement from serving search warrants without first announcing their presence. The Senate had passed a bill that would allow no-knock search warrants if a judge signed off on them, but a House bill outright banned them. But unlike the Senate bill, the House version didn't establish limits on the time of day police could serve search warrants. Under the Senate bill, search warrants have to be served during the day, unless a judge approves a nighttime warrant.
Sen. Joe Morrissey, D-Richmond, wondered what the value was to prohibiting no-knock warrants if police could, within a few seconds, announce their presence and break a door down. He said that would still shock a person who was the wrongful subject of a search warrant.
Steve Benjamin, special counsel to the Senate Judiciary Committee, said the more effective part of the legislation is the requirement that warrants be served during the day. He pointed out most people are sleeping at night, and they won't hear police initially announcing themselves, but they would wake up to a loud police presence.
Both chambers still need to come to an agreement on creating civilian review boards for law enforcement agencies. One difference is the House wants sheriff's offices to have to establish civilian review boards, while the Senate bill applies only to police departments. Sheriffs have argued that since they are elected, that provides a level of civilian oversight over their offices. If they are mismanaging the office, voters can replace them.
While the Senate panel moved forward an ambitious proposal from House Majority Leader Charniele Herring, D-Alexandria, to automatically seal criminal records for more than 150 offenses, it doesn't look like she will have enough support in the Senate.
Herring has described the measure as a "second chances bill." It would automatically seal criminal records eight years after completion of a sentence.
"Are we ready to adopt it right now?" Sen. Creigh Deeds, D-Bath, said in an interview Wednesday. "I don't know."
Deeds said there were a lot of good ideas in Herring's bill and that Virginia needs to address being one of the most challenging states in which to seal criminal records.
Lawmakers have voiced concerns about sealing certain offenses they felt were serious. There is also a large price tag of $12 million for an upgrade to computer systems.
The Senate passed SB 5043 from Deeds that allows a person to petition for the expungement of the police and court records of a conviction for misdemeanors and certain felonies if they have been granted a simple pardon for the crime.
It also allows a person to petition after five years for an expungement of the records relating to convictions for marijuana possession, underage alcohol or tobacco possession, using a false ID to obtain alcohol and in cases where such charges have been dismissed by the court under a deferred disposition.
"We were trying to get the lowest-hanging fruit in our bill," Deeds said. "We didn't set our ambitions as high, but we also had to take the budget into consideration with our bill."
Adopting a new biennium budget is a must-do for the General Assembly, but lawmakers are still trying to come to a consensus on legislation so it can figure out spending priorities.
The full Senate won't return to Richmond in person for a week. As of Wednesday, the House hasn't scheduled meetings to hear Senate bills.
The Senate passed a proposal from Sen. John Bell, D-Loudoun, that would allow a terminally ill prisoner who is not serving time for a first- or second-degree murder to be eligible for parole. Republicans said the bill was too broad, saying people convicted of numerous DUIs or child sex crimes could be released.
"I have no compassion for a pedophile," Minority Leader Tommy Norment, R-James City, said. "Zero."
Sen. Emmett Hanger, R-Augusta, was the only Republican to break from his caucus to vote with Democrats. He said he's been a proponent of using geriatric release more.
"We've had people remaining in prison on the taxpayers that have been there a long time, are no longer a threat to society, and they're not a danger to society, but we're mad at them still," Hanger said.
Get local news delivered to your inbox!
Subscribe to our Daily Headlines newsletter.