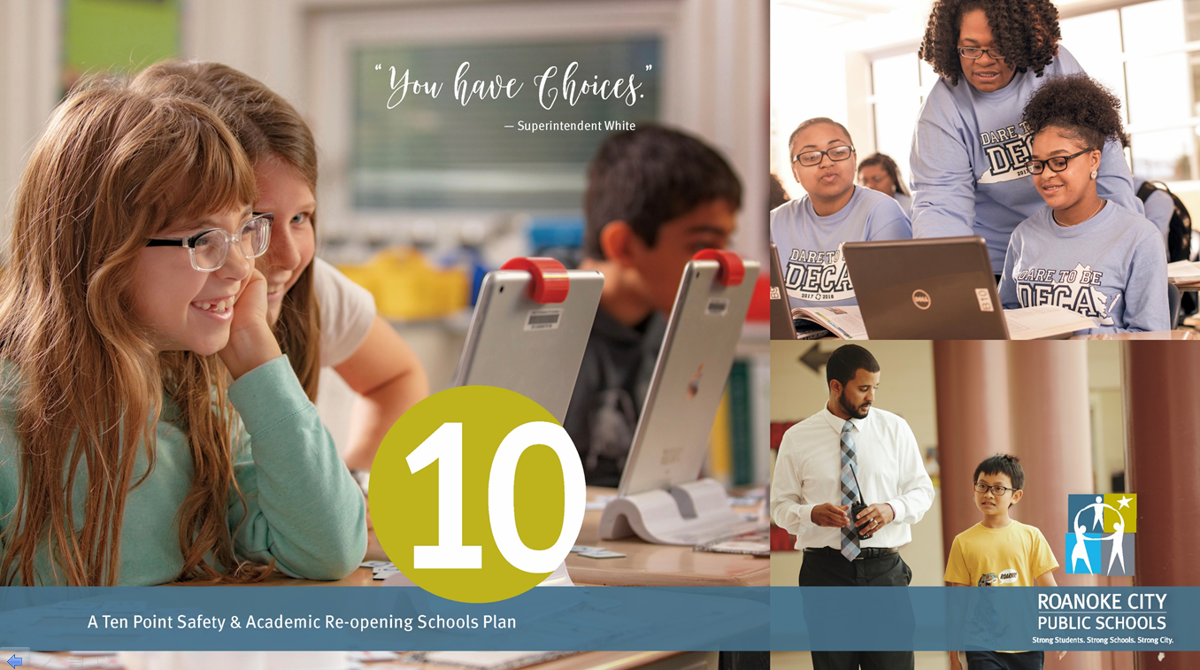 When Roanoke City Public Schools officials presented the district's proposed reopening plan Tuesday night, the district became an outlier within the Roanoke and New River valleys. Roanoke's plan involves allowing students in the classroom four full days a week, more than any other surrounding district.
The plan received praise from those who desire a more in-person return to school and backlash from those who believe it's too risky. The Roanoke School Board still has to vote on the plan, tentatively planned for early August.
It's also possible the district will need to transition to more remote or in-person learning once the semester starts, to which Superintendent Verletta White said: "We think we can pivot on a dime if we need to."
White said the 47-page PowerPoint was created with the entire Roanoke community in mind, from students and parents to staff and administration. Health and safety remains the top priority, White promised. She praised the plan for giving families and staff "choices."
Here are five things to know:
1. The proposed plan is contingent on how many students opt for virtual learning.
The plan gives students two options: classroom instruction Mondays through Thursdays with a virtual day Friday, or 100% remote learning. Chief of Security Chris Perkins said a preliminary survey found 31% of participants preferred online-only; 68% indicated preference for hybrid instruction. (The survey questions did not specify how many days students would be in the classroom each week under a hybrid option.)
Those responses allow for 70% classroom capacity, White said. But only 60% of the district's total enrollment filled out the survey, which means those numbers could move. A registration form will go out next week to receive formal commitments from families.
In a staff survey, 78% indicated they felt comfortable returning to their worksite. That survey had a response rate of 90% of teachers, 58% of nonlicensed staff and 94% of administrative/professional staff.
"Those numbers are going to be incredibly important as we bring the official proposal to you," White said. "If we don't have staff, we don't have school. ... But we do have to confirm — our students and what they're choosing, and we have to confirm what our staff would need as well."
2. School start and end times may change.
Because fewer students can ride each bus — now an average of 20 — the district has proposed new start and end times.
Under the current proposed plan, half of the elementary schools would be open from 7 a.m. to 2 p.m., and the other half would be open from 8 a.m. to 3 p.m. High schools would run from 9 a.m. to 4 p.m., and middle school students would attend from 10 a.m. to 5 p.m. Perkins said they decided to allow high school students the earlier start time due to after-school activities and sports.
Those times aren't finalized, and Perkins said it's subject to change. "We're impacted by the confirmation of who will come," Perkins said.
3. The district pledges access to devices, internet and meals.
More than half of students plan to rely on a computer or tablet provided by the district, according to survey results. Approximately 92% of respondents said they have internet available.
Information technology staff believes the district has enough devices to provide students. The district is having discussions with Cox Communications and the city about how to provide internet connectivity and close the digital gap, Perkins said.
Meals will be available through a grab-and-go system for students who are enrolled in the virtual program and for virtual Fridays, Perkins said. At schools, elementary and middle school students will have meals delivered to the classroom. High school students will have meals delivered to common areas like the hallway.
4. Supporting staff, families and students is a key tenet of the plan.
At one point during Tuesday's meeting, White singled out staff: "It's really, really important for us in our presentation, and just in all of our considerations, to think about our staff, and to make sure that we're taking care of everyone who serves our students."
The plan calls for numerous supports, including training and professional development on a wide number of topics, from virtual teaching to social emotional learning. But district officials also said they would be judicious in their approach so they don't overwhelm staff. Wellness programs would also be bolstered, and low-cost child care will be available through the YMCA and Boys and Girls Club.
For families, there will be a reduced school supply list to decrease costs and the need to go outside. There will be education available about COVID-19 and healthy habits. Students will have additional counseling options, designated calming spaces, a virtual calming room and sensory walks. Restorative practices will be used.
5. Individualized Education Plans will be amended prior to the start of the school year.
Students with disabilities who are in the general education setting more than 50% of the time will follow the district's instructional plan for in-person learning, according to the proposal. Those who are in a special education setting more than half of the time could have up to four days of in-person instruction per week, as determined by the student's IEP team with parental consent. Students in private day school placements will follow the plan for their school, and those in homebound will participate as determined by the student's IEP team and with parental consent.
IEP meetings will be held within the first six weeks to review and amend after baseline data is collected, according to the reopening plan.