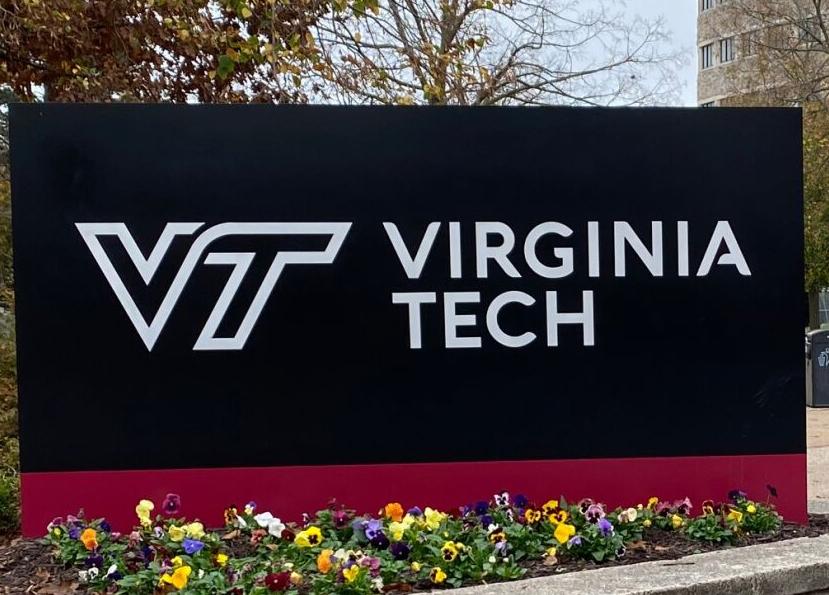 Ashley Shew said she looked forward to being able to teach in front of students again at Virginia Tech.
Over the past year that brought pandemic disruptions, she taught people from behind a computer screen. Professors said remote instruction required more work and planning if they wanted to teach effectively. So even though Shew wants to teach in person, she'd still like to have the flexibility to shift her classes online.
She's had two lung surgeries in the past five years, and she's had recurrences of cancer that resulted in the loss of her leg.
"I'd like to be able to monitor the case levels and gauge the safety of being in the classroom and make my own risk calculations," said Shew, an assistant professor in the Department of Science, Technology and Society.
Shew and others who are immunocompromised and have disabilities have been pushing Virginia Tech, where classes recently began, to give professors more freedom to offer classes online. They're worried about the delta variant, the vaccination rate of the New River Valley and that — while it's rare — vaccinated people can catch and transmit the virus.
Virginia Tech and other institutions of higher education have been committed to providing an experience that is as "normal" as possible, and a main feature of that is in-person learning. Core to this plan was Virginia Tech requiring students and employees to be vaccinated against COVID-19.
Faculty members said they are grateful that after initially encouraging employees to get vaccinated, the school mandated it. They said there are some people who don't take the virus or public health measures seriously.
There are still obvious examples that campus life is not like how it was before the pandemic. Students are wearing masks while sitting in classrooms, for instance. It's a reminder that the virus is still here, and people returning to teach said they're feeling a mix of excitement and anxiety.
"I feel pretty scared attending my class," said Emily Burns, a graduate teaching assistant who is immunocompromised.
While Burns could apply through the university's Office of Equity and Accessibility to seek an accommodation to teach online, she said she's been worried that doing so could jeopardize her being a graduate teaching assistant in the future if she's seen as too burdensome at a time when the university is dedicated to in-person instruction.
Burns and more than 500 people signed onto a letter sent to Virginia Tech President Tim Sands and Provost Cyril Clarke saying that "providing flexible virtual options for work and remote learning would be the safest way to resume campus operations for some people."
The letter explained some of the barriers to getting an accommodation through the university, like paying to get proper documentation from a doctor.
The letter also expressed concerns that the mechanism to get approval to do online teaching only applies to the health and conditions of the individual doing the teaching. So if a professor has a child at home who is immunocompromised, the process to get the online teaching accommodation wouldn't apply in this scenario, disability advocates argue.
"We know from the past year that providing remote access is possible," the letter states. "You have the power to provide for the safety of faculty members, staff, students, and children in the New River Valley."
Sands and Clarke replied to the open letter in a joint email message, saying that remote learning was necessary last year when there was an incomplete understanding of the virus. But the university found online learning "negatively impacted the quality of the educational experience of our students and instructors, and hindered our ability to deliver on the research and engagement elements of our mission."
They wrote the university will evaluate requests from people with disabilities for accommodations to figure out what could be done without placing an "undue burden on the ability of Virginia Tech to accomplish its mission."
"While there may be limited instances when conversion of a course from in-person to online instruction is necessary and appropriate, our first duty is to explore fully other accommodations that are reasonable and less likely to negatively impact the educational mission of the university," they wrote.
A Virginia Tech spokesman said the university stands by its process and that "it works." He didn't respond to additional questions.
The university's Faculty Senate voted 41-19 with 10 abstentions to endorse their colleagues' letter.
In an email to Sands and Clarke, Faculty Senate leaders wrote they questioned the "one size fits all" approach to instruction at this time.
"We believe that Virginia Tech faculty broadly agree with the benefits of in-person learning and the importance of returning to campus," the email states. "However, because we are still in a global pandemic, faculty are naturally worried about their own health and that of students, family members, both young and old, and especially the health of immunocompromised members of our community."
Elizabeth McLain, an instructor of musicology, said she doesn't believe there will be a mass exodus of professors from the classroom if they have more freedom to teach online. Many of them thrive in front of a classroom, she said. McLain is disabled, and she said remote instruction last year was much more challenging. To get her work completed, she even skipped doctor's appointments and physical therapy, which may contribute to some physical problems for her down the road, she said.
McLain and others said that when the university talks about fulfilling its mission, it's important for the school's leaders to keep in mind that those in front of the classrooms are the ones making that happen.