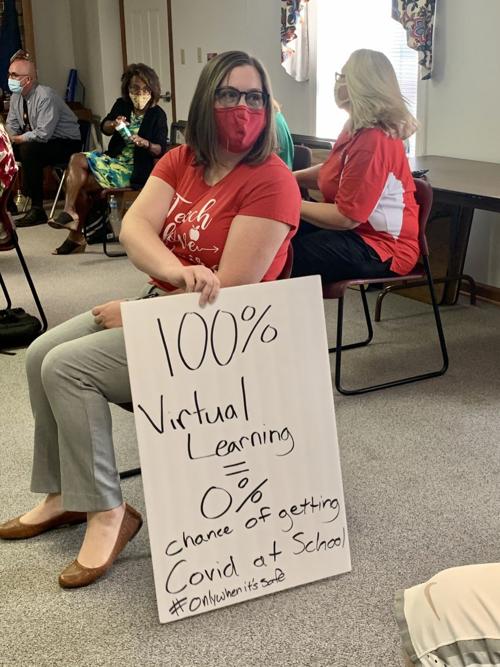 ROCKY MOUNT — Reversing course in the space of one week, the Franklin County School Board voted 5-3 on Monday to delay the start of school for all students until Sept. 8.
The decision overturns the board's July 13 decision to reopen schools Aug. 10 with pre-K through second grade starting back full time, and students in third through 12th grade learning virtually from home for at least the start of the school year.
The county will go from having one of the earliest starting dates in the Roanoke Valley to one of the latest as divisions across Virginia decide how and when to reopen after the spring school shutdown due to the coronavirus pandemic.
Board members Jon Atchue, Penny Blue, Julie Nix, G.B. Washburn and Jeff Worley voted in favor of pushing the start date back, while Donna Cosmato, Arlet Greer and P.D. Hambrick voted against the delay.
Worley said he had heard from many teachers and had questions surrounding cleaning protocols and other areas of concern.
"These teachers are scared," Worley said. "One of the things we talked about was that our teachers were safe. I would be inclined to send no one back, but if we wait until after Labor Day and push this out, it could answer a lot of our questions."
Blue said teachers are not ready. "You have teachers that do not want to come into the classroom to teach these children, so how good is the teaching going to be if they are actually afraid? "
Cosmato said she would prefer to receive more input before making any decisions.
"I am voting I don't want to change (the plan) because we have not yet heard from these teachers," Cosmato said. "We need to find out what is driving them to not want to come back to the classroom and we haven't heard from parents as Mr. Worley mentioned last meeting. … We have an auditorium we can use."
The board agreed that a meeting to allow public feedback should have taken place before last week's vote.
A survey was posted online for parents in June but only half the division's families returned completed surveys. Teachers were not polled about their views.
While there was some discussion about it being too late to seek input, the board ultimately decided to schedule a public meeting for teachers, parents and students who wish to weigh in on the return to school from 5 to 7 p.m. July 27 in the high school auditorium.
Several board members cited concerns and questions they received from both parents and teachers, as well as the unknowns surrounding the coronavirus, as reasoning to postpone sending children back to the classroom.
Worley initially proposed delaying the start of school until after Labor Day and then starting students back on the A/B schedule as originally outlined by school officials. However, Washburn said, he had concerns about the A/B schedule, as did Blue.
Blue proposed the board push the date back but continue to weigh input from the public and information from health officials and to hold off on making a hard and fast decision on what the start of school will look like.
Washburn said he felt strongly that all elementary school children needed to be in school, whether it was all in school all the time or at least on an A/B schedule, even if it meant waiting another month to start school.
He said pushing the dates back would give families time to quarantine themselves before school starts.
Another concern raised was teacher preparedness for the new online platform, Canvas.
Board members discussed the feasibility of teachers returning in August to have more time to learn the system, but Superintendent Mark Church said returning teachers too soon could be problematic with the calendar. Teachers have only 200 contract days in the school year.