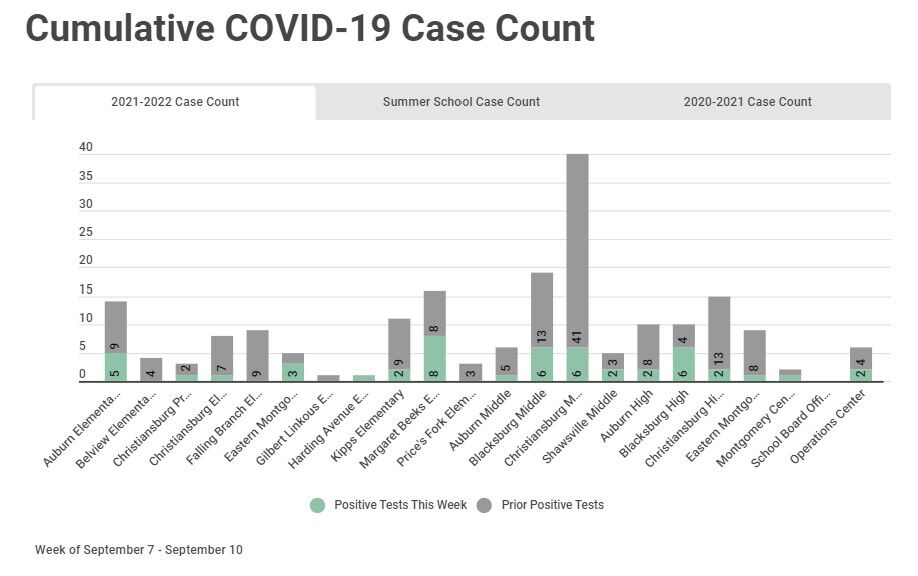 CHRISTIANSBURG — The Montgomery County School Board has approved an adjustment to how the district communicates COVID-19 cases in a specific school.
The measure, which passed on a 5-2 vote late Tuesday following a lengthy debate, involves the sending of a weekly email to a specific school community with a summary and link to the Montgomery County Public Schools COVID-19 online dashboard whenever weekly cases in a certain school are above 1.5% of that building's population.
The school board, which shot down two other related proposals during the meeting, approved the measure amid some criticism from parents in the community over the level of transparency from the district on its reporting of COVID-19 cases.
The issue was also visited as cases have been regularly reported by the schools since the Aug. 12 start of the school year. Local health officials previously predicted that there would be a surge in cases in the area amid the national rise of the delta variant.
One county campus that has stood out with cases is Christiansburg Middle School, which has so far this school year reported 47 cases, based on district data provided Wednesday. It has by far the most cases of any school in the district and has surpassed the leader from last school year, Blacksburg High School.
Despite these figures, New River Health District Director Noelle Bissell did caution MCPS officials Tuesday on the interpretation of data. Among the factors she said to consider are the fact that the current case totals at school are cumulative and not necessarily indicative of the current situation and that over nine-tenths of transmissions occur outside the schools.
Still, some school board members voiced concerns about whether parents are being given the information needed to protect their children.
School Board members Sue Kass and Penny Franklin, in particular, pressed administration on the possibilities of sharing positive cases down to the classroom. They clarified that it doesn't mean they want students within classrooms to be identified, which district officials and the school board attorney each said is generally not allowed under federal law.
Kass and Franklin, however, each argued parents need to have more information than what has been provided.
"I think people are just looking for information," Kass said. "I don't think overcommunication is a bad thing when people are concerned about their child's life."
Despite the privacy points raised by district officials, Franklin said information on the various situations within the schools often gets out due to channels such as social media.
"It is going to be out there anyway," she said.
Superintendent Mark Miear responded: "If it's out there, it's not our liability."
Miear, whose comments the school board attorney later expanded on, said the issue with narrowing the figures down to the classroom — even if it's a generic reporting of numbers without identifying the students — is it still provides enough information for some to potentially deduce a student's identity.
School board member Mark Cherbaka, who pushed for the measure that got approved Tuesday, said he was looking to strike a balance "between being informative and spamming people." He said he wanted to ensure certain communities were aware of the situations at their school, but added that he's aware many parents have opted out of some of the notifications on cases.
One of the proposals the school board rejected Tuesday was to break down the weekly dashboard figures to students and staff, something that doesn't exist at the moment.
School Board member Jamie Bond said she doesn't see what difference it would make to have that breakdown. Franklin replied that it would give the district a better idea of what further transmissions could occur as students, for example, are usually immediately around other students. Franklin pointed to students getting on school buses.
Other board members, however, countered that some students don't ride buses and that teachers are not necessarily less likely to spread an infection as some take on duties such as coaching.