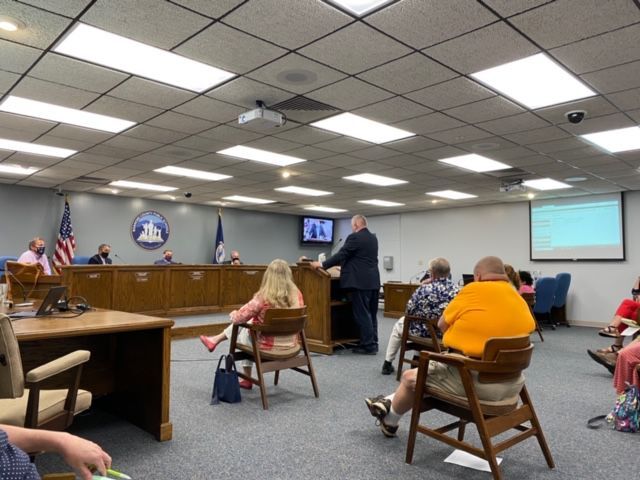 Resisting pressure to follow in Roanoke and Salem's footsteps, the Roanoke County School Board made no move to alter its hybrid reopening plan during its regular-scheduled Thursday meeting.
Instead, school board members voiced support of the plan.
"We thank you for staying the course," member Tim Greenway told Superintendent Ken Nicely.
During the public comment period, Tim Summers of the Roanoke County Education Association again asked for a virtual start to the school year.
Cristy Spencer, a longtime William Byrd High School teacher, also expressed concerns. She professed her deep love for teaching and for the William Byrd community.
"But at what cost are we doing this?" she asked. "We're putting everything on [the] line."
Spencer said she contracted COVID-19 and still suffers side effects. "We all want normal," she said. "We're not there."
The reopening plan calls for students in pre-K through second grade to be in the classroom five days a week; upper grades will attend two days per week. An online-only option is also available to families.
The school board initially approved the plan in mid-July after spending several weeks debating how many students they could safely bring back.
The Roanoke City School Board voted Tuesday to implement a phased reopening plan that will keep most students online for at least the first nine weeks. Salem's school board also voted Tuesday to scale back its reopening plan. Following those votes, rumors swirled that Roanoke County would also change course.
"Sometimes when you swing for the fences, you end up striking out," said Roanoke County School Board member David Linden, referencing Roanoke city's initial plan to offer four days per week of in-person instruction. "Our plan, I'm convinced, is as good as we can do in this moment."
Teachers went back to school this week to prepare for the upcoming school year, and Nicely said there was excitement along with apprehension and caution.
School board members also discussed the need to obtain additional funding to offset the reopening-related costs. Chairman Mike Wray said the school board has requested $4 million in additional funding from the county.
"We're woefully underfunded from that CARES Act," Greenway said.
Staffing remains a large challenge for the day programs partnership with the YMCA and Boys and Girls Clubs of Southwest Virginia, according to Jonathan Pait of the YMCA and Michelle Davis of Boys and Girls.
Both urged interested applicants to contact the organizations to apply.
The YMCA has five confirmed sites throughout Roanoke County, Pait said. They are working out details with several others.
The Boys and Girls Clubs of Southwest Virginia has a smaller scope, covering only the Vinton area. They have a confirmed site with Vinton Baptist Church and are in talks with seven other sites.
"We'll build out our sites as the applications come in," Davis said.
Concerned about COVID-19?
Sign up now to get the most recent coronavirus headlines and other important local and national news sent to your email inbox daily.