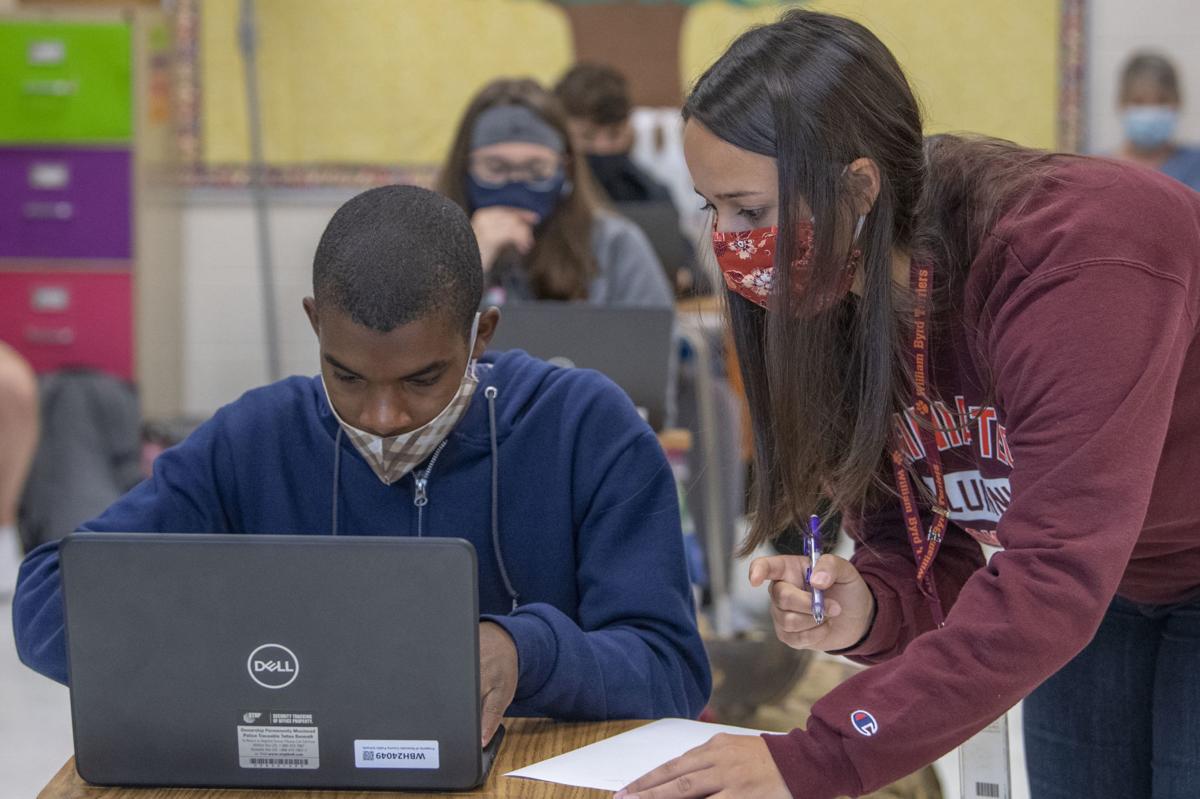 Roanoke County students who have remained on a two-day-a-week schedule since the start of the school year will soon be able to attend in-person classes four days per week.
Citing the downward trend of COVID-19 cases, the importance of in-person schooling and vaccinations among staff and vulnerable community members, Executive Director of Administration Rhonda Stegall told the school board Tuesday that the district was ready to enter the final phase of its reopening plan.
"Our school division has demonstrated the ability to safely open schools for in-person learning while following the recommended safety mitigations to protect students, teachers and staff," Stegall said.
The expansion will affect fifth through 12th grade students; pre-K through fourth grade students are already attending classes in-person full-time. Students also may choose to remain or transition to 100% online learning for the remainder of the school year.
The new schedule will begin shortly before the start of the fourth nine weeks: March 15 for fifth grade students and March 22 for secondary students. The fourth quarter begins March 25.
All five school board members voiced support for the expansion, with Chairman Don Butzer calling it an "incredible plan."
"The plan has some risk, but it's calculated risk," Butzer said. "And I just want to emphasize that it is calculated. We understand that it may not be ideal with respect to following local health department guidelines, but we feel that we've done enough planning, and given the signals that we're seeing, that it's time to move on."
Tim Greenway, who has been a staunch advocate of in-person instruction, said he was "thrilled to death."
"I think Roanoke County students and families win today," he said.
Jason Moretz encouraged the community to continue to follow guidelines to keep cases low so schools can remain open.
Board members also thanked teachers, staff and division leaders for their work. Butzer noted that even the teachers who have been vocal opponents to expanding in-person instruction continue to work hard every day.
Executive Director of Elementary Instruction Stephanie Hogan explained that the four day plan was chosen over five days so teachers will have dedicated time on Wednesdays to work with their all-virtual students. Virtual students will not change teachers.
Six feet of physical distancing will be followed when possible, but many students will be seated between 3 to 5 feet apart on the bus and in the classroom, Stegall said. Mask wearing will be essential, she said.
State Superintendent of Public Instruction James Lane told school division leaders this week that less than 6 feet of distancing is allowed in order to have more students in school, according to Stegall. She also quoted Lane as saying that the "prevailing guidance" from the Virginia Department of Health and the Virginia Department of Education "is that using 3 feet distances is acceptable."
Dr. Cynthia Morrow, director of the Roanoke City and Alleghany Health Districts, said during a media briefing last week that 6 feet will be a "challenge" as schools increase in-person instruction.
"I would love to be able to say that no matter where we are, no matter who we are, we're maintaining our 6 foot distancing. I think it's critically important for us to do that, particularly because we're still having substantial activity in our community," she said. "But I also think that we need to look at all of the evidence, and the evidence is that children need to be back in school. There is a significant impact on their social and emotional well-being."
She said the region's superintendents understand the importance of physical distancing, and together, they were working together to balance public health needs and education.
Morrow said any decrease in distancing would result in more students needing to quarantine if exposed to someone who tests positive for COVID-19, which Stegall also acknowledged on Tuesday.
The Roanoke County Education Association opposes the change. In a petition to the school board and division leaders, President Tim Summers asked the district continue to follow CDC guidance, including 6 feet of distancing.
Summers wrote that it would be "imprudent" to reduce distance given the new variants of COVID-19 and the potential for children to be sickened with Multisystem Inflammatory Syndrome, MIS-C.
That teachers have already received one or both doses of the COVID-19 vaccine doesn't change RCEA's position.
"Our concern has not been solely for the health and well being of our school staff members, but rather we have advocated for the safety of the community at large and against doing anything that could jeopardize the lives of any of our community members," Summers wrote.
Roanoke County is the latest Roanoke Valley school district to make plans for additional in-person instruction for the fourth nine week. Roanoke will be offering four days of in-person instruction to all elementary schoolers and certain middle and high school students, while Salem plans to offer four days to all third through 12th grade students.
Roanoke County has consistently offered the most in-person instruction in comparison to surrounding districts. A small number of individual, nontraditional classrooms experienced temporary closures in the first semester due to exposures, but there have been no divisionwide or schoolwide reversions to virtual learning, unlike other districts.