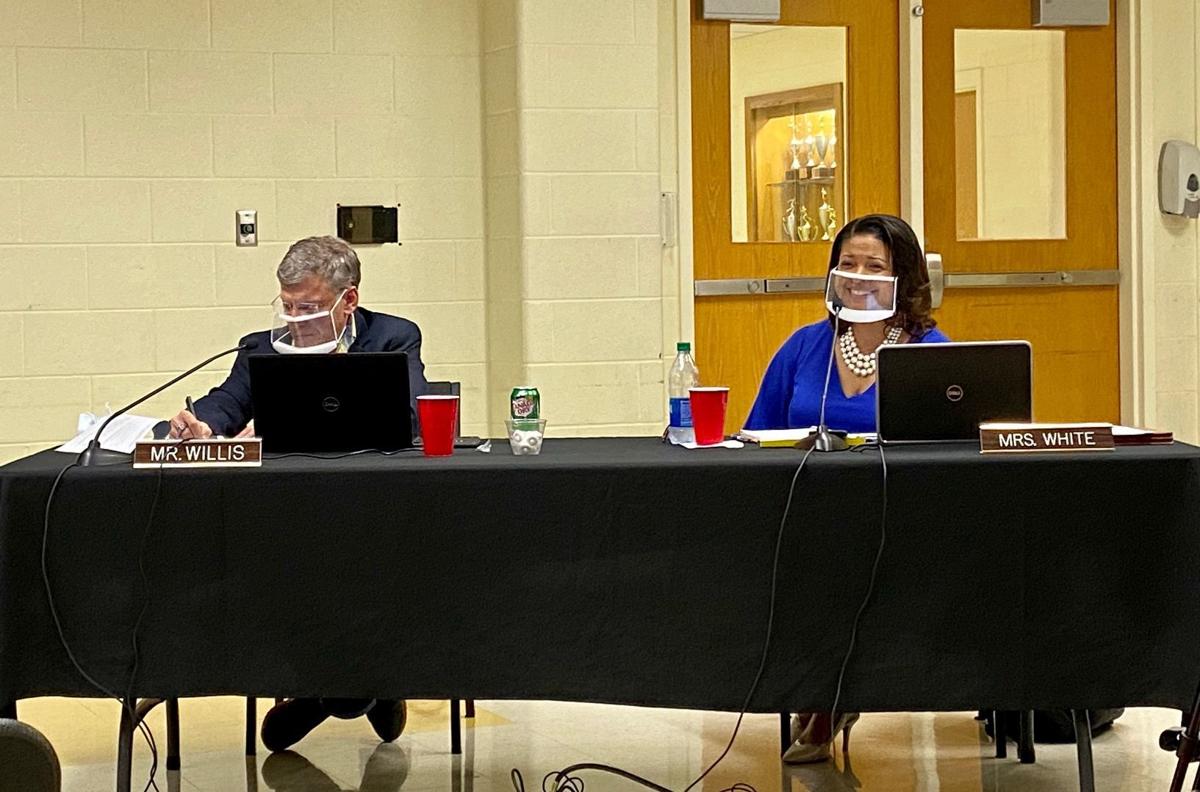 Roanoke students would be back in school four full days per week under a proposed reopening plan presented Tuesday to the Roanoke School Board. The board plans to vote on the plan at a special meeting in August.
The plan calls for sending students of all grades back to the classroom four days per week, with a virtual school day on Fridays. An RCPS Virtual Academy will be available for the 30% of students who indicated they prefer an all-remote option.
Superintendent Verletta White said the plan is based on 10 tenets that are important to consider when reopening schools safely. Tuesday's presentation included details on a wide range of needs, from health and instruction to professional development and infrastructure.
"Our plan allows for the maximum number of students possible as requested by our parents and ... our teachers," White said.
In order to provide more support for teachers and give them time to prepare, White proposed adjusting the 2020-21 school year calendar, which the school board unanimously approved. The first day of school will be Aug. 31 instead of Aug. 18; the last day of school will be June 10 rather than June 2.
"We believe this is a program for Roanoke city by Roanoke city where our students and our staff have choices, from pre-K to 12," White said.
During the planning process, families completed surveys to assess attendance, transportation and technology needs. Staff also completed a survey to gauge their comfort level with returning to the classroom.
Approximately 90% of teachers, 58% of non-licensed staff members and 94% of administrative and professional staff completed a staff survey, and 78% indicated they would be comfortable returning to their workplace.
There was a 60% response rate to the parent survey, according to Chief of Security Chris Perkins. He said families had the option to choose whether they preferred hybrid or an all-remote option; 68% indicated they prefer hybrid instruction, and 31% said they prefer 100% remote.
"I do not believe we can manage more than 70% [capacity]," White said.
Under the proposed plan, students who opt for the hybrid model will be in the classroom four days a week, Mondays through Thursdays. Fridays will be used for virtual assignments and small group remediation.
Students who opt for the 100% remote option would use the learning management system Canvas. They would be taught through "teacher vetted instructional videos, written text, directions for hands-on activities and contact with [district] teachers through regular office hours," according to the plan.
Perkins said the IT department believes the district has enough hardware to provide students with a computer, and there are ongoing discussions with Cox Communications about internet access.
The district will be prepared to switch to more remote or in-person instruction as needed, White said.
"We think we can pivot on a dime if we need to," White said.
Perkins said 35% of students who plan to attend in-person indicated a need for transportation. An average of 20 students will be able to ride each bus with face coverings.
In order to provide transportation while maintaining physical distancing, there will likely be staggered school start times each hour between 7 a.m. and 10 a.m., which would also affect the end time. Perkins said that could change as attendance numbers are finalized.
Students and staff will be provided personal protective equipment, according to the plan. Staff will be provided software to help them screen themselves for illness.
Students will be screened daily each morning before getting on the bus. The district is exploring low-cost child care options with the Boys and Girls Club and the YMCA for district employees.
After White and her staff finished presenting the proposed plan, Lutheria Smith, who was elected board chair earlier in the meeting, was succinct: "I think this exceeds our expectations," she said.
All of the other members voiced similar approval.
Concerned about COVID-19?
Sign up now to get the most recent coronavirus headlines and other important local and national news sent to your email inbox daily.