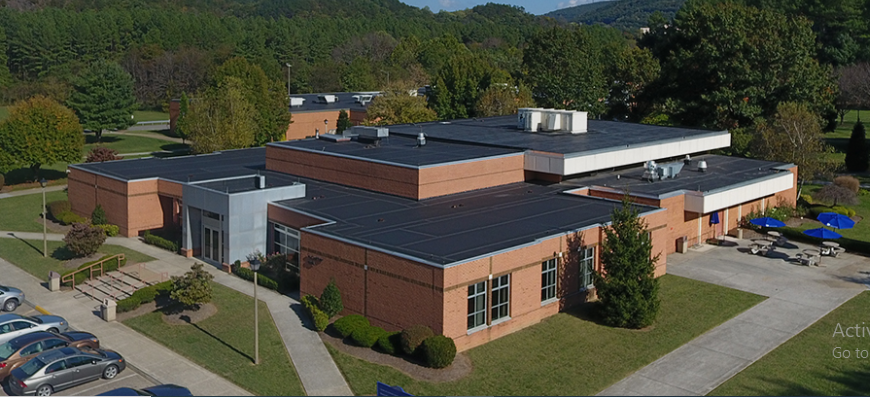 The governing body of Virginia's community college system is urging two institutions — including Dabney S. Lancaster Community College in Clifton Forge — to reconsider their decisions to maintain the names of their schools that honor people who advocated for segregation or owned slaves.
The State Board for Community Colleges initiated a process last July of having colleges examine the names of their schools and buildings. Of the 23 community colleges in Virginia, five of them are named after segregationists, slave owners and confederates. Three of them have already begun the process to change their names.
Dabney S. Lancaster Community College and Patrick Henry Community College in Martinsville reported back to the state board that they wanted to keep their names. But the state board, which has the ultimate authority over the names, urged them Thursday to revisit their decisions.
"Should you name a college after him? I don't know," said Richard Reynolds, a member of the state board and former member of the House of Delegates. "I believe that today, no college would be named after Dabney Lancaster with any research into all that happened in his life."
Who was Dabney Lancaster?
Dabney Stewart Lancaster was a longtime educator and resident of Virginia's Alleghany Highlands region. He served on the state Board of Education, was the secretary of the board and became the state superintendent of public instruction in 1941. He advocated for equal pay for white and Black teachers, according to a records.
He served on the board of Sweet Briar College and was president of Longwood College, and he served as the head of the State Council for Higher Education when it was formed. He died in 1975.
The reason his name has come up in discussions about renaming the school is because of his role during the period after the U.S. Supreme Court's 1954 decision in Brown v. Board of Education. Lancaster was a segregationist. He was once quoted as saying, "We'll fight it from the housetops, from the street corners, in every possible way. We are going to maintain our way of life."
Lancaster's position at the time was for localities to have the local option to desegregate — even if meant there would be some integration of schools — rather than the state control.
Lancaster was named the director of the State Referendum Information Center, which was created to spread awareness of the need to vote in favor of a statewide referendum to allow for tuition grants so parents could send their children to segregated private schools. Virginians overwhelmingly voted in favor of changing the Virginia Constitution to permit this. But when the Arlington School Board voted to integrate, segregationists worried it would spark more integration.
The General Assembly enacted the Massive Resistance plan crafted by U.S. Sen. Harry Byrd and enacted by the legislature in 1956 to aggressively push back against racial integration of the schools. The plan called for withholding public funds from schools ordered to desegregate, empowering the governor to close any schools that tried to integrate and replacing public schools with private schools paid for with the state-funded tuition grants that Lancaster pushed to have voters approve.
"When you look at his activities and his positions during that time, it's not a profile in courage," Reynolds said.
Most members of the college's local board felt that Lancaster's contributions to public education outweighed his involvement in the effort to prevent widespread integration.
"I do recognize Dr. Lancaster did live in different times, and I think the most important thing is he was honored for his lifetime commitment to education," board member Ramona Garcia said during an October board meeting to discuss the members' thoughts on changing the name.
"He was imperfect, the way we are," board member Bill Hartsfield said.
The college's local board is made up of white and Black members, and some of them said they didn't know much about Lancaster's history until they began the research prompted by the state's request.
Ingrid Barber, who is Black, was "not passionate about renaming the college," but said it was important the college create a comfortable learning environment.
"Would changing the name make the community college a better place?" said Rusty Ford, who is white. "I don't think so."
The reckoning with the Confederacy's legacy seeped into nearby Lexington's identity and culture loomed in the discussion. Washington & Lee University is expected to announce next month whether it'll change its name, which honors Confederate Gen. Robert E. Lee. Nearby, Virginia Military Institute, among many changes, has removed its statue of Confederate Lt. Gen. Thomas "Stonewall" Jackson and is scrubbing his name from buildings.
Marilyn Alexander, the lone Black member of the Lexington City Council, talked about her involvement in taking Jackson's name off the city-owned cemetery. She said the discussions are uncomfortable, but important.
"We can either be complicit and live with this, or we can care enough as stakeholders in this school to make sure this generation and the generations after don't have this hanging over their head about the name of this school and how it got its name, but learn the history lessons behind how that happened and making sure our students are not carrying that baggage with them," Alexander said.
Dabney Lancaster's president, John Rainone, reported to the State Board for Community Colleges on Wednesday that the local board decided to keep its name. He said the board came to the conclusion after much discussion and a survey of students, faculty and staff.
The state board encouraged him to take a message back to the local board members to discuss the matter again.
"When somebody was a supporter of segregation of schools, in this day and time, we probably wouldn't name a school for them," board member Ashby Kilgore said.
Patrick Henry Community College is going to hold additional meetings to discuss once again changing its name. The college had told the state board it wanted to keep its name.
State board members discussed the possibility of the college inserting a hyphen between "Patrick" and "Henry" to try and distinguish it from the person — Virginia's first governor and a slave owner — and the two counties the college serves.
State board member Dana Beckton pointed out the two counties are named after Patrick Henry.
"Putting a hyphen in does not automatically or clear up the convention behind the name," she said. "I don't want us to get stuck on a hyphen and think the hyphen will cure it."
The board also updated its policy advising colleges about what they should consider when naming a college and suggested Patrick Henry and Dabney S. Lancaster keep it in mind. It says the name "should reflect the values of inclusive and accessible education articulated in the VCCS mission statement, with special emphasis on diversity, equity, and opportunity, and be relevant to the students it seeks to serve and to the geography of its service region."
The state board approved requests from local college boards to remove the names of John Tyler, Lord Fairfax and Thomas Nelson from three community colleges. They'll return to the state board this summer with the new name they'd like to replace it with.
"I can't afford to have one person not see themselves as successful at this college, whether they're coming to us as a potential student, a potential faculty member, a potential employee, because of the name and what it represents and what it means to them," said Edward Raspiller, president of John Tyler Community College, named after an enslaver who, when he died in 1862, became the only American president to be buried in a casket covered by the flag of another country — the Confederate States of America.