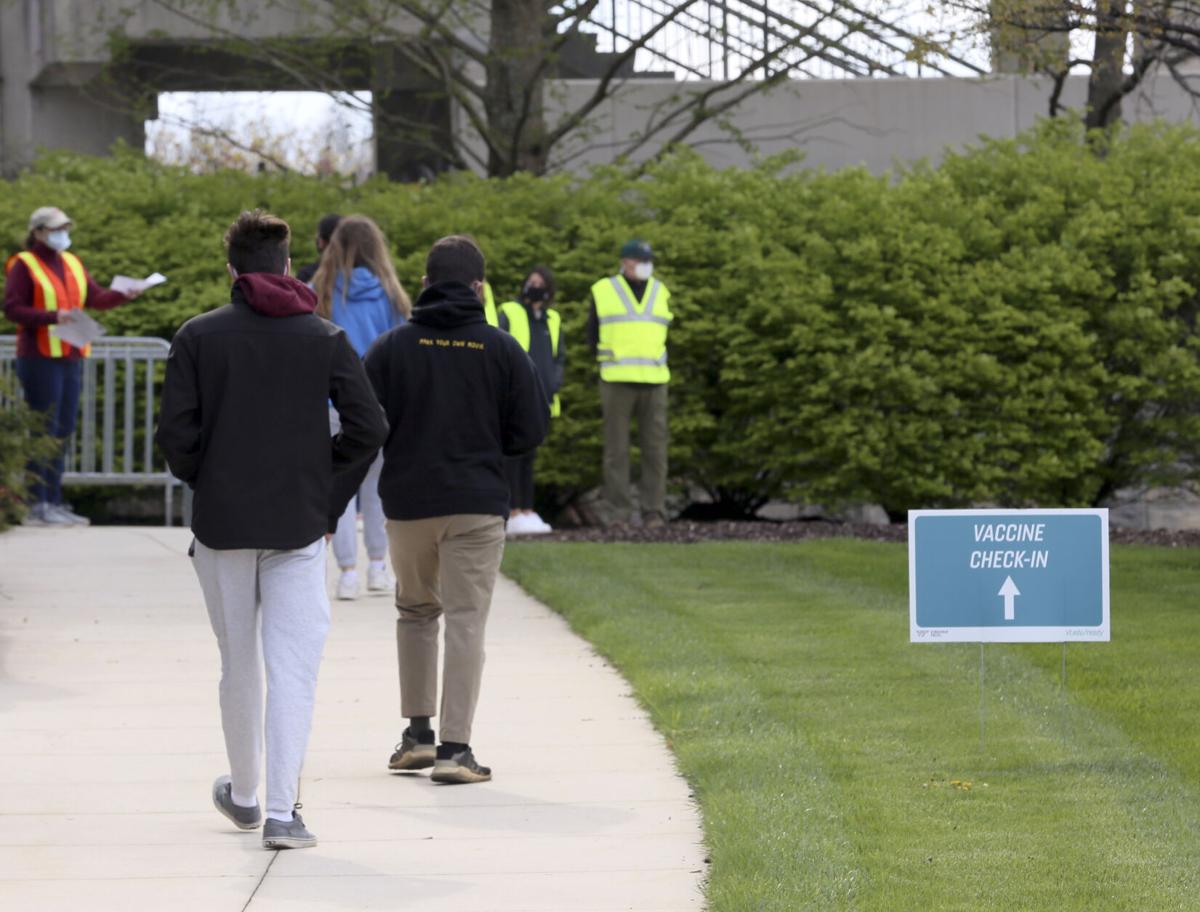 Colleges across Virginia and the country are ramping up to have a relatively normal school year.
Students will attend classes in person and not have to wear masks.
They'll pack into stadiums for sporting events.
Students will join clubs, and artists and speakers will come to campus.
And many colleges are hanging their hopes on creating a pre-pandemic campus environment on vaccinations against COVID-19.
More than two dozen colleges and universities in Virginia are requiring students and, in some cases, employees, to be vaccinated to be on campus this fall. Many of the colleges set deadlines in the next couple weeks for students to submit proof they've been vaccinated, and they're playing the waiting game to see what compliance will be.
As of Thursday, 56% of Virginia Tech students have submitted documentation that they've received their vaccine shots. The university said the steady increase in students reporting their vaccinations since announcing the mandate at the beginning of June shows "good progress" ahead of the Aug. 6 deadline.
"We continue to reach out to students regularly and frequently to remind them of this requirement," university spokesman Mark Owczarski said. "I think this is where we expected to be with this process at this moment in time."
New River Health District Director Noelle Bissell said not to read too much into the number of students reporting their vaccination status prior to the deadline.
"I used to work at Shiffert Health Center at Virginia Tech, and even before the COVID vaccine, there were lots of other required vaccinations to enroll," she said. "Students notoriously wait until the last minute to upload those forms."
Tech is not requiring employees to be vaccinated, although they are highly encouraged to get their shots. About 61% of employees so far have reported they are vaccinated.
Tech President Tim Sands said last month that an employee survey in April showed that nearly 90% of employees were vaccinated or were in the process of being vaccinated. He also said there was a possible legal complication in mandating the vaccine for employees.
"We do not think we have the ability from a legal point of view to require the vaccinations for the employees, especially for a sub-population of classified staff who are protected by a different set of rules and regulations," Sands said. "We didn't feel we could have one group among the employees have a mandate and the others not."
The vaccination requirement approach is backed by ongoing research from a Virginia Tech engineering professor, Navid Ghaffarzadegan, who has been studying how proactive measures, like face masks and testing, affect the spread of the virus on and around the Blacksburg campus. The university has been using his research to help make decisions. And what modeling has shown is that vaccinations are a major factor in significantly driving down the number of COVID-19 cases.
"During the pandemic, we got used to this idea that there is a trade-off between having an enjoyable social life and staying safe from COVID-19," Ghaffarzadegan said. "Now, with the vaccine, the story has changed. There is no trade-off. You can have a reasonable social life and stay safe and healthy while enjoying your educational experience. You can have the cake and eat it too, if we all get vaccinated."
Colleges allow students to seek an exemption for medical or religious reasons, and they've emphasized that if there were an outbreak, they may have to leave campus. At Virginia Tech, about 700 students have received an exemption so far.
The University of Virginia's deadline to submit vaccine documentation was Friday, and by the afternoon more than 88% of students had sent in their forms. The university approved exemptions for 586 students.
"University leaders are encouraged by the number of members of our community who have protected themselves and the people around them by getting vaccinated," university spokesman Brian Coy said.
With nearly all of the students and employees vaccinated, colleges feel confident they can manage the risk. Many colleges plan on regularly testing those who aren't vaccinated and will require them to wear masks.
But those who refuse to get the vaccine for whatever reason other than one that is an accepted exemption, colleges won't allow them to come to campus to live and learn.
"People are going to have to make a choice," said Hollins President Mary Dana Hinton. "We have to think about what's best for our community."
Hinton said that she hasn't received pushback from students about the mandate, and parents have taken comfort in the public health measure put in place for their children. She said the culture of care that Hollins promoted last year seemed to work. Students were told not to visit dorms that they didn't live in, they wore masks and maintained social distance.
About three-quarters of students learned on the Roanoke County campus during the fall and spring semesters, and Hinton said there were only two residential cases of COVID-19 and 18 cases among external community members.
Owczarski, the Tech spokesman, said some students and parents have reached out about the vaccine requirement to express their concerns.
"However, Virginia Tech remains committed to an in-person, residential fall semester, and based on our experiences over the past 18 months and the advice of public health officials, we believe the vaccine requirement is the best path toward to achieving that goal that so many in our community want to have," he said.
Getting the proof of vaccination paperwork in before the deadline is important to the plans of inviting students and employees back on campus. Colleges can't let students pour into dorm rooms during move-in week or sit in packed classrooms unless they know if they're vaccinated. So universities don't want students to procrastinate or blow the deadline.
Radford University is using a drawing for a prize, including a $1,000 scholarship, to entice students to get their documentation in before the Aug. 2 deadline. James Madison University will fine students $50 and put a hold on their account, preventing them from adding or dropping classes for the semester.
"For those not in compliance, utilizing fines and holds on academic records helps motivate individuals to realize they haven't completed this expectation and move quickly to do so," James Madison spokeswoman Ginny Cramer said.
James Madison University's deadline to submit documentation was July 8. Cramer said the university did not have final data to share yet, but it was optimistic about compliance because of the high level of awareness of the vaccine requirement.
College officials say it's an onerous task to process the documentation and keep track of where students are in their vaccination timeline. Students who are in the process of being vaccinated but may not get their second dose or won't have the vaccine take full effect by the time they arrive to campus need to get in touch with universities about what to do. Colleges are notifying students that measures include them having to wear masks until their vaccinations fully kick in.
Colleges are also setting up vaccination clinics in the weeks before and around move-in time, which they said will be especially important to international students who may not have such easy access to vaccines like in the United States.