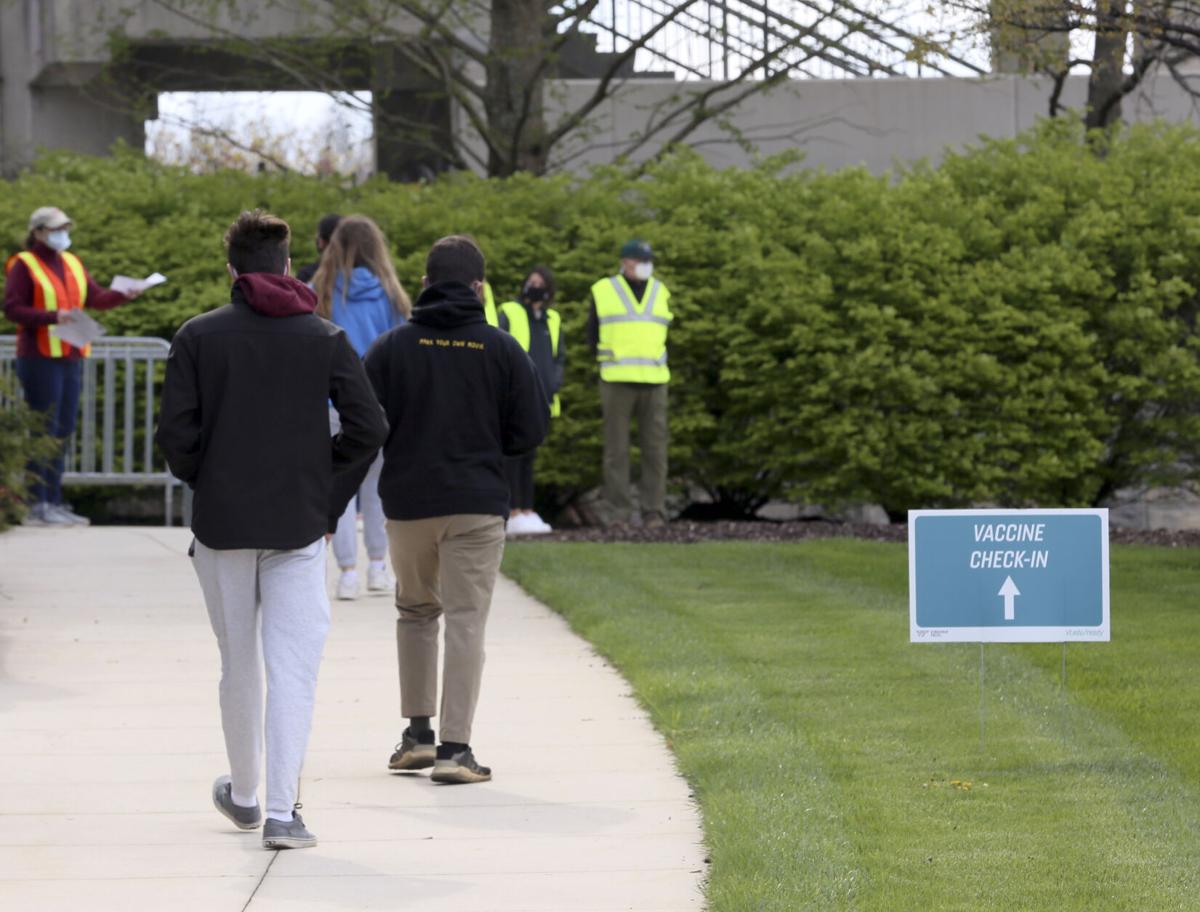 BLACKSBURG — Virginia Tech will require students be vaccinated against the coronavirus, school officials announced Tuesday.
The order applies to the student body of about 37,000. Students can get an exemption if they are not getting the vaccine for medical or religious reasons. Employees are strongly encouraged to get vaccinated.
Virginia Tech joins other major public universities, including the University of Virginia, James Madison University and Virginia Commonwealth University, which are mandating COVID-19 vaccinations. The decision comes as the university is planning to open campus in a way that resembles as "normal" as possible.
In the absence of a statewide or federal mandate ordering residents to get any emergency-authorized COVID-19 vaccines, college have been deciding on their own whether to require students and faculty to get vaccinated. Institution officials see it as a way to speed up the return to in-person instruction. They also say other benefits include a reduced need for testing and quarantining, few disruptions to campus operations and an increased ability to hold more in-person activities on campus.
"To reach a level of confidence that we will be able to experience a fully in-person fall without masks and distancing, we need to ensure that nearly everyone is vaccinated," Virginia Tech President Tim Sands said Tuesday at a meeting of the university's board of visitors. "We really do need to come back with as normal a fall as possible."
Virginia Tech had initially determined that it could not require a vaccine because the U.S. Food and Drug Administration has only allowed the emergency use of the vaccines and hasn't given them its full approval, but it's now considering what a vaccine mandate would look like on its large campus with various people who come and go. It's not issued a directive at this time.
Then Virginia Attorney General Mark Herring issued an opinion in April that said public institutions may condition attendance in various activities or settings on receiving a vaccine. He said it's up to individual institutions whether or not to require it to protect public health.
"In my opinion, a COVID-19 mandate by a state college or university would be reasonable to control COVID-19 and prevent a campus outbreak," Herring wrote. He added that institutions should provide reasonable accommodations for those who don't get vaccinated because of medical conditions or religious objections.
There is some urgency for universities to make a decision soon about a COVID-19 vaccine mandate. With residence halls opening in August, it can take about six weeks between a first dose in a two-dose vaccine and reaching full vaccination. Virginia Tech students must report they have received their necessary vaccine doses by Aug. 6.
Health experts believe that herd immunity — the point at which enough Americans are protected from the virus through infection or vaccination that we could be rid of the pathogen — is unlikely to happen in the near future or beyond. So the concept of requirements for vaccinations within certain settings, like college campuses, is an effort to try and replicate that on a small scale.
The American College Health Association has advised campuses to enforce vaccine requirements for students, calling it "the most effective way for institutions of higher education to return to a safe, robust on-campus experience for students in fall semester 2021."
Sands said that the employee vaccination rate is reaching herd immunity and he's confident the study body can reach that rate as well. Nearly 90% of the employees reported being vaccinated, according to an employee survey conducted last semester. There are about 10,000 employees, and the need and frequency of testing for unvaccinated employees will be determined based on the risk a person's position presents to the community.
"We know from painful experience that the high population densities on campus, combined with a mobile and gregarious student body is likely to result in what could be clusters of cases in the first few weeks of the coming semester," he said. "So we need to make sure that those clusters don't become surges."
About 500 among 5,300 institutions of higher learning are currently requiring vaccines of at least some students or employees, according to tracking from the Chronicle of Higher Education. Some colleges have announced they would require vaccination once the Food and Drug Administration gives formal approval to the vaccines.
At least 17 private and public colleges in Virginia, including Hollins University in Roanoke County and Washington and Lee University in Lexington, are requiring vaccines for students, faculty and staff for the upcoming semester. Virginia's community colleges will not require students and faculty be vaccinated.
Radford University has still not made a decision about whether it will require that students, faculty and staff to be vaccinated against coronavirus to be on campus in the fall.
Washington and Lee President Will Dudley wrote in a message to students, faculty and staff last month that while most of the university community has received the vaccination, 30% have not.
"Our expectation is that requiring vaccinations will allow us to return to campus without distancing and masking, with all in-person instruction in classrooms at normal occupancy, and with other activities such as dining, performing arts, clubs and organizations returning to more normal in-person operations," Dudley wrote.