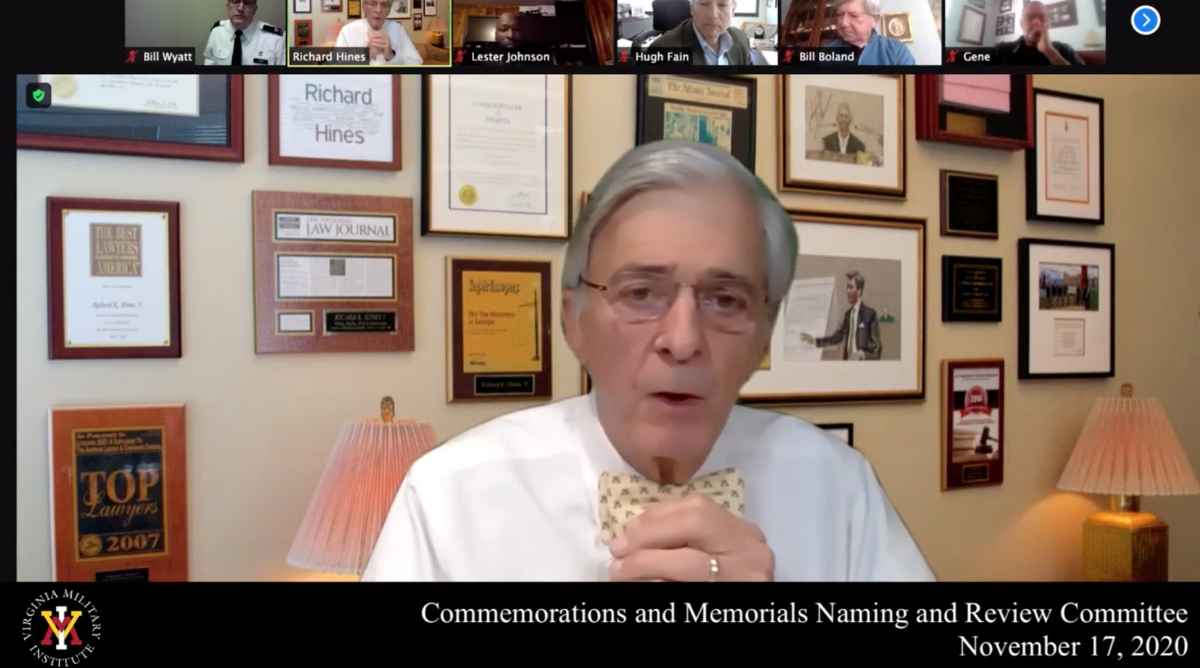 The members of a Virginia Military Institute committee created to review and make recommendations about nearly 40 memorials with ties to the Confederacy pledged Tuesday to receive input from as many people as possible.
The 10-member Commemorations and Memorials Naming and Review Committee held its inaugural meeting Tuesday, tasked with considering VMI's mission of producing citizen-soldiers and ensuring "that all memorials properly reflect the Institute's commitment to diversity, equity, inclusion and belonging," according to the charter.
Committee Chair Richard Hines, also a member of the Board of Visitors, summed up the gravity of the committee's mission during introductory remarks:
"We deal with a very, very tough issue. And we will deal with that together. Our job is very simple. Our job is to get it right."
The ad-hoc committee's creation was among the many actions taken by the Board of Visitors in the past month as the state-supported military college has been in the spotlight. Following a summer of requests for VMI to make strides in diversity and inclusion, including a push to take down the Thomas "Stonewall" Jackson statue — and a counterpetition advocating for its preservation — change has occurred in quick succession.
After The Washington Post published a story late last month detailing allegations of systemic racism on campus, Gov. Ralph Northam ordered an independent, third-party investigation into the college's culture. The next week, retired Gen. J.H. Binford Peay III resigned as superintendent, saying he had been pushed out, and the Board of Visitors voted to take down the Jackson statue, a reversal of its previous position.
In addition, the board adopted a series of diversity and inclusion initiatives, which board members said were in the works prior to the more recent media attention.
On Tuesday, Hines referenced the recent "turmoil," saying that VMI has not been portrayed as "a crowd of honorable youths, pressing up the hill of science, with noble emulation," quoting VMI founder John Thomas Lewis Preston.
"Rather, we have been portrayed as a bigoted crowd," Hines said. "A bigoted crowd with a cancerous coupled connection to the old Confederacy. And when I voted in favor to move the Stonewall Jackson statue, I said, 'That myth must be eradicated. That never was, that never is and that never shall be what VMI is.'"
The committee's mission is to provide "oversight of all policies and practices related to the naming of buildings and places on Post, as well as the existence of statues, commemorations and memorials on Post," Hines read from the charter.
In addition to looking at the past, Hines said the committee also must look toward the future and ask who else is deserving of recognition.
VMI Museum System Executive Director Keith Gibson, a member of the committee, provided a brief historical overview of VMI before presenting a draft inventory of 35 statues, monuments, building names, plaques, paintings and other memorials.
"All of these facilities have been identified because of the relationship that that individual at some point in their life might have had in service to the Confederacy or carrying some other Confederate iconography," he said.
The committee directed Gibson and his staff to next prepare recommendations for review criteria and to produce a shorter, prioritized list of items. In the meantime, Hines asked his fellow committee members to solicit input from the larger VMI community. "We need to hear views of affected people," he said.