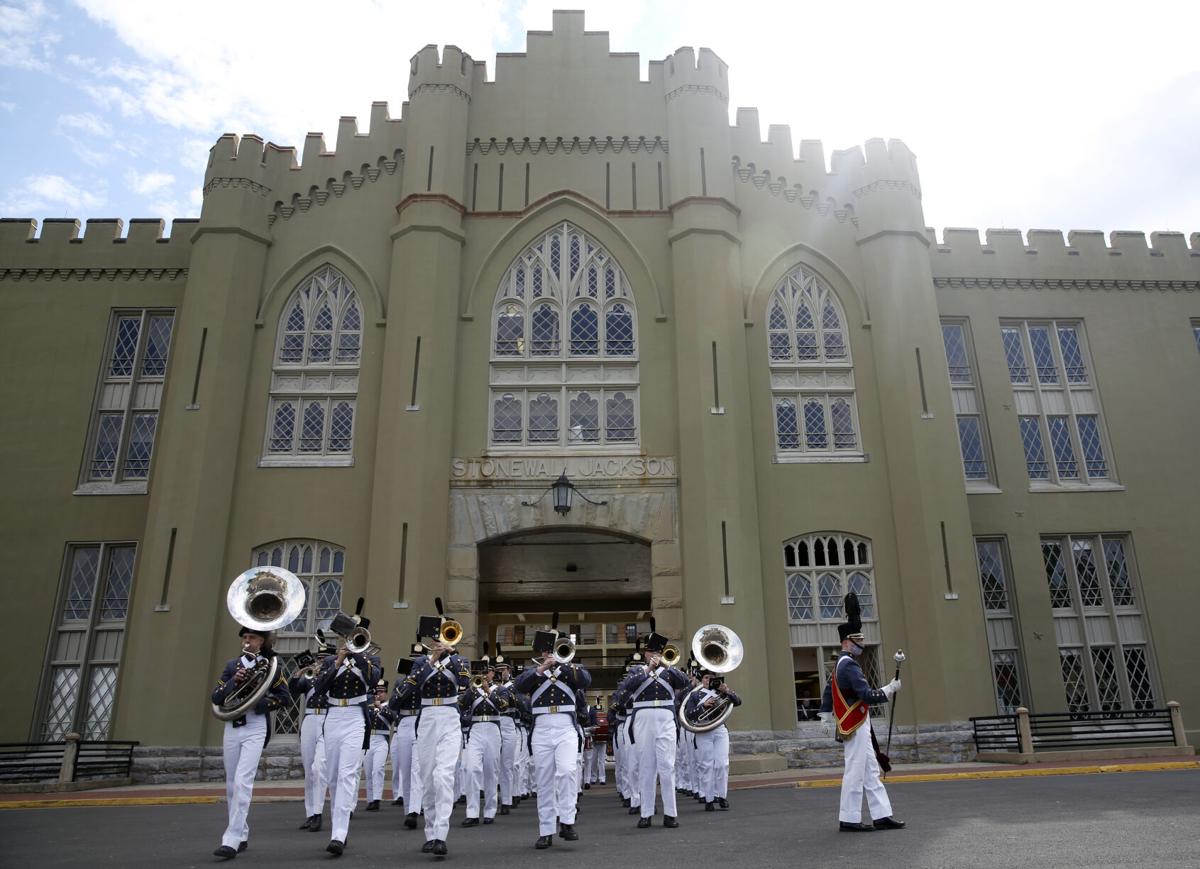 Virginia Military Institute has tolerated and not addressed "institutional racism and sexism," and the institution should be held accountable to make sure it implements a series of reforms, an independent investigation of the state-supported military college found.
"VMI's overall unwillingness to change — or even question its practices and traditions in a meaningful way — has sustained systems that disadvantage minority and female cadets and faculty, and has left VMI trailing behind its peer institutions," an investigative team from law firm Barnes & Thornburg wrote in a report published Tuesday. "If VMI refuses to think critically about its past and present, and to confront how racial and ethnic minorities and women experience VMI, it will remain a school for white men."
Investigators proposed a reform plan and recommended that the Lexington military institute submit quarterly reports to the state. The report also suggested Gov. Ralph Northam and the General Assembly form a committee to monitor the progress and address when VMI may be falling short on making improvements.
Since taking over as superintendent in the fall, retired Army Maj. Gen. Cedric T. Wins has emphasized that he will ensure that VMI fosters a community that prioritizes diversity and inclusion so that any cadet can succeed.
"The initial indicators in the report look to be fairly consistent with some of the recommendations and direction that I've already given my team that fall in the area of diversity, equity and inclusion and how to address concerns that have a racial animus to them and how seriously to take those," Wins said Tuesday after receiving a copy of the report. "There is going to be zero tolerance for that kind of behavior."
Investigators spent the past five months surveying and interviewing current students, alumni and faculty and poring over 100,000 pages of documents related to issues such as discipline and information about cadet and faculty demographics.
Investigators wrote that perceptions about the racial climate on campus seemed to depend on a cadet's race or ethnicity. About half of Black cadets surveyed said there is a culture of racial intolerance at VMI, while only 10% of white cadets agreed with that sentiment.
Cadets and alumni reported that hearing racial slurs on campus was common, and that the VMI administration excused the behavior at times "based on a lack of diversity in the cadets' upbringing." Investigators recommended that rather than be reactive with educational training after cadets use slurs, the college would benefit from providing sensitivity training to incoming cadets and adopting a social media policy to monitor issues of racism and sexism among cadets on online platforms.
Many people who spoke to the investigators said they felt like the treatment of women at VMI was far worse. The report said sexual assault is "prevalent at VMI yet it is inadequately addressed by the institute." In a survey conducted by the investigative team, 14% of female cadets reported being sexually assaulted at VMI and 63% said another cadet told them that she'd been sexually assaulted.
A current female cadet said a male cadet entered her room and groped her breasts. Women suggested they would feel more comfortable if they were able to lock their doors at night.
Female cadets told investigators that they felt like their complaints aren't or wouldn't be taken seriously by the VMI administration or that the women would suffer retaliation for reporting them. They said members of the administration have actively dissuaded victims from making reports, telling them that the career of their assailant would be ruined.
"Cadets, alumni, and faculty repeatedly described the culture at VMI as one of silence, fear, and intimidation, especially as it relates to the reporting of problems or issues that reflect negatively on the institute or its leadership," the report states.
The Barnes & Thornburg team made eight recommendations for what VMI should do to address racism and sexism. The team did not suggest getting rid of any of the practices and traditions on campus that VMI supporters say are crucial to the VMI experience.
Recommendations include creating a plan to increase diversity among the cadets and faculty, improving diversity in leadership roles and evaluating its institutions and traditions where there are racial disparities.
VMI uses a student-run Honor Court to investigate and prosecute alleged violations of the honor code. VMI refers to it as a "single-sanction system," meaning that a cadet found guilty is automatically expelled. Investigators analyzed 91 cases that resulted in a conviction in the last 10 years and found that while cadets of color represent 23% of the corps, they make up 41% of the dismissed cadets since 2011.
Investigators gave various recommendations about how it handles punishing students, including maintaining and reviewing information about punishments to ensure there are not disparate penalties for the same behavior from different cadets.
"These are serious allegations and are being treated as such," Board of Visitors President John Boland and President-elect Thomas Watjen said in a statement. "VMI is not immune to the challenges all colleges face in this area, and there have been incidents on our campus which we have documented and shared as part of this investigation. Let us be clear though, this behavior has never been tolerated and, as an oversight board, we are committed to assuring every action is being taken to maintain a safe and welcoming environment for all at our school."
The Roanoke Times first published a story a year ago recounting the experiences of Black alumni, and their request that the college take down the statue of Confederate Lt. Gen. Thomas "Stonewall" Jackson. It wasn't until The Washington Post published a story months later that top state leaders reacted, which included Northam, a 1981 VMI graduate, to call for an investigation.
The college has made progress since the start of the investigation. It removed the statue of Jackson from campus in December. Jackson's name is being removed from campus buildings. It hired a chief diversity officer last week. The college also began making changes before media reports about racism allegations and the state's involvement, including ending the practice a few years ago of making cadets salute the Jackson statue.
The report says that VMI still gives "disproportionate attention" to traditions related to the Civil War era and should continue to temper its associations with the Confederacy.
Investigators said that much of the change didn't happen until it faced intense media scrutiny and pressure from state government leaders. They said this does not "inspire confidence that it will follow through on this plan."
"VMI will likely follow through on its promised reforms only if it is forced to do so," the team wrote.
Democratic leaders, including Northam, House Speaker Eileen Filler-Corn and Senate Majority Leader Dick Saslaw said in a joint statement they will hold VMI accountable.
"While VMI has taken incremental steps forward since this review began, much more is needed," they wrote. "The question is whether VMI is willing to acknowledge this reality. The commonwealth will study this report carefully and then take appropriate action. VMI would be wise to do so as well. VMI is an agency of state government, and we will hold it accountable."
Senate Minority Leader Tommy Norment, R-James City, a 1968 VMI graduate who has vocally defended VMI, noted Tuesday that the report did not recommend doing away with core traditions and policies
"It recommends that VMI leadership examine how it can create an environment that does not disadvantage or impose disparate effects on minorities," Norment said in a statement through a spokesman. "For its students, faculty and alumni, VMI will remain the exceptional institution it has been for over 180 years."
Despite VMI leaders and some supporters openly welcoming the investigation and promising cooperation, investigators described a "combative" process with "hostility" coming from VMI. They accused VMI of altering documents, including deleting information that the law firm asked for, and the institute finally handing over unredacted records after the Virginia Attorney General's Office got involved.
Leaders at VMI have accused the investigative team of crafting biased survey questions that were "purposely prejudicial to VMI" and included "misleading" and incomplete information in interim reports.
The investigation into VMI has been particularly divisive, with VMI's defenders — especially the college's alumni — arguing that Northam and other state leaders rushed to judge the college. Shortly after Northam called for an investigation, his administration and Democratic leaders in the General Assembly forced retired Army Gen. J.H. Binford Peay III to resign as superintendent. Wins as succeeded him as the institute's first Black superintendent.
"The reaction to the investigation from the larger VMI community and the Institute itself demonstrates the effect of this problematic culture," the report reads. "The unusual amount of vitriol, criticism, condescension, and condemnation from many in the VMI community regarding the investigation has been alarming."
Boland and Watjen sent a letter to Democratic leaders around the same time the Barnes & Thornburg report came out directing them to a separate report that the VMI Alumni Agencies had commissioned by McGuireWoods that highlights graduation rates, increasing number of women and people of color in the corps. The report rejected Northam's description that there is a "clear and appalling culture of ongoing structural racism" at VMI.
"Like many colleges and institutions across our country, there is much that can — and will be — done to continue to identify and combat incidents of discrimination in all its forms," that report concludes.
Wins said VMI will review the recommendations and how they fit in with developing young leaders beyond academics.
"We'll see where we need to make changes to improve perceptions and the realities with disparities and issues related to women in the corps so that we have an environment that is inclusive to all young men and women," Wins said.