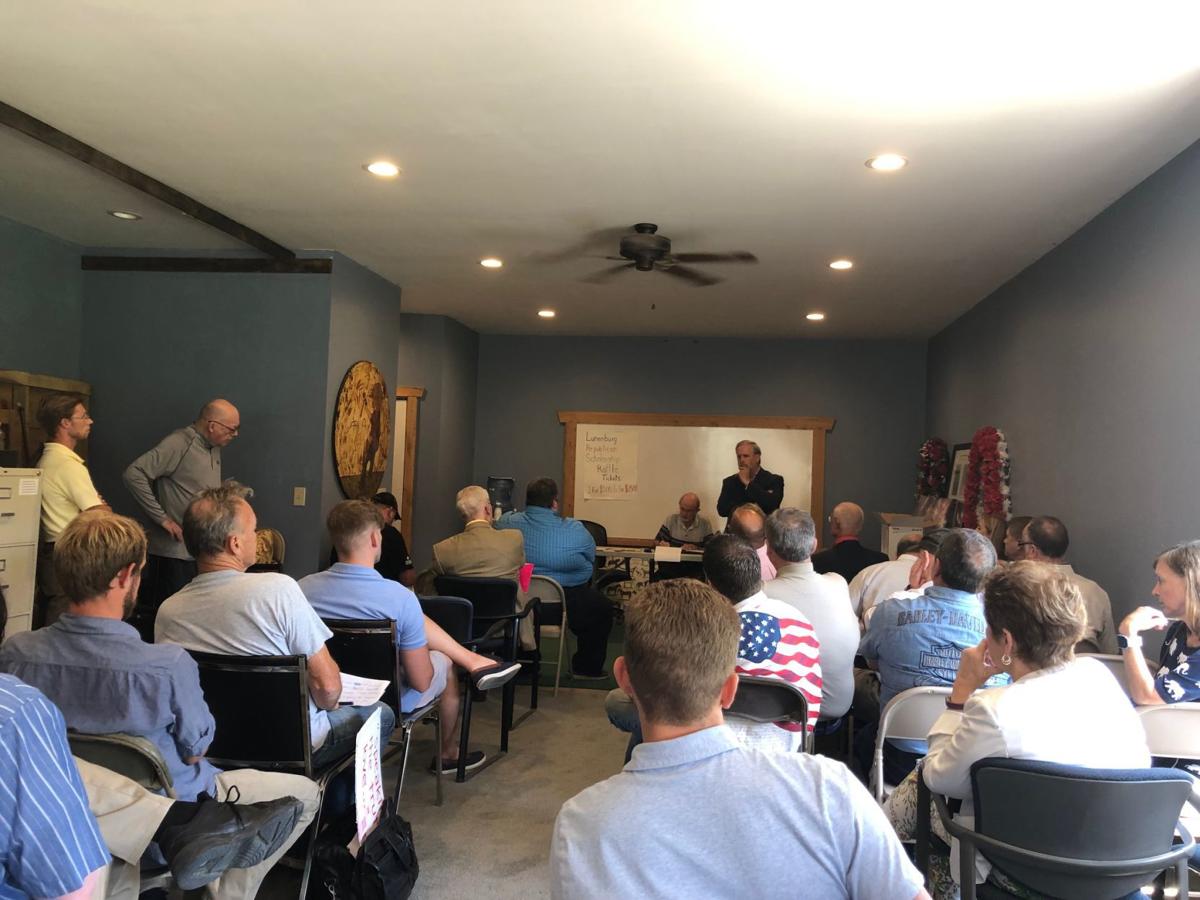 A small number of Republicans on a congressional district committee tried to censure Rep. Denver Riggleman because he officiated a same-sex marriage earlier this month.
The 5th Congressional District Republican Committee went into a closed session for more than two hours to discuss the matter at a meeting on Saturday at Healing Strides horse riding center near Boones Mill.
More than two dozen committee members attended. Wendell Johnson, who represents Bedford County on the committee, tried to introduce a motion in open session to officially reprimand the first-term congressman, a Republican from Afton.
"I move that the committee censure Denver Riggleman for failing to uphold the Republican Party platform in that it states 'marriage is between one man and one woman,' " the motion read.
Melvin Adams, the district committee chairman , said the motion was out of order. He said the issue was discussed in closed session, so it couldn't be discussed in open session.
Diana Shores, who represents Cumberland County, made a motion to overrule Adams. Only four people voted in favor, so the motion failed, ending the censure effort.
"I'm pleased with what Denver is doing, but I just disagree with him over this issue," Johnson said after the meeting.
Riggleman wed two men on July 14 in Crozet. They are conservative Republicans who volunteered for Riggleman's campaign last year. The Washington Post first reported the event.
In Virginia, private citizens can obtain court permission to officiate at individually designated weddings with the same legal standing as ministers.
"My real belief is that government shouldn't be involved in marriage at all, but if it is, everybody has to be treated equally before the law," Riggleman told the Post. "And that is part of our Republican creed. And it also comes down to love is love. I'm happy to join two people together who obviously love each other."
Riggleman's wife, who owns a distillery with her husband, posted on her Facebook page two days after the wedding that she was proud of her husband. "Love is love," she wrote.
Riggleman did not attend Saturday's meeting . He was in Arizona to learn about border security efforts.
"Congressman Riggleman has full confidence in the committee and applauds their decision to continue to make the Republican Party an inclusive party of liberty and freedom for everyone," Kurt Lofquist, Riggleman's political director, said in a statement after ward.
Riggleman's district stretches from Fauquier County to the North Carolina border and includes Franklin County and part of Bedford County. He has libertarian leanings, and has taken a states' rights approach to same-sex marriage. Some religious conservatives who supported Dunbar took issue with that position during the nomination contest last year.
"The fifth district Republican committee is absolutely committed to inclusiveness," Adams said in a statement. "As a party we do not discriminate against anyone and all are welcome to join us to promote our party platform and support our candidates."
Adams added the committee is committed to the party platform that states a "natural marriage" is between a man and a woman.
No Republicans have announced a primary challenge against Riggleman for re-election.
Support for same-sex marriage has steadily grown over the past 15 years, with a majority of the public favoring it, according to a Pew Research Center survey conducted in March. It's still politically divisive, with 44% of Republicans and Republican leaners supporting same-sex marriage.
There is a generation gap among Republicans on the issue of same-sex marriage. Half of Republicans between the ages of 18 and 49 support same-sex marriage, while 42% are opposed, according a Public Religion Research Institute survey conducted through last year. By contrast, 63% Republicans ages of 65 and older oppose same-sex marriage, and 28% are in favor. The 5th Congressional District Committee is primarily composed of middle-aged and senior Republicans.
Get local news delivered to your inbox!
Subscribe to our Daily Headlines newsletter.