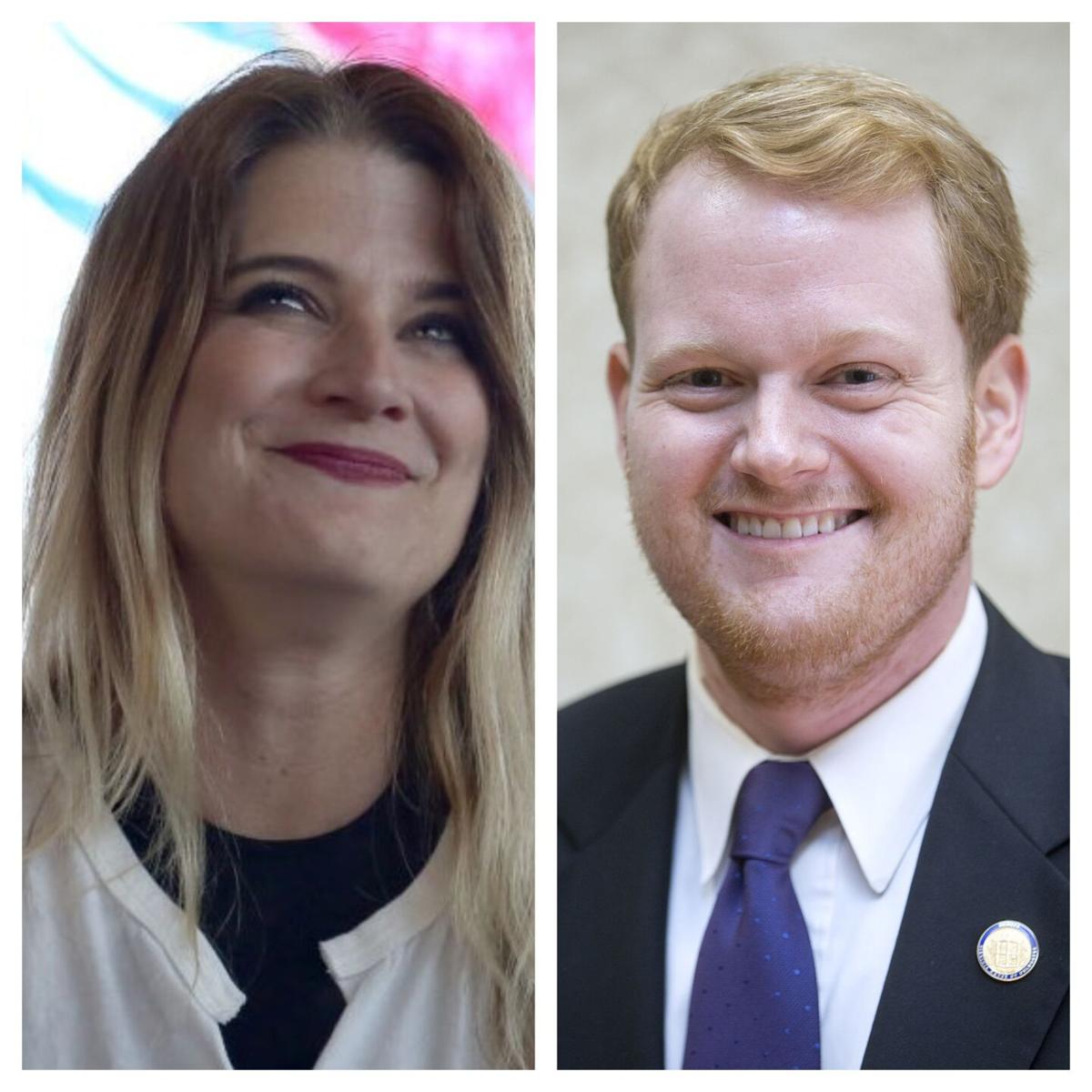 CHRISTIANSBURG — A New River Valley state delegate joined those who have been critical of a town business owner who attended the "Stop the Steal" protest in Washington, D.C., last week.
The businesswoman, Marie March, owns the Due South BBQ and Fatback Soul Shack restaurants. She said she was appalled Saturday when she saw this tweet from Del. Chris Hurst, D-Blacksburg: "Who wants to start a BBQ joint in the NRV where the owners don't participate in an attempted coup?"
"Honestly, I don't understand it. I try to understand it. I couldn't believe Chris Hurst," March said. "His tweet is taking this to a whole new level."
Hurst was one of numerous people who took to social media to make critical comments about March's D.C. trip. And, as social media goes, there were also comments from those supporting March.
Hurst, after his Saturday tweet, later apologized for words he used on social media. However, in an email The Roanoke Times this week, Hurst pointed to a past Facebook post of March's that starts: "The coming Civil War is complex."
The restaurateur, whose establishments are known for their downhome cooking, was among the many who flocked to Washington a week ago to hear outgoing President Donald Trump.
The president used the opportunity to continue his repeated — and baseless based on lack of evidence — claims of a stolen election. The president's words eventually moved a mob of his loyalists to storm the Capitol, where lawmakers were meeting to certify President-elect Joe Biden's victory.
March said she and family members who also attended did not march to the Capitol building. She also defended her husband, a physician in Floyd, from criticism from others that he could expose his patients.
"We actually wore masks at the event … we took our masks off to take our pictures," March said. "He practices the mandated protocols. He does everything he's supposed to do. He's very concerned about the welfare of human beings in general."
March argues Hurst took it too far and said she is holding him at least partly responsible for the trouble she has encountered since returning from the Trump event.
"Quite frankly, we've spoken to some lawyers and we're going to be proceeding with a lawsuit," March said this week, adding that she viewed the state delegate's social media comment as defamatory. "He alleged that I tried to overthrow the government, which is false. I went to see the president of the United States of America. I believe he did it in order to hurt our business."
March said she's worried that Hurst's comment could adversely affect catering arrangements she's had with some of the institutions in the area.
Hurst on Tuesday declined to further speak on his tweet from this past weekend, but he did bring up the controversial March Facebook post amid the protests sparked by the death of George Floyd at the hands of police officers in Minnesota.
"I would say that any coverage of Ms. March and her recent actions should also include the attached FB post she made implying a Civil War is coming and be a good thing ('what do we have to lose?')," Hurst wrote in an email, referring to a closing question in March's post.
On Wednesday — after watching a March interview on Fox News — Hurst issued his apology on Twitter and called his recent online comments "needless and not helpful."
"It's clear now while the owner was in D.C., that we do need to make a distinction between those there at the National Mall and those who went to the Capitol later," Hurst wrote in a tweet.
I watched last night's Fox News interview with a local restaurant owner who was in DC last week.
I'd like to apologize to her for being a #!$% and attempting to make light of the rally and riot on 1/6.

— Delegate Chris Hurst (@ChrisHurstVA) January 13, 2021
The beginning of March's controversial post from last year read: "The coming Civil War is complex. There's two completely opposite sides in America and you likely fit into one or the other. Which side are you?"
Most of what March wrote categorized those who protested police brutality and Trump supporters into two distinct groups.
March described those who took part in the protests last year as mostly millennials and as a group that views police and Trump as "THE PROBLEM."
March also brought up the issues of employment and student loan debt, the latter of which she wrote is a major concern for many in the protester group. She wrote those are among the overarching issues behind why that group supports socialism.
March then described the other group as the other half of the country, the "America that elected Donald Trump." She described that group as angry and wrote that they are tired of paying for lazy, spoiled "purple haired 'kids.'" She further wrote that many in the Trump group have put themselves through school, whether it also be through student loans or with the aid of the GI Bill.
The Trump group is willing to "fight and shoot and defend and die for their beliefs and life experiences," wrote March, who later added that she would be willing to do the same for her family and businesses.
"Will this coming war be us killing each other in order to reset this country? Will we kill off the old OR will we kill off the young? Can we live with our conscience when we actually take human life and end their potential?" March wrote.
March ended the long post by writing that there could be common ground between the two groups and that some from both sides could run for office to improve government for them.
March this week rejected suggestions that her posts called for violence. She said she was simply and ultimately calling for new people to serve in office.
"It also makes you wonder about people's reading comprehension skills," she said. It was calling "to elect new people. I specifically stated that … I never insinuated it [violence]. I don't speak in code."