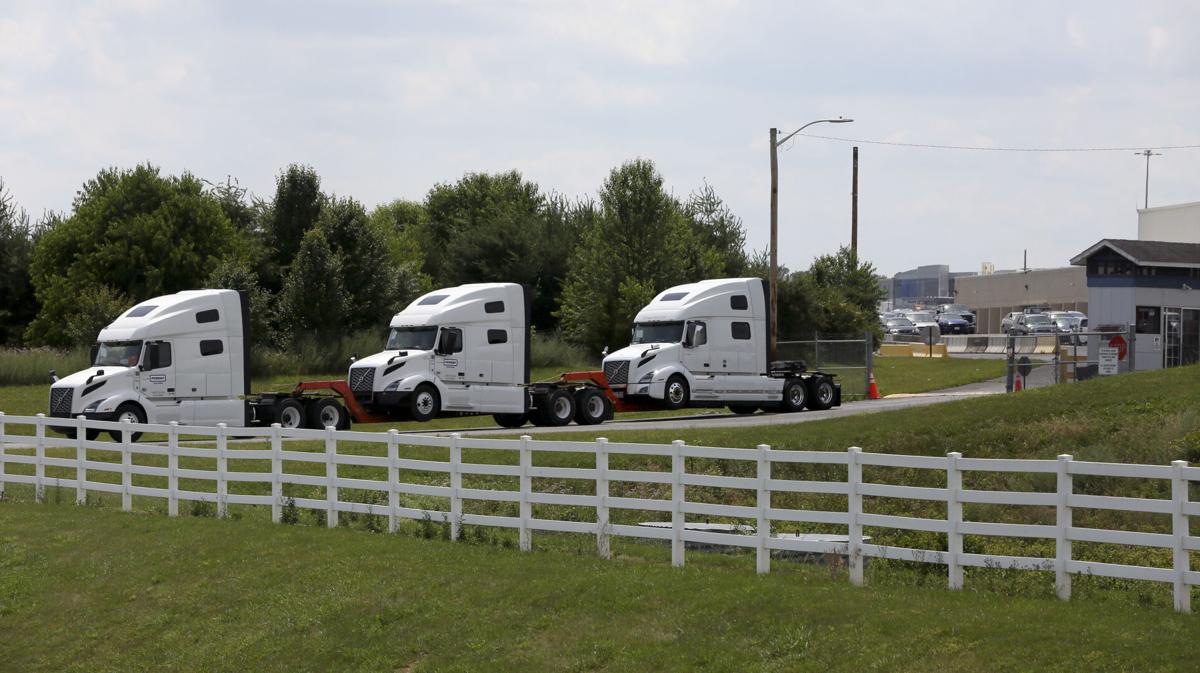 Experts say both parties in the United Auto Workers strike at Dublin's Volvo Trucks North America plant face risks and potential rewards as the company seeks to reopen this week without a worker-ratified contract.
On Sunday, Volvo declared that negotiators had reached an impasse, and that it would implement its final offer and reopen Monday.
The announcement followed a Friday vote wherein 60% of UAW members taking part rejected the terms of that tentative agreement, which was struck on July 1. It was the third failed deal since negotiations began this spring.
In its announcement, the company sought to entice workers, who have been drawing $275 a week in union strike pay since June 7 back to their jobs.
"Any employees who return to work on July 12 or thereafter will immediately receive the wage increases and benefits outlined in the July 1 agreement," the release stated.
Volvo spokesman John Mies wrote in an email Monday that the restart process is underway and that some workers have returned to their jobs.
The company has argued that the continued plant shutdown is hurting its customers, and the legal move to declare an impasse and implement its "final offer" is necessary to preserve its business and a planned $400 million plant upgrade.
UAW Local 2069, which represents 2,900 of the plant's 3,300 workers entreated members to stay on the picket line.
"Basically, they are trying to break our union," Local President Matt Blondino said in a video message to members.
Declaring an impasse is a common tool employed by companies during contract negotiations, said Mark Pearce, executive director of the Workers Rights Institute at Georgetown Law in Washington, D.C., and former chairman of the National Labor Relations Board under the Obama administration.
But the tactic is not without risk.
If the union disputes the impasse before the NLRB, the company could be found responsible for an unfair labor practice, said King Tower, employment attorney with Woods Rogers in Roanoke. Such a finding could have legal, economic and reputational consequences for the company.
But the union faces risks, too. If it loses before the NLRB, the company could implement the terms of its final offer and permanently replace union members with new workers.
If a strike drags on, the union also risks losing the support of workers who are struggling under mounting financial strain, Tower said. And if the union overplays its hand, "they can cause real long-term harm to the employer that hurts them …in the marketplace."
If a company loses market share because of employee upheaval, that can cause layoffs or facility closures, Tower said.
Overall, the influence of unions in the American workforce has declined markedly since the 1950s. But after decades of decline, unionization and collective bargaining are on the rise in the U.S. – even in Virginia, which remains a right-to-work state, meaning union membership is not a condition of employment.
Last year, union members accounted for 4.4 percent of wage and salary workers in Virginia, compared with 4 percent in 2019, according to the U.S. Bureau of Labor Statistics. Union influence in the commonwealth peaked in 1992, when membership averaged 9.3 %, and dropped to its lowest level of 3.7 % in 2007.
Nearly 11 % of American wage and salary workers were unionized in 2020, up half a percentage point from 2019, according to BLS.
Pearce said that "while folks might think that organized labor, because the low density of the unions in this country is passe, nowadays, with a younger workforce … the appetite for collective action has increased, rather than decreased.
"So whether it's in the form of the unionized collective action, or otherwise, it's going to be there," he said.
UAW is evaluating its legal options in Dublin, union spokesman Brian Rothenberg wrote in an email. The strike will continue for now. A membership vote on the final offer is set for Wednesday, Rothenberg wrote.