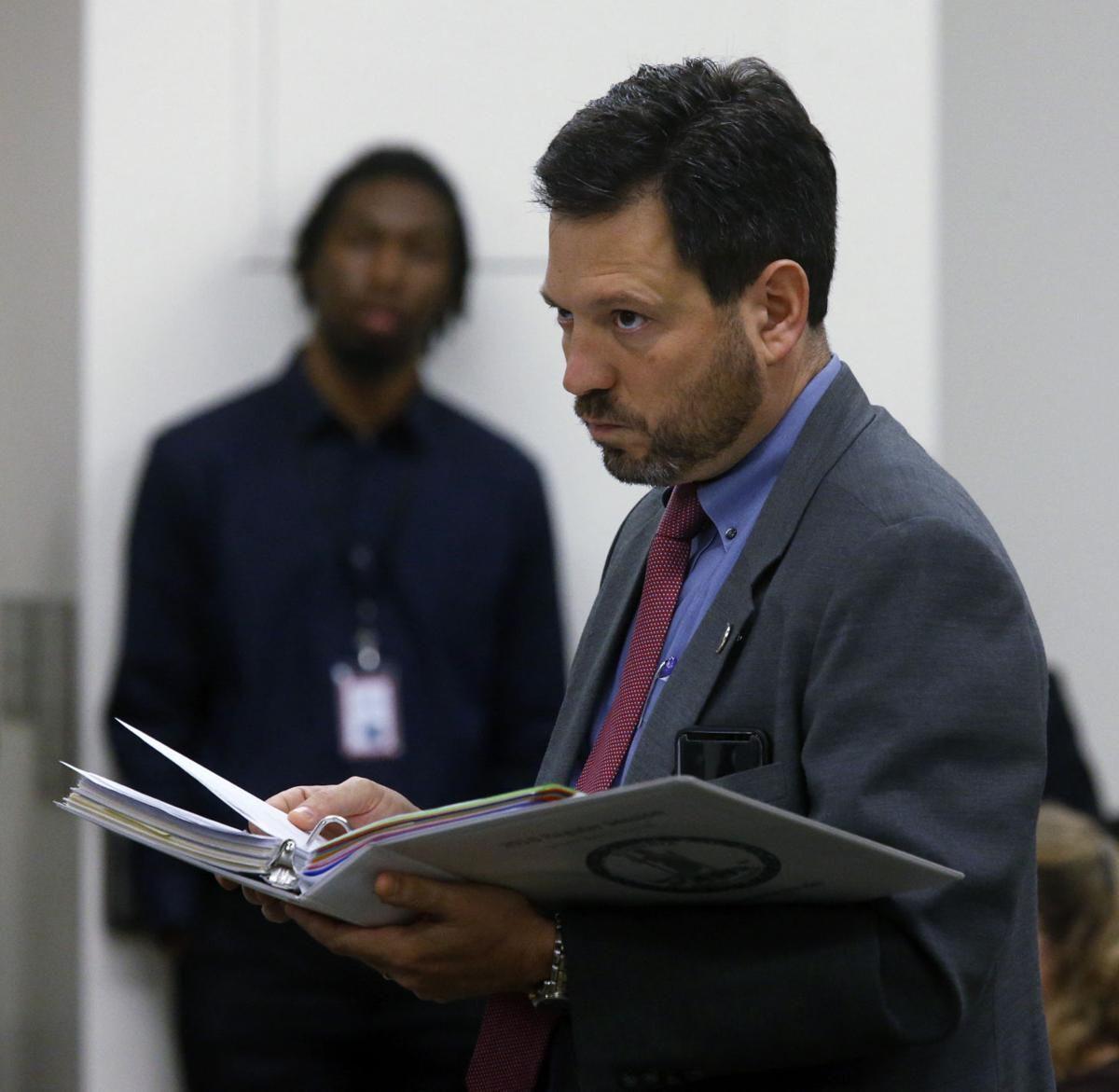 A young woman left a mental health facility in Northern Virginia and went into a Dunkin' Donuts to use the phone to call a cab for a ride home. Police officers also happened to be there on a break.
There was confusion about where she lived and if the officers could drive her home, so the woman became upset. She threw a container of food to the ground. Then she picked up a sliver of cooked onion and threw it at an officer.
"You're supposed to protect me, sir," she said, according to court accounts about the 2013 incident.
An officer threw her up against a glass window. The inside of her mouth got bloody, so she spit. She told police she had a bomb in her bag. For throwing the piece of onion and the spitting, police charged her with two counts of felony assault on a law enforcement officer, said Vernida Chaney an attorney who defended the woman in court.
"She really needed help," Chaney said. "And what are police supposed to do? Help. And they tried to help her. But she got frustrated and threw food. And then the police escalated the situation."
One of the assault charges was dismissed, and she pleaded guilty to a reduced charge of misdemeanor disorderly conduct on the other. The bomb threat charge didn't go forward. She was put on probation for two years.
"It shouldn't have gotten that far, not at all," Chaney said.
Sen. Scott Surovell, D-Fairfax, has been gathering stories like these from defense attorneys across Virginia as he eyes changing the felony assault on law enforcement law. It's one of numerous criminal justice and police reform proposals Democrats want to take up at next month's special session of the General Assembly.
"Anyone who does criminal defense has seen this statute abused," said Surovell, a criminal defense attorney.
He plans to introduce legislation to reduce assault on a law enforcement officer from a felony to a misdemeanor if the officer isn't physically injured. Currently, a person charged with this offense faces a mandatory minimum of six months in jail.
"Even lawyers and judges, when we think of assault on a police officer, we don't think someone threw a sliver of cooked onion at a uniform badge," Chaney said. "Our mind goes to extreme harm."
And there are cases of when officers are seriously harmed while on duty, from being shot to people wrestling on the ground with them. Offenders could face even more serious charges than felony assault that would bring longer sentences.
But oftentimes, the officer is not physically injured in cases where the charge is filed.
"There are situations that this statute is used for that I think would surprise most people that the conduct would result in a felony and six-month jail sentence," Surovell said.
A person throws a pet tarantula at a police officer. A drunk person wiggling in handcuffs knocks off an officer's glasses. A person opens a door and it hits an officer. After being revived from an overdose with naloxone, an aggressive person smacks an officer. A teenager strikes an officer who is breaking up a fight between students at school. A person sitting in the back of a police car chomps his teeth at an officer.
They were all charged with felony assault on a law enforcement officer, according to court records and defense attorneys.
Surovell's proposal received swift backlash from law enforcement groups and conservative media that described it as a "war on police" and one that could lead to attacks on officers.
"Blue Lives Don't Matter," reads a headline on the conservative blog Bacon's Rebellion, which describes this idea as "one of the worst" criminal justice reform proposals the Democrats have mentioned. The author questions whether the law has the intended effect of being a deterrent, but still, he writes, "it dramatically signals to law-enforcement officers that their safety and lives have less value."
Fox News published a story saying the proposal "could reduce protection for officers."
The Law Enforcement Today website ran a story led with a picture of an officer apparently covered in blood and another officer applying a tourniquet to his arm. "At a time when police officers are under attack — physically — nationwide, Virginia Democrats are looking at downgrading the charge of assaulting a police officer," the article reads.
"I think this is nothing more than an attack on every law enforcement officer in the state," Roanoke County Police Chief Howard Hall, who serves as president of the Virginia Association of Chiefs of Police, said about the idea. "When someone attacks our first responders, in my mind, that is a significant offense, regardless of the severity."
Hall argues the charge is a deterrent.
"That's nonsense," Surovell said about that argument.
At a Senate panel hearing earlier this month, Laurie Robinson, a criminology professor at George Mason University, said mandatory minimums don't serve as deterrents. She said what deters criminal behavior is the certainty and swiftness of being punished.
Police, defense attorneys and public defenders say it's common the charge is dismissed or reduced to a misdemeanor as part of a plea deal. Prosecutors did not respond to interview requests.
"It's set up for the purpose of trying to empower prosecutors in cases, and it has the effect of insulating police from having their authority challenged in the street and court," said Andy Elders, policy director for progressive criminal justice group Justice Forward Virginia and deputy public defender in Fairfax County.
A young woman in Roanoke General District Court recently faced a felony assault on law enforcement charge after an officer showed up to separate her from someone she was pushing around. Amid the scuffle, she struck the officer. She pleaded guilty to a reduced charge of misdemeanor assault and some other charges. She didn't have to serve jail time, but she was sent to a mental health inpatient facility.
In the past five years across the state, 32% of charges of felony assault on law enforcement or other first responders were dismissed or resulted in not guilty verdicts, according to data from the Virginia Criminal Sentencing Commission. (The data doesn't include Alexandria and Fairfax County because their information doesn't flow into the statewide court system.)
Between 2015 and 2019, of the 11,680 charges of assault on law enforcement filed in general district juvenile and domestic relations courts, 2,476 were dismissed or the person was found not guilty. Another 2,838 led to convictions on reduced misdemeanor assault or other misdemeanors.
Of the 5,852 assault on law enforcement charges that made it to circuit court, which has jurisdiction over felony charges, 1,308 were dismissed or the person was found not guilty. Another 1,411 led to convictions on reduced misdemeanor assault or other misdemeanors. There were 3,401 convictions for felony assault on police or other first responders. The median sentence was six months for the 67% of people who went to jail, and 27% of people ordered to prison served a median sentence of 14%.
According to the Virginia State Police's annual report on crime in the commonwealth, most reported assaults on law enforcement involved "personal weapons" — defined as hands, fists, feet, arms and teeth — and officers aren't injured.
Assault is defined as aggravated assault that would involve a weapon and serious injury, simple assault with no weapons and no serious injury, and intimidation. Of the 1,939 reports assaults on police while they were on duty, personal weapons like hands and feet were used in 1,499 of them. The report also lists that 162 assaults didn't involve any weapons, which a state police employee said were mostly likely incidents that didn't get coded under the personal weapons category. Firearms were used in 47 instances.
Officers didn't report an injury in 1,327 cases and reported minor injuries in 497 of them. In a few situations, they had apparent broken bones, a severe laceration or other major injury.
The General Assembly made assault on a law enforcement officer a felony in 1997. Lawmakers were considering a bill from then-delegate Donald McEachin, a Democrat now in Congress, which would bolster the penalties for committing a hate crime. Throughout the legislative process, enhanced penalties for assault on law enforcement got added in.
Claire Guthrie Gastañaga, executive director of the Virginia ACLU, has been encouraging the legislature for years to make it a misdemeanor when the officer isn't physically hurt. She said the issue has come up a lot with cases involving people who have a mental illness.
In a high-profile case, Reginald "Neli" Latson, a man with autism, received a pardon from then-Gov. Terry McAuliffe in 2015, about five years after he ended up in a brutal fight with an officer, forcing his early retirement. Latson had gone to a library and found it closed, someone called police about a suspicious Black man, and an officer showed up. Latson didn't comply with orders and started walking away, and the two fought. He struggled in prison, was put in solitary confinement, and faced more legal troubles until a pardon allowed him to transfer to a residential treatment facility.
There was a case of a husband who called 911 because his 68-year-old wife with dementia attacked him. When the officer talked to her, she spit on him. She was arrested on a charge of assault on an officer.
She was held in jail without bond, and no relatives wanted her released into their care.
No nursing home would take her because of the felony charge and because she was violent. She stayed in jail until the charge was dropped. An ambulance took her from the jail to a local hospital.
"This is one of a few Blue Lives Matter laws Virginia has," Gastañaga said. "What happens is these charges end up harming people who need the appropriate help."