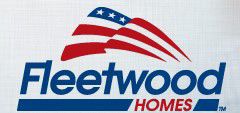 A Franklin County modular homebuilding business plans to expand the regular operations at its Rocky Mount facility and add 60 jobs.
Fleetwood Homes will make a $2.1 million renovation that includes purchasing $700,000 in new equipment, according to a Thursday statement from Gov. Ralph Northam's office.
"We are very excited to see Fleetwood expand here in Franklin County," said Mike Burnette, the county's director of economic development. "Right now, with so much uncertainty within the entire country, having companies that are doing so well and feel committed to their community enough to expand in this kind of meaningful way is very heartening."
A subsidiary of Cavco Industries, Fleetwood Homes has had a factory in Rocky Mount for 52 years. At present Fleetwood employs 146 at that plant.
Even before the expansion, "they are one of the county's larger employers," said County Administrator Chris Whitlow. "We look forward to their continued growth."
With the added positions, "there's going to be a pretty wide variety of jobs, mainly production," with a wide range of wage levels, Burnette said. "The total annual payroll for the additional jobs is going to be about $1.7 million," he said, which averages out to about $28,333 per job.
The Franklin County Board of Supervisors will consider a performance agreement with Fleetwood during its July 21 meeting that gives the company three years to fulfill its obligations, Burnette said.
The planned expansion came about in collaboration with the Virginia Economic Development Partnership, Roanoke Regional Partnership and Rocky Mount and Franklin County governments.
Fleetwood will receive a $30,000 cash grant from the county and a $15,000 cash grant from the town, Burnette said. Fleetwood will also receive workforce training assistance from the Virginia Jobs Investment Program, a state service that helps with the costs of recruiting new hires and retraining employees.
The state incentive offers $500 per job, with the total available incentives potentially adding up to $60,000, paid as reimbursements after each new employee has worked 90 days.
Beth Doughty, executive director of the Roanoke Regional Partnership, noted that Fleetwood's announcement is the second Roanoke Valley job expansion to be heralded within two weeks.
The first was the June 15 announcement that information technology staffing company Apex Systems in Roanoke intends to add 74 jobs.
Despite the state of the economy as a result of the COVID-19 pandemic, "there is job growth happening," she said.
"It's really great. If anything I'd say its comforting."
Get local news delivered to your inbox!
Subscribe to our Daily Headlines newsletter.