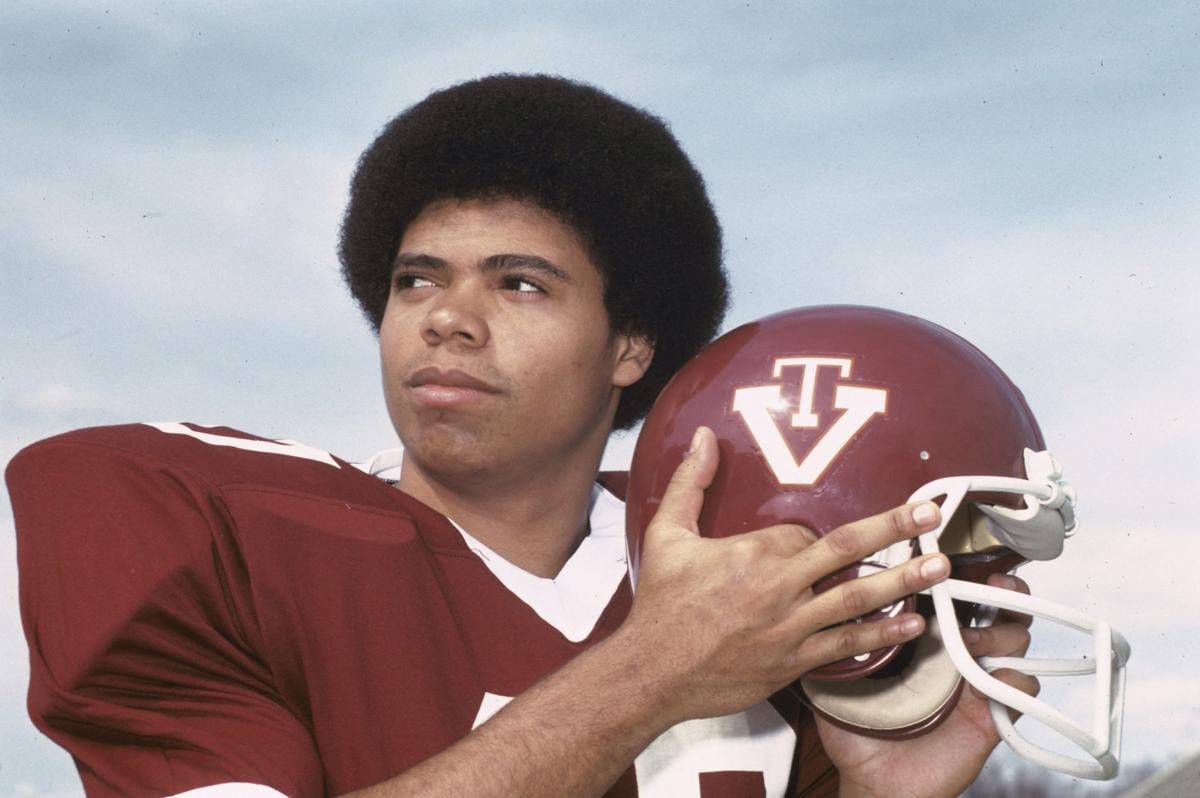 Sidney Snell's skill and versatility as a high school and college athlete in the New River Valley were illuminated repeatedly by marvels and deeds that stretched across seasons and years.
Snell, a part of the Blacksburg scene his entire life who worked in sales, died Saturday at age 61 of ongoing health complications.
More than 40 years after his high school days ended, Snell remains unforgettable on and off the field.
Snell was a Blacksburg High School football tailback of rare ability whose talent earned him a scholarship to Virginia Tech, which was running a ground-oriented wishbone offense at the time.
When the Hokies changed coaches from Jimmy Sharpe to Bill Dooley in 1978, the offense the new coach favored was another set that was light on passing — the I-formation.
So it is notable Snell is in the Hokies record book not for his accomplishments as a running back but for his productivity as a 6-foot, 200-pound wingback while playing for offenses that passed the ball only occasionally.
As good as Snell was as a football player — North Carolina State also recruited him — it might not be as easy to remember that he scored 41 points for Blacksburg in a VHSL Group AA state basketball semifinal against Dan River.
Snell's 41 points at old University Hall at the University of Virginia stood for years in the VHSL tournament record book.
"And he sat out for part of that game," former Blacksburg coach Bob Trear said.
"Sidney Snell wasn't just a star, he was the once-in-a-lifetime athlete every coach dreams of coaching," VHSL executive director Billy Haun said. "Our thoughts and prayers go out to his family, Blacksburg High School and the entire Blacksburg community."
Athletics will not be his only legacy.
"He was a great human being," said David Crist, Snell's football coach at Blacksburg.
Snell was one of the first people Dennis Haley met when he moved to Christiansburg. Haley's wife is Snell's niece.
"Sidney and I clicked immediately," said Haley, who starred for Blacksburg's and Virginia Tech's football rivals — Salem High and the University of Virginia. "And of course the trash talking never stopped."
Blacksburg's 1976 team in Snell's senior year in the fall of 1976 was the first in school history to reach a state semifinal.
The Indians lost to Martinsville 6-3 in a Group AA game played at Lane Stadium, where Snell later starred for Virginia Tech.
Snell led Blacksburg in rushing with 1,444 yards in 1976 and topped the team in interceptions as a senior despite being a part-time defensive back.
At Tech, Snell stands No. 20 on the all-time receiving list with 86 catches for 1,274 yards and 15 touchdowns. Snell and running back Cyrus Lawrence shared the Hokies' 1980 scoring lead with eight TDs each. He was named Tech's most valuable player in both 1979 and 1980.
In basketball for Blacksburg, Snell led the state in scoring as a junior with a 29.3-point average, finishing with 1,933 points in his career.
Snell's sophomore year at Blacksburg was highlighted by an incredible sequence during a 1975 state basketball semifinal victory over Matoaca.
Blacksburg trailed Matoaca by 17 points in the third quarter before Snell scored eight points in three seconds.
"Sidney scored and was fouled," Trear said. "He made the foul shot, so that was three points. Then Matoaca got a technical foul on the coach and another on one of the players. Sid shot both of those and made them. That's five. Then we threw the ball into Sid, he made the shot and was fouled again. He made that one too.
"Three seconds off the clock, eight points, and that was it."
Blacksburg came back and won the semifinal before falling 56-54 to Glenvar in the championship game. In Snell's senior year in 1977, Blacksburg was the Group AA runner-up to Forest Glen, losing 76-74.
Snell was named a high school All-American by at least one outlet in football, basketball and track and field, where he set a school record with a triple jump of 44 feet, 9 inches.
For his exploits in Blacksburg uniforms, Snell was inducted into the Virginia High School Hall of Fame in 1991, its second year of existence.
"He was a special athlete, I'll tell you that," Trear said.
Staff writer Robert Anderson contributed to this report.
Get local news delivered to your inbox!
Subscribe to our Daily Headlines newsletter.