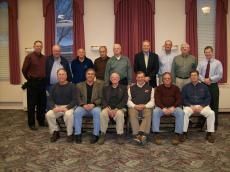 When he was coaching boys basketball at the former Andrew Lewis High in Salem in the late 1960s, Dick Miley decided his players needed to run on the cross country team for preseason endurance training.
The practice run snaked uphill through town, and one day senior Gary Walthall and two teammates decided to shorten the course.
"Two of the starters were up in front of me and they cut across," Walthall said. "It cut out about a block and a half. Being the idiot I am, I followed them.
"Well, we get to the end and there's this blue Valiant. It was Coach Miley. He said, 'Get in, boys.' Took us back to the starting line and said, "Ready, set, go.' "
Miley, who died Wednesday at age 85, did not cut any corners as the basketball coach at Andrew Lewis, where he also was an assistant football coach.
In 1967-68, the Rockingham County native took a team that wasn't even picked to win the Western District title and led the Wolverines to the VHSL Class 1-A state championship with a victory in the final over George Washington of Alexandria.
Virginia prep player of the year Hal Johnston graduated after the 1966-67 season, but the 1967-68 team led by Denton Willard, Charlie Hammersley and David McCray took the title.
Miley, who graduated from Dayton High School in 1953, was known as an innovative offensive coach.
"We'd come to practice and the man was an offensive genius," Walthall recalled. "He had all these different plays."
Defending state champion E.C. Glass under legendary coach Jimmy Bryan was the favorite in 1967-68, but Andrew Lewis wore the crown.
"Everybody kept saying, 'They're good, but …," Hammersley said about the forecasts for Lewis that season.
Miley starred as a basketball player at Bridgewater College where his flashy style and ballhandling ability earned him the nickname "Tricky Dick."
Miley settled in the Roanoke Valley, where he eventually became a Roanoke County schools administrator before retiring.
He was the principal at Bent Mountain Elementary School and an assistant principal at Cave Spring and Northside junior high schools.
"I think he was the main guy in having the baseball field built at Northside Middle School," Walthall said.
Miley's son, Rick, said his father's health had worsened in recent years because of leg trouble and slight dementia.
Rick Miley, who started at defensive end at Virginia Tech and played on the Hokies' 1980 Peach Bowl team, believes his father developed a urinary tract infection that caused a recent fall in the home.
"Three weeks ago this Sunday, his neighbor noticed his garage door was open, and that was unusual at 9 a.m," Rick Miley said. "So she went over there and went in the house and he was laying on the floor.
"His legs weren't strong enough for him to get up."
Miley said his father was sent to three hospitals, two of them in Northern Virginia, but doctors were unable to help.
He was transferred for rehabilitation back to Roanoke's Friendship Manor and immediately was sent to Carilion Roanoke Memorial Hospital where he died at 9 a.m. Wednesday.
"He'd been having slight dementia for the past six to 12 months," Rick Miley said. "We think he had a UTI, and that's a really big event for folks in their 80s.
"It went from slight dementia to a full degree of dementia. It just took a toll on his body."
Services for Dick Miley will be held at 2 p.m. Saturday at Oakey's North Chapel.