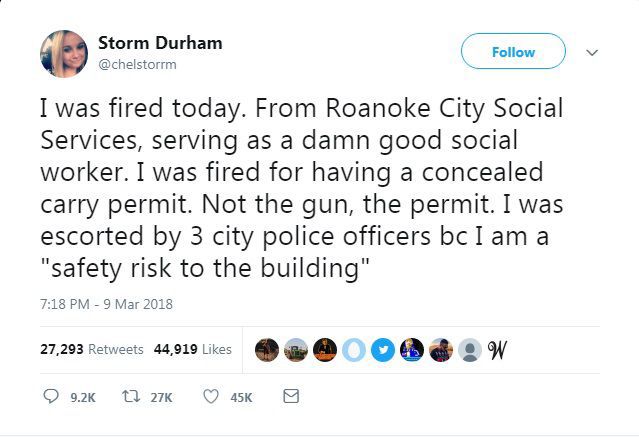 A woman who claimed on social media that she was fired by the Roanoke Department of Social Services for holding a concealed weapons permit said Monday she intends to sue the city.
Storm Durham said she is working with attorneys supplied by the Virginia Citizens Defense League, a Second Amendment advocacy group.
"I'm ready to fight it," Durham said.
The Fincastle native stirred a major internet controversy with posts Friday to Twitter and Facebook alleging, "I was fired today due to having a concealed carry permit."
By Monday afternoon, her Tweet had been retweeted 27,300 times and her Facebook post had been shared 9,200 times.
Roanoke officials released a statement Saturday, citing a policy of not commenting on personnel matters, but adding, "In light of these assertions, however, it is important to note that the City of Roanoke respects the Constitutional rights of its citizens and that the dismissal in question was not based upon anyone's exercise of such rights."
Human Resources Director Michele Vineyard was more direct writing city employees in an internal memo obtained by The Roanoke Times.
"The actions taken by the City were not based upon the former employee's right to hold a concealed carry permit for firearms," Vineyard wrote. "I want to emphasize that we have no policy or procedure limiting the right of employees to hold concealed carry permits as authorized by the laws of the Commonwealth of Virginia. We respect and support the Constitutional rights of our employees as citizens."
Durham said Friday she received a document explaining her termination, with the reasons including performance issues during her six months with the office. Other reasons, by her account, were being arrogant, not paying attention during training, attendance and not being properly dressed. None of those claims were founded, she said.
Durham was a child protective services investigator still in her one-year probationary period as an employee, she said.
She described herself in an interview Monday as a Fincastle girl who began hunting and fishing when she was nine and whose grandfather owned a gun shop. She was a competitive cheerleader through high school and during her time at Roanoke College, where she said she also served on the college's academic integrity and student conduct councils.
She graduated in May with degrees in sociology and elementary education and took her first job with the Craig County Department of Social Services, she said.
Durham said her dream is to be a teacher. She said she intended to work in social services while passing necessary professional exams to become certified to teach in Virginia, she said.
In October, Durham said, she transferred to the Roanoke Department of Social Services, where she "had a few bumps in the road."
Four months ago, she said, her trainer taught her a procedure that she followed, but then was reprimanded for it by her supervisor. So she alerted her trainer, who sent her a "nasty email" calling her "sloppy and unprofessional."
Durham said she took the matter to her supervisor, who, along with the trainer, "threw her under the bus."
Later, Durham said, she was given a set of performance expectations that required her to close cases at a faster pace. She acknowledged it took her time to adjust to the caseload in Roanoke after coming from rural Craig County, but said she exceeded all expectations.
By Thursday, however, she was weary of how she was treated by supervisors and went to the human resources office to alert the director.
That afternoon, she was told the complaint would not be investigated. She was given a contact to reach out to if she had more concerns about her supervisors.
The next day, at about 4:30 p.m. Friday, she was summoned to the office of the assistant director of the department, was told she was being fired and given the document listing the reasons. At the top, she said, was a concern about "workplace safety."
Durham said she asked about it and was told by the assistant director that her possession of a concealed weapons permit made her a safety risk in the building and for co-workers.
Three Roanoke police officers escorted her to her desk, Durham said, where her personal possessions were loaded onto a cart and pushed to her car by one of the officers while the two others escorted her out of the building.
City police did not respond to a request for comment.
That evening, Durham made posts on social media about her firing. She didn't anticipate they would catch fire as they did.
"I'm not in this for fame or money of anything like that, but I wanted there to be public knowledge about how they treated me," she said. She contends she was fired "because of values that didn't line up with theirs."
Within a short time she was pleased to see her Facebook post had been shared 47 times. She went to bed early and woke up to a flood of Twitter and Facebook notifications, she said.
The mass of people who commented on and shared her posts were supporters.
Some critics alleged she was a difficult employee and that a friend of hers threatened her co-worker and brought a gun to the social services office. Durham denied that, saying the friend was only in the office parking lot twice to help her carry her bag when she was on crutches with a broken ankle.
Durham quickly became a cause for conservative media and Second Amendment advocacy groups. She spent the weekend doing interviews with people from local broadcast news organizations, the National Rifle Association and Corey Stewart, a Northern Virginia politician who is seeking the Republican nomination to challenge Sen. Tim Kaine, D-Va.
Her interview with The Roanoke Times was her 13th, and more were in the works, including one with "Fox and Friends" on Fox News, she said. She now has a YouTube channel called The Conservative Storm and the fact-checking website Snopes.com has a post about her claim with a "false" rating.
The response has been "overwhelming," Durham said. And sometimes unpleasant.
"I've been told to go die," she said, and mocked for her looks and high-pitched voice. The most hurtful comments have been those that suggested she shouldn't be allowed around children, she said.
But she has no regrets, she said.
"I don't want attention on myself, I want attention on what happened," she said. "I like sharing my story, and I feel like God maybe put something in my lap [so] I could maybe further my career ... on a different career path."