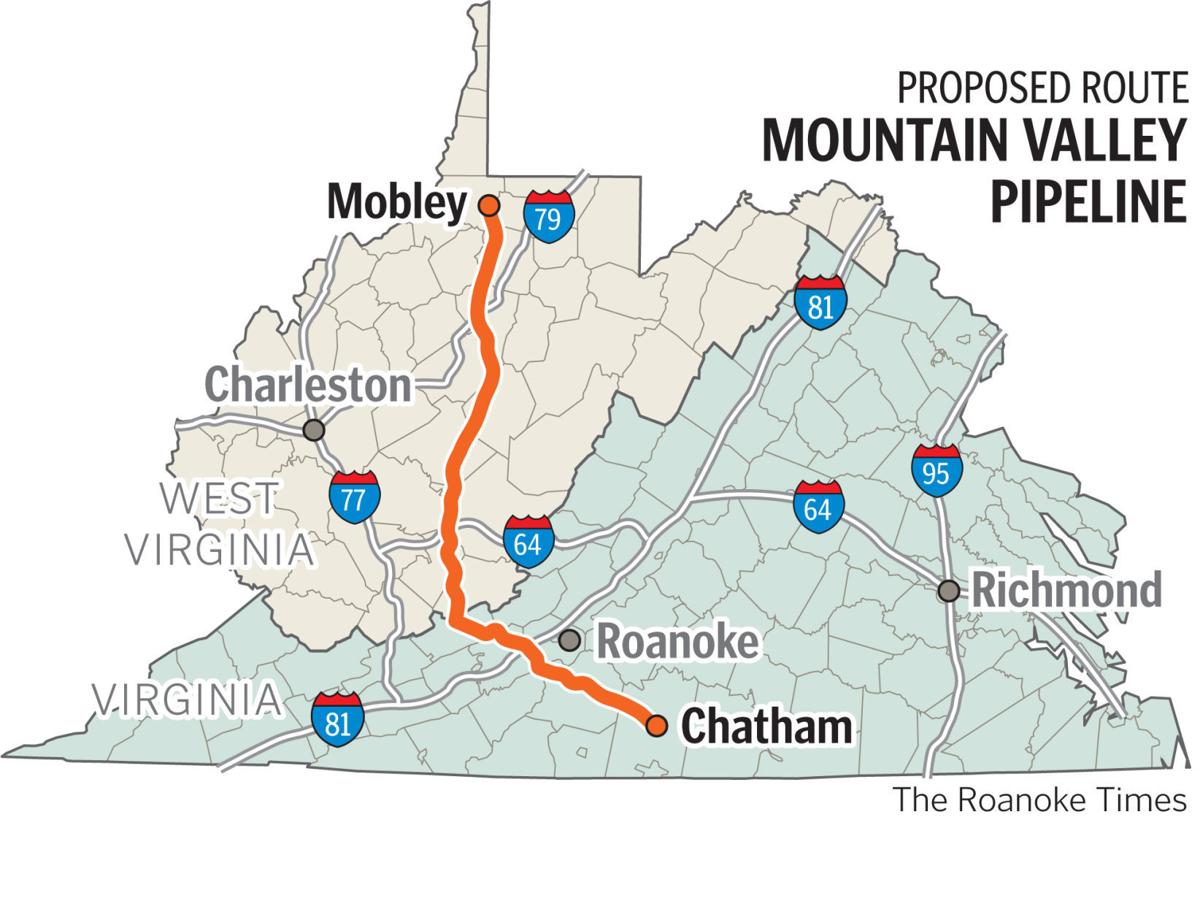 The federal government gave its go-ahead Monday for construction of the Mountain Valley Pipeline to start in West Virginia.
Although the Federal Energy Regulatory Commission's approval was limited to work on access roads and construction yards in five West Virginia counties, it marked the first time Mountain Valley has met all the requirements for preliminary construction to begin anywhere along the 303-mile route of its natural gas pipeline.
FERC has yet to take a similar action for the Virginia section of the interstate pipeline, which would pass through the Roanoke and New River valleys.
"Tree felling, only as needed, will begin as soon as practical" in the approved West Virginia areas, Mountain Valley spokeswoman Natalie Cox wrote in an email.
In a letter dated Monday, FERC granted the company permission to start work on six construction yards and 93 access roads in Wetzel County, where the pipeline will originate, and four West Virginia counties to the south.
"This letter does not authorize any construction activities anywhere else within the project area," wrote James Martin, a branch chief of FERC's Division of Gas-Environment and Engineering.
When it granted a key approval for the pipeline in October, FERC found there was a public need for the natural gas that will be transported at high pressure from northern West Virginia to Pittsylvania County in Southside Virginia.
But Mountain Valley was required to obtain approvals from additional state and federal agencies, while also demonstrating that it had met other conditions in the FERC order, before it could obtain what's called a notice to proceed — which was granted in part on Monday.
The notice was a step forward for the company and one backward for pipeline opponents in Virginia, where legal challenges are pending and at least two state agencies have yet to sign off on the project.
"It's like the proverbial avalanche," Norfolk attorney Chuck Lollar said. "Once you get it going, how hard is it to slow it down or stop it? Pretty daggone hard."
Lollar represents a group of Southwest Virginia landowners who are fighting Mountain Valley's attempts to use the process of eminent domain to obtain forced easements for the pipeline to cross their property.
A decision by U.S. District Court Judge Elizabeth Dillon is expected in the coming days. Mountain Valley has said in court filings that it hopes to begin tree-cutting and other preliminary work in Virginia by Feb. 1.
Meanwhile, FERC recently granted a request for a similar project, the Atlantic Coast Pipeline, to begin cutting trees along that pipeline's route through West Virginia and Central Virginia.
Because additional permits are needed for land-disturbance work such as clearing and stump removal, the trees will be left where they fall until further notice from the government.
Tree-cutting in West Virginia for the Mountain Valley construction yards and access roads is not expected to be as widespread. The company has not yet asked for permission for major tree-cutting along the pipeline's right of way, FERC spokeswoman Tamara Young-Allen said.
Both projects face a narrow window to have trees on the ground by no later than March 31, a deadline imposed by federal wildlife protections. If the trees are not down by early spring, when threatened bats emerge from hibernation caves and begin to roost in trees, construction would have to wait until the following November.
An Atlantic Coast Pipeline spokesman said last week that pre-construction work, such as tree-cutting, is expected to begin within days.
That announcement was quickly followed by word from an anti-pipeline group that it was forming a citizen initiative to monitor the work. Dubbed Pipeline CSI, for Compliance Surveillance Initiative, the effort's goal is to ensure strict enforcement of environmental regulations.
Pipeline opponents say clearing land and digging trenches along steep mountain slopes and across streams will unearth sediment and perhaps harmful chemicals that would be washed downstream, contaminating private wells and public water supplies.
"We will continue to challenge the government decisions involving the project," said Rick Webb of the Dominion Pipeline Monitoring Coalition, who is heading development of the new program.
"But, with certain pre-construction activities already underway, citizen oversight is essential given the limited resources of government agencies that are responsible for regulating pipeline construction."
While it appears that construction of the Mountain Valley Pipeline will start first in West Virginia, the process is being watched closely in Virginia.
Shortly after Mountain Valley asked FERC to issue a notice to proceed in West Virginia in early January, Roanoke County filed an objection with the federal agency.
Joined by Giles and Craig counties, Roanoke County officials cited "the irreparable harm that project construction posed to forested lands and groundwater sources" when it asked FERC to reconsider its Oct. 13 approval of the pipeline.
FERC has delayed indefinitely a decision on whether to hold a rehearing in the case, a move that prohibits a legal challenge of its order while allowing construction to proceed.
That "would be most unjust," lawyers for Roanoke County argued in opposing the notice to proceed that was issued Monday.