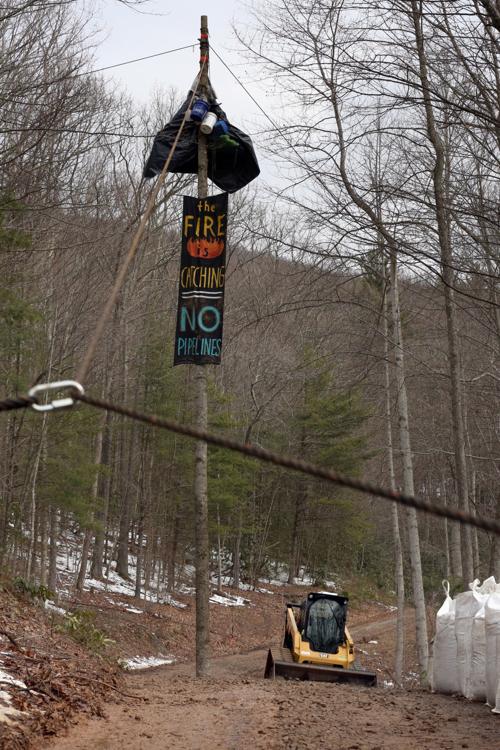 On her 57th day perched atop a pole, a Mountain Valley Pipeline protester decided to come down Wednesday.
Known publicly only as "Nutty," the woman wrote in a Facebook post that she ran out of food several days ago and was forced to leave her position on a small platform suspended from a 50-foot pole blocking a construction access road in the Jefferson National Forest.
Law enforcement officers with the U.S. Forest Service had prevented the woman's supporters on the ground from providing her with food and water since early April.
"We knew it couldn't last forever," Nutty wrote in a post to the Facebook page of Appalachians Against Pipelines. "That's how this works."
When the blockade was erected March 28 in the middle of Pocahontas Road in Giles County, organizers said they hoped to prevent construction crews from using the road to reach the top of Peters Mountain, where plans call for the buried natural gas pipeline to pass under the Appalachian Trial.
Even with Nutty gone, the road remains blocked.
On Monday, a second aerial blockade went up. Fern MacDougal is camped out on a platform suspended about 30 feet high from ropes strung across the road, about a mile farther up the mountain from where the first roadblock stood.
"If we rely on one location, one tactic, or one group of people to stop this pipeline, we will fail," Nutty wrote. "But we're not. I know that as this one facet of the struggle draws to conclusion, more people in other places are gaining momentum. The fire has already caught; we must not let it die."
According to Appalachians Against Pipelines, the woman came down under her own power, was taken to a hospital to be checked out, and was given a citation to appear in court on charges that include blocking a road that had been closed earlier by the Forest Service.
"The Forest Service and local emergency medical services personnel today assisted a protester safely down from the monopod she has been occupying within the closure area on Pocahontas Road within the Jefferson National Forest," Forest Service spokeswoman Stephanie Johnson said in a statement. "She was immediately taken to a local hospital for medical evaluation. She has been served with a citation and will have a mandatory appearance in federal court for violations related to the incident. The monopod structure is being removed. The monopod protest site is located within an area under emergency closure for the Mountain Valley Pipeline Project. Mountain Valley Pipeline, LLC has a valid authorization to construct the project."
In recent weeks, Nutty had been surviving on a supply of energy bars and rainwater that she collected from a tarp covering her small living space, according to regular updates that she posted to Facebook.
As many as nine protesters have blocked portions of the pipeline's planned 303-mile route through West Virginia and Southwest Virginia. Three remained on Wednesday: MacDougal, a man identified only as Deckard in a tree stand at the top of Peters Mountain, and an unidentified protester in Franklin County.
In an email Wednesday, Mountain Valley spokeswoman Natalie Cox said the resisters are "creating unnecessary safety risks for everyone involved, including law enforcement, security personnel, project workers, and opponents themselves. "
"While we continue to respect the opinions of those opposed to important infrastructure projects, the actions of these opponents are spending taxpayers' money by forcing public agencies to incur significant expenses in order to maintain safety and uphold the law," she wrote.
Although work has been delayed in some spots, Cox said the $3.7 billion project is still on schedule to be completed by the end of the year.
Be the first to know
Get local news delivered to your inbox!