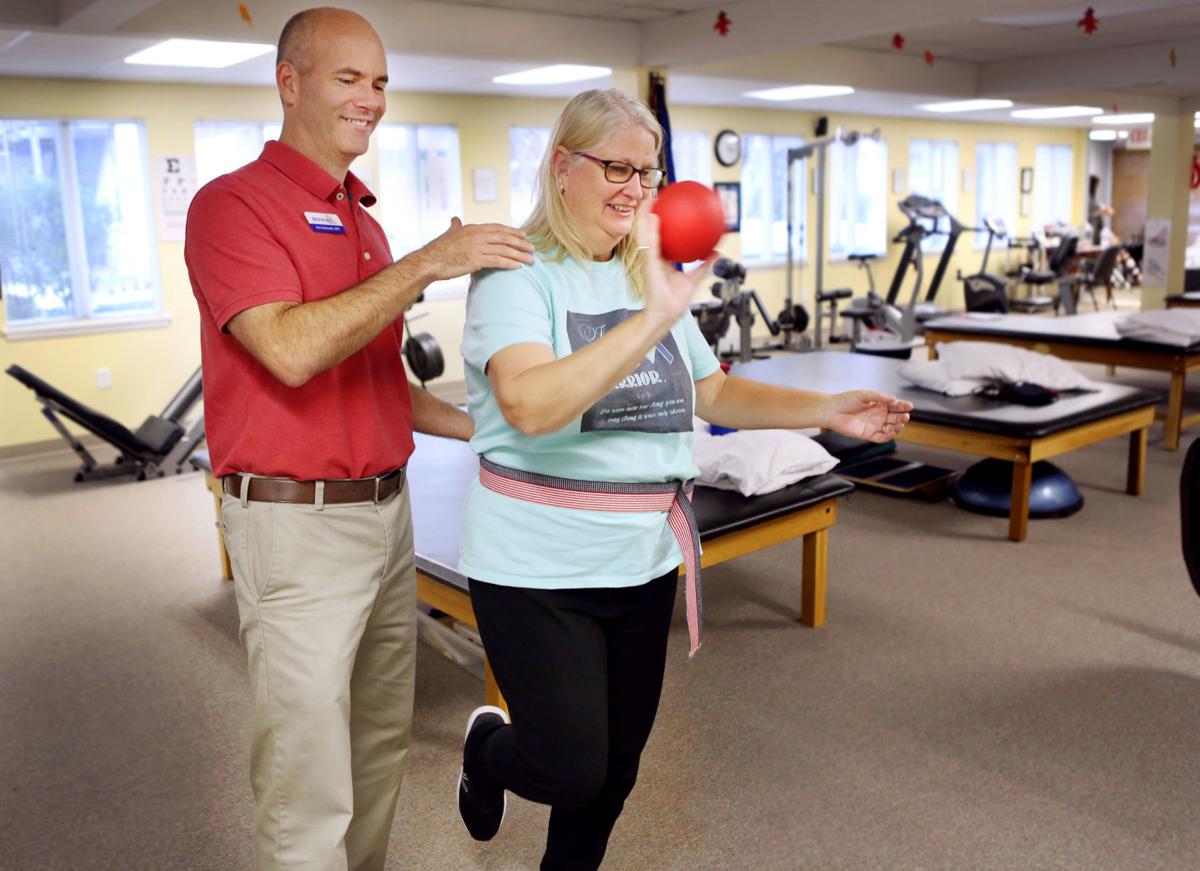 Jodi Leffue will wobble through gobble day. She'll steady herself with two trekking poles and power her way through the Drumstick Dash.
As long as she keeps her eyes focused steadily ahead, she'll feel more like her old self, the ordinary woman she used to be, the one before she stepped onto a cruise ship and found her sea legs.
Leffue, of Boones Mill, plans to walk in the 5K Drumstick Dash on Thursday wearing her MdDS warrior T-shirt, with "Stop the rock" scrolled across the back. She sure hopes people will stop and ask her what it means and what is meant by the writing on the front: You never know how strong you are until being strong is your only choice.
Leffue wants other middle-aged women to know about mal de debarquement syndrome, so if what happened to her happens to them, they will know where to turn for a diagnosis and therapy.
Leffue, at 53, had battled motion sickness most of her life, especially when flying. She'd block her peripheral vision with her hands and focus straight ahead on planes. Otherwise, she'd throw up. So when the family set off for a dream vacation in August 2017, Leffue packed motion-sickness pills.
The short plane ride to Florida was a breeze, as was the first leg of their sea voyage to St. Thomas. But then rough seas struck, aborting plans for the next stop in Tortola and sending the cruise ship instead to San Juan, Puerto Rico.
"I remember we went on a rain forest tour, and this guide was saying there are many flowers, shrubs and roots that are used on medications," she said. "When I got off that bus I said, 'Well find me one of those herbs or roots to make this stop.' "
Leffue had found her sea legs. She just couldn't lose them once she was on land. Feeling dizzy and sensing movement are not uncommon following a cruise, but for nearly everyone landsickness stops in a day or two.
Leffue said the rest of her family recovered quickly. They returned to Franklin County on a Saturday. Her husband, Billy, and son, Garrett, felt fine the next day. And by Monday, daughter Kelsie had recovered. Leffue couldn't shake the feeling. And her surroundings kept rocking back and forth.
She thought it might be an inner-ear balance problem, so she made an appointment to see ear, nose and throat specialist Dr. Kurt Chen.
Within minutes, he diagnosed her with MdDS. The syndrome can occur spontaneously, but it mostly happens following a cruise or flight.
"I stood with my eyes closed and wobbled," she said. "He said I'm the classic case. The 40- to 60-year-old woman who went on a cruise." He told her to find a neurologist.
Finding one who knew about MdDS wasn't simple. The illness is rare, and not much is known about what causes the brain to adapt to motion and then fail to reset. Leffue didn't want to waste time or money with a neurologist who hadn't treated anyone with the disease. She learned about the MdDS Foundation, scoured its website and found that Dr. Timothy Hormel with Valley Neurology had experience. Getting into see him proved challenging.
"I made an appointment that was six months out. But I'm persistent. I called every other day to ask if there had been a cancellation. I got in, and it was very emotional to find someone that understands it's not in my head — it is in my head, but I'm not crazy," she said.
She cried at Hormel's office, and she cried when she first met the physical therapist he sent her to see.
In his 20 years of practice, Eric Reichardt, owner of Spine and Orthopedic Rehab of Virginia, has seen fewer than 10 women with MdDS and none who were affected as profoundly as Leffue.
"Do you remember what I told you?" he asked Leffue when she visited his Old Southwest office recently. "I told you upfront it may or may not get better, but you will learn how to cope and manage and tolerate it."
MdDS does get better for some people. For some an elevator ride will bring it back, Leffue said. For others it remains a persistent, chronic disease. The longer one has it the less likely it is to go into remission. Leffue has been learning to cope with it for more than a year.
Reichardt raised his finger and asked her to follow it with her eyes without moving her head. She could, though it wasn't comfortable.
Last November, she could not move her eyes independently from her head without getting sick.
"I'd say, 'Can you do this?' and she'd say, 'I can't even watch you do that,' " Reichardt said.
Leffue feels as though she is walking on a trampoline. Her ankles are often sore from working so hard to keep herself upright. The rocking sends books and their words flying past her eyes. Keyboards, too, won't stay put, so Leffue, once a super-fast typist, now must brace her arms and hunt and peck at letters. When she cooks, she's too exhausted from food prep to eat. And when she does eat, she sometimes closes her eyes so the fork can find her mouth. Once the brain fog was so dense she was holding a fork and couldn't remember what it was.
'Self-appointed ambassador'
MdDS differs from vertigo, the brief sensation that either the person or the room is spinning, Reichardt said.
Balance hinges on three of the body's systems that govern sight, touch and motion — visual, proprioception and vestibular — working together.
"If one is out a little bit, it's not good. It two of them are out, it's worse. And if three are out, it's much worse," Reichardt said. "In her case we looked at all systems and they were all amiss. They were completely whacked."
When Leffue entered therapy in November, the dizziness, nausea, neck and head pain worsened, but then she began to progress.
Midway through therapy, Leffue misjudged the space between furniture in her house, and slammed her toe, breaking it. The fracture boot, which elevated one foot, sent her reeling and caused a temporary setback.
When she finished therapy in February, Reichardt wanted her to continue working on her overall fitness. She took up walking — it was one of the few things that made her feel OK, as she moves at the same pace as the rocking world. First she went a mile, and then she added more.
She now walks five miles a day, has lost 27 pounds and feels that most days she can manage her symptoms. She continued to work as a social worker at a Franklin County nursing home until she was laid off this summer. She said her neurologist doubts she will find a new job since she has difficulties learning new skills.
She still can't read. She can't go up steps as she's not really sure where her feet are in relation to the world around her. She can't shop in brightly lit, busy stores and she can't dance. She's not permitted to go on planes, trains, boats — not that she'd want to — or long car rides.
But she can drive and walk. Those are among the few times when her perception of movement aligns with reality.
She counts herself fortunate that she was able to find specialists who knew about MdDS and were able to treat her. So she's on a mission.
"I'm going to be an advocate and a self-appointed ambassador," she said. She's been in three 5Ks already and plans Thursday to be accompanied by her trekking poles and her 81-year-old mother, Edith Poole.
She wants to spread the word about MdDS. She's also looking to form a support group with others who have MdDS.
She hand-wrote — because typing is too hard — a 16-page essay about her life with MdDS.
"Even though I have been laid off, I feel there is still something that God has planned for me," she wrote. "A door shuts and then a window opens. I try to stay positive and remind myself of the things I can do instead of what I can't. I have mal de debarquement. It doesn't have me."